One of the biggest challenges facing leaders today is meeting fatigue and the epidemic of unproductive meetings. When you ask any leader about their calendar these days, the response is often, "My calendar is unmanageable." It's not just back-to-back meetings, but sometimes two or even three meetings happening at a time.
Some leaders find themselves juggling multiple screens and logins, taking multitasking to the next level, but is it really?
In my own corporate experience, I spent hours upon hours in meetings, but I had an executive assistant who could help protect some small slivers of time each week on my calendar. 
Navigating the Meeting Maze
With the ever-increasing speed of change and the rising expectations for urgency, how can leaders be at their best? They plow through the day, switching contexts like crazy, leaving little room for actual work…or leadership!
As companies require their leaders to bring new thinking to the table, keep up with emerging trends and technologies that significantly impact strategy, and lead differently to meet the new expectations of a post-COVID workforce, leaders struggle to find a moment for a bathroom break or lunch.
Of course, we all have the opportunity to hold ourselves more accountable for our own time, our most precious resource. I've recommended and walked leaders through tools like the Eisenhower matrix, "start/stop/continue", and time tracking. These excellent approaches enhance focus, prioritize tasks, and manage time better. However, we've reached a point where companies need to more actively support their leaders in these efforts and in breaking the meeting culture.
We can delve into what's holding us back from setting boundaries or saying no. Still, it's less effective if leaders aren't provided with encouragement or examples of how to do this.
I've spent the last three weeks with three different clients in three states, discussing various leadership topics. The common theme that emerged across all these leaders' experiences and occupied the minds of everyone I spoke to was TIME — specifically, finding time on their calendars to do more: more of what's expected, more of what their teams need, and more of what makes them feel fulfilled and alive.
Leading with Intention in a Time-Starved World
How can I find time in my day to lead ...and lead like I really want to? The desire to lead with intention is there, but stepping off the hamster wheel and making that desire a reality is incredibly challenging.
Shopify recently confronted this problem head-on by installing a calendar app to track the number of hours spent in meetings and their associated costs. By simply being aware of this data, they are on track to save $322,000 in meeting time costs in the first year alone.
During a discussion and facilitated brainstorming session about strategic priorities this week, one of my clients decided to focus on meeting and email overload as a strategy in itself! 
Sometimes, awareness is all that's needed to drive change. Leaders are crying out for help as they feel conflicted, unprepared, and unsupported in giving their best in today's workplace. If we ask leaders to lead differently in this ever-changing world, organizations need to do something different to support them and their teams in this endeavor. 
Support them in pushing back, support them in changing the trajectory of where we're headed, and support them in prioritizing the true value they bring to the table.
Practical Steps to Combat Meeting Overload
Here are four actions to consider in the fight against meeting fatigue at your organization:
Survey your organization to gather facts:

Conduct a comprehensive survey across your organization to quantify the extent of meeting overload. Ask employees how many meetings they attend regularly and how valuable they perceive them to be. Gather insights into common pain points and frustrations related to meetings.

Implement technology to track meeting time and costs:

Leverage technology solutions similar to Shopify's approach to track the amount of time employees spend in meetings and calculate associated costs. This data will provide valuable insights into the financial impact of meetings and highlight areas for potential optimization.

Establish meeting-free zones in your calendar:

Encourage leaders to designate specific time blocks in their calendars where no meetings are allowed. These meeting-free zones provide leaders with uninterrupted periods to focus on critical tasks, engage in strategic thinking, and prioritize their most important work. This practice helps prevent burnout and fosters productivity.

Implement Meeting Purpose and Agenda Guidelines:

Encourage the adoption of clear meeting purpose and agenda guidelines within your organization. Require meeting organizers to define a clear purpose for each meeting and share a well-structured agenda in advance. This ensures that meetings stay on track, focused, and result-oriented, reducing unnecessary meetings and time wastage.
What other ideas do you have to help leaders dig out of the meeting culture of today?
If you are ready to navigate these challenges and invest in your leaders, let's connect.
85% of jobs that will exist in 2030 do not exist today. 
The world is clearly changing, with emerging technologies and industries spinning up new jobs at a rapid rate. Things like artificial intelligence, biotech, and fintech are leading to both new job creation and the obsoletion of jobs that have been around for decades.
Is this cause for concern? I don't believe so. Instead, it is a welcome reminder that as the world changes, we must change with it. Keeping your skills up-to-date and relevant can feel challenging, but the best organizations are actively reskilling their workforce to prepare their talent for the future.
And don't think this just applies to technical skills. Soft skills, for leaders and employees, are also rapidly changing – and just as important to your future success. 
How to Prepare Your Emerging Leaders
As a current leader, you're most likely focused on the near future and goals for your organization. Part of a healthy, successful leadership plan includes nurturing, preparing, and teaching soon-to-be leaders within your team. 
While technical skills will continue to change and evolve, you can best prepare your younger talent through intentional development of the crucial soft skills for leaders of the future.
These soft skills and leadership competencies will help mold upcoming talent into resilient, empathetic, and emotionally intelligent leaders – prepared to take your organization successfully into the next decade, and beyond. 
Let's look at the top five soft skills you should be actively helping your emerging leaders develop to be successful in tomorrow's job market and world. 
Top 5 Soft Skills for Leaders of the Future
Self-Awareness
Communication
Ability to Give and Receive Effective Feedback
Adaptability
Ability to Connect
This is where you want to focus when preparing your upcoming leaders. Each of these soft skills will set your leaders apart – helping them create a successful culture today and into 2030.
Let's now look at each of these competencies in more detail to see how we can best implement them in our own leadership practices and cultivate them in your young talent.
Self-Awareness
"If you're at your best, the company is going to get the best results
." 
I routinely share some version of this statement with my clients. True self-awareness – how you learn and work on your own – is essential to fully understanding how you show up in the workplace and in daily life. 
Not sure how to improve your own self-awareness? Start by reviewing the feedback you have received from previous managers, in past performance reviews, or in any personality style assessments you have taken. Create an inventory of the strengths, weaknesses, and opportunities you see emerging. 
Once you've completed this inventory, add to it, the unique skills you bring to the table, the tasks you specifically enjoy, and the things you're best at. This could range from being certified in Google Analytics to being bilingual – embrace your specific skills and interests. Once you've generated a list, look over it to see where you could potentially use those skills to improve your leadership, benefit your team, or add value to your organization.
Communication – One of the soft skills for leaders that build trust and strong relationships
You must communicate clearly and effectively to be a successful leader. 
Communication is a two-way process – it's not just you speaking to others, it's also you taking the time to listen and connect. When something isn't working, good communicators speak up. When they need help, good communicators ask for it. And when it comes to strong business relationships and team development, good communicators are at the top.
Networking – the art of building those business relationships and connections – helps you achieve your goals more quickly. Personal connections also make your work more fulfilling, leading to a happier life inside and outside of work. You never know who you will meet, or how those connections will influence your future!
Giving and receiving effective feedback
Feedback – both good and hard to hear – is essential for an effective workplace.
Intentional leaders are skilled at delivering feedback (yes, even when it's hard) and are equally as skilled at receiving feedback from others. Constructive criticism is often necessary, especially when something important is missed or negative behaviors impact the team. But don't forget, it's also just as important to let team members know when they are excelling. 
Great leaders don't shy away from difficult conversations – they lead those interactions with humility, intention, and compassion. 
Feedback helps everyone (including the leaders improve and do their best!
Adaptability
We know the workplace is constantly changing, so the ability to adapt to new expectations and goals is key to staying at the top of your game. Alongside that adaptability, your emerging leaders will do well to stay nimble and flexible – ready to change directions or try something new, sometimes at a moment's notice. 
This often looks like being deep in one project and having a new task or responsibility dropped on your plate. Instead of panicking or freezing – this is the perfect opportunity to pick it up and run with it. You can handle more than one thing at a time, and don't forget to check-in and clarify what's the most important if you feel like you have too many competing priorities. 
Being able to take a deep breath and embrace a "go with the flow" mindset is a huge asset for leaders. 
Ability to connect
One soft skill for leaders of the future looks like knowing (and being) yourself! Good leaders are compassionate and care about their team's success – both at work and in life. When you are in touch with your own needs and show up authentically, you're more likely to encourage your employees to do the same. 
One key component of being a connected leader is practicing active listening. This helps your team members feel heard and acknowledged, and it also builds more comfortable stronger relationships. Unsurprisingly, the more connected you are as a leader, the better listener (and communicator!) you will be. 
Ready to develop these soft skills for leaders on your own team?
Early career professionals and emerging leader candidates will shape the future landscape of most organizations over the next 5-10 years. 
One of the best things you can do for your organization is to intentionally and effectively prepare your people for the rapidly changing future workplace. 
If you are interested in implementing initiatives that prepare high-potential employees to lead, contact me to learn more about my Emerging Leadership Development Program.
May is mental health awareness month, so it feels like the perfect time to discuss what burnout and self-care can look like in the workplace.  
The topic of burnout is becoming a major focus for many organizations. It's encouraging to see workplaces raise awareness of the dangers of burnout and the importance of self-care and acknowledge the significant impact of workplace stress and long hours on employee health.
But this is still an area where many leaders need to deepen their understanding of burnout and self-care – putting in the time and energy to truly care for their employees and team members.
What exactly is burnout?
Burnout is defined as Chronic workplace stress not successfully managed by employers or employees.
One important thing to note here is that the opposite of burnout is not an absence of stress, but rather the successful management of stress. Leading successful teams will always carry some stress, but if we can learn how to use self-care to appropriately handle our job responsibilities – and teach our teams to do the same – we can avoid the dangerous repercussions of severe burnout.
How does burnout show up in the workplace?
Here's what we know is true: Teams are burnt out – it's a global health condition at this point.
According to Gallup, workplace stress costs $300B per year and 44% of workers regularly experience burnout and exhaustion. 
These stats show us that, as leaders, we are acutely responsible for the mental health and wellbeing of our people. We must be aware of what can happen when we ignore the signs of burnout, push our teams too far, and don't make space for proper self-care. 
I started thinking more about burnout – specifically who is to blame when it happens – after I was asked to speak about the benefits of self-care (and the negative impact of burnout). I personally experienced a serious health scare due to the burnout I suffered, which ultimately led me to make huge changes in my lifestyle and career. And I really wanted to know – whose fault is it? 
Was it my leaders' fault for not seeing the signs and creating an unhealthy environment?
Was it my organization's fault for creating a toxic culture and having outsized expectations?
Or was it my fault – for letting things get so bad before I made any personal changes?
As I thought about who to blame, I realized something: The better question is what can be done about burnout and self-care in the workplace?
We have all played a part in letting things get so out of hand, and I think our energy should be spent on finding solutions and creating positive change within our realm of influence.
Before we can find feasible solutions, we need to understand how burnout occurs, even in businesses that don't intend to work their employees into an unhealthy state.
What contributes to burnout and self-care?
The world is changing at an exhaustive rate. We are always on. We have competing priorities to keep up with and everyone expects instantaneous gratification. We can always be reached. Everything is urgent. 
And while it's convenient to blame COVID, this burnout culture existed long before the global pandemic. COVID simply accelerated and exacerbated the issue.
For organizations who thrived during COVID, it was game on to capitalize on the opportunity to experience exponential growth in a new segment, new category, or new industry.
For organizations who struggled during COVID, it was game on to keep the business afloat, rethink, reinvent and emerge on the other side so they could rebuild what once was.
Employees on either side of the coin were overworked with blurred lines between work and home, anxiously facing sleepless nights, worried about their job, or worried they wouldn't appear as productive as they needed to be to save themselves if they had to.
The demands of our busy lives, coupled with the performance cultures we face in our jobs, wear us down and make burnout a real experience.
Burnout is caused by:
Lack of sleep

Long hours

Poor boundaries

Job insecurity

Excessive worry 
And these are all things that destroy performance while harming individuals.
How do we treat burnout and self-care in the workplace?
When speaking to a local news channel about burnout in 2019, I gave a suggestion to "get 7 hours of sleep" as an effective way to combat burnout. This simple suggestion garnered a snicker from the anchor – you can watch the clip here. It just shows how far we have to come, and how embedded the burnout culture truly is. 
So what are we, as leaders, supposed to do?
The solution for burnout isn't "self-care" – and it isn't lowering performance expectations. 
Solving burnout in the workplace requires a co-created space between employees and the company that includes ambition, drive, results, and time to rest and recharge.
Hard work should be met by equal rest. The most ambitious of your people need to be praised for recharging the same way they are praised for meeting big goals. We must remove the stigma of "laziness" and reframe genuine rest and recharging as essential components of success.
Whether you're a leader looking for better ways to support your employee's overall well-being or an employee teetering on the edge, looking for ways to avoid burnout – here are 3 strategies to try:
Get clear on expectations

. Only 60% of workers know what is expected of them at work. This causes conflict between manager and employee and creates internal conflict for the employee when they place unrealistic expectations on themselves.

Get comfortable disconnectin

g. A vacation is a great option and many employers are offering unlimited PTO, but employees aren't taking it. Leaders need to encourage it and even consider more unconventional options, like sabbaticals. At a minimum, leaders must be aware when employees eat at their desks and answer emails in the evenings. As a leader, discourage this behavior. As an employee, stop doing these things.

Get serious about a People First Culture

. When an employee is able to be their best self at work, the company gets the best outcome. Employees should know what things give them energy, and be encouraged to share these with their leaders without guilt. As a leader, show you care, and ask them how you can support them in this without making them feel they have to get the company's buy-in.
Need one-on-one help navigating burnout and self-care as a leader?
My work is centered around helping leaders become more effective while also leading more fulfilling lives. If you're interested in working together to avoid burnout, recover from existing burnout, help your employees avoid burnout, or learn how to implement a self-care practice that prioritizes success and recharging – I'd love to chat with you.
You can contact me here to get started. 
Leading leaders is a complicated, complex task in the best of times. And I think we can all agree that the past two years have been more challenging than easy. 
Do you have a newly formed team of leaders?
Have the changes required by the state of the workplace (and the world) over the past two years challenged your team of leaders?
Have you found yourself focusing more on the short-term, immediate survival and results instead of prioritizing nurturing and communicating with your leadership team?
These scenarios cover a wide spectrum of experiences, but all of them have a similar effect – your team has become a "working group," focused on their individual performance and only interacting on a transactional, informational basis.
This helpful graph shows how your team's performance and effectiveness affect each other.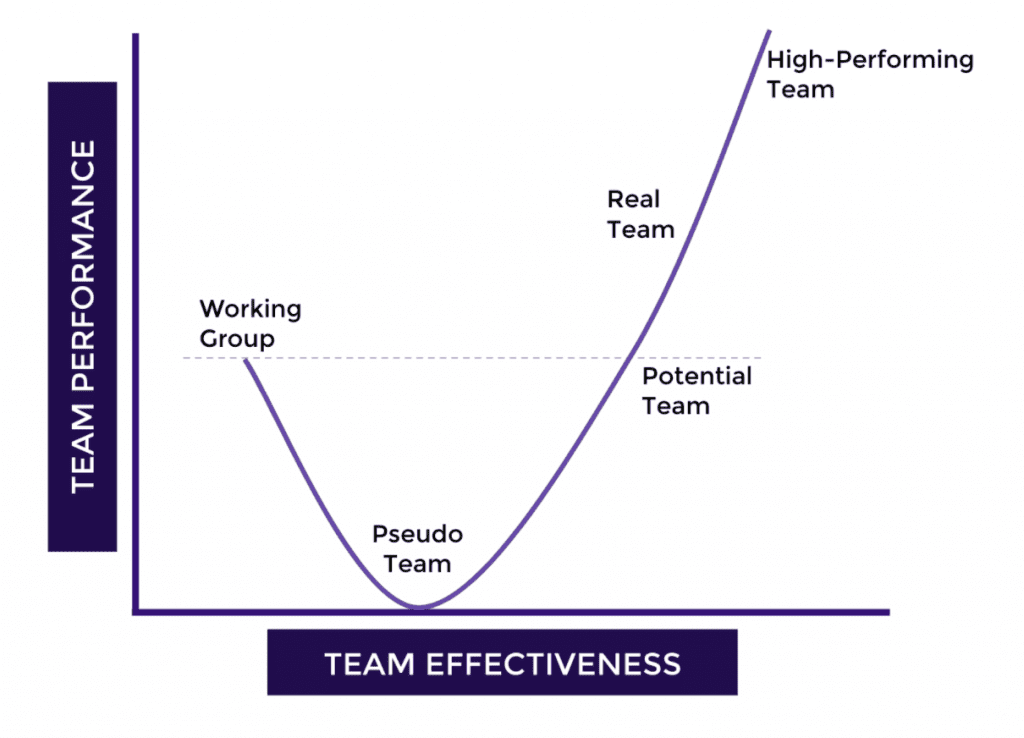 What To Do When "Working Group" Is NOT Enough
A "working group" of leaders should not be the goal. Effective leaders and CEOs want to foster a truly high-performing team.
Given the challenges and setbacks of working in and through a global pandemic, you may have had a high-performing team that has slid into "working group" mode.
You may have a new team that hasn't reached its potential yet.
Or maybe you have a team that has just never gotten past the "working group" stage.
Regardless of how you got here, you know that "working group" is not where you want your leaders to stay.
But how do you initiate change?
It all comes down to building connections and TRUST.
Trust is the foundation of a high-performing team. When trust is present, your leaders experience the psychological safety they need to make mistakes and learn from them, be vulnerable with one another, hold each team member mutually accountable, and be ready and willing to share professional wins and failures.
That is the true picture of a high-performing team.
Let's look at an example in action from one of my recent clients.
Developing Leaders with Trust: A Case Study
I was introduced to our case study team in early 2021. They were a newly-formed executive team that was brought together in a restructure post-acquisition. (Never an easy position to be in for any leader.)
The team members joined the new team from different functions in different companies with the goal to provide a new analytics function to the organization.
This group of individuals – the very definition of a "working group" – had the opportunity to move through the "Team Performance Curve" (see graph above) to establish a common purpose, performance goals, trust, and accountability.
We had 12 months together, and I needed them to make significant progress in the 5 core behaviors of a cohesive team:
Trust
Conflict
Commitment
Accountability
Results
I pulled the team together for monthly leadership development sessions where I covered these behaviors and then helped them apply what they learned in their own monthly meetings. They could practice demonstrating each behavior in real-time as they came together to address their business agenda.
This approach supported and developed an effective, cohesive team post-merger and reorganization.
Developing Leaders: The Results
In our first meeting, I had the leaders on this team score themselves in the 5 core behaviors. After 12 months of working together, I had them re-assess and we saw significant improvement across all FIVE behaviors.
Their growth in the 5 core behaviors helped this team move from a "working group" all the way through the curve to a high-performing team.
The leaders' results were also seen across the organization, and our team's mission became a new corporate pillar for the entire organization!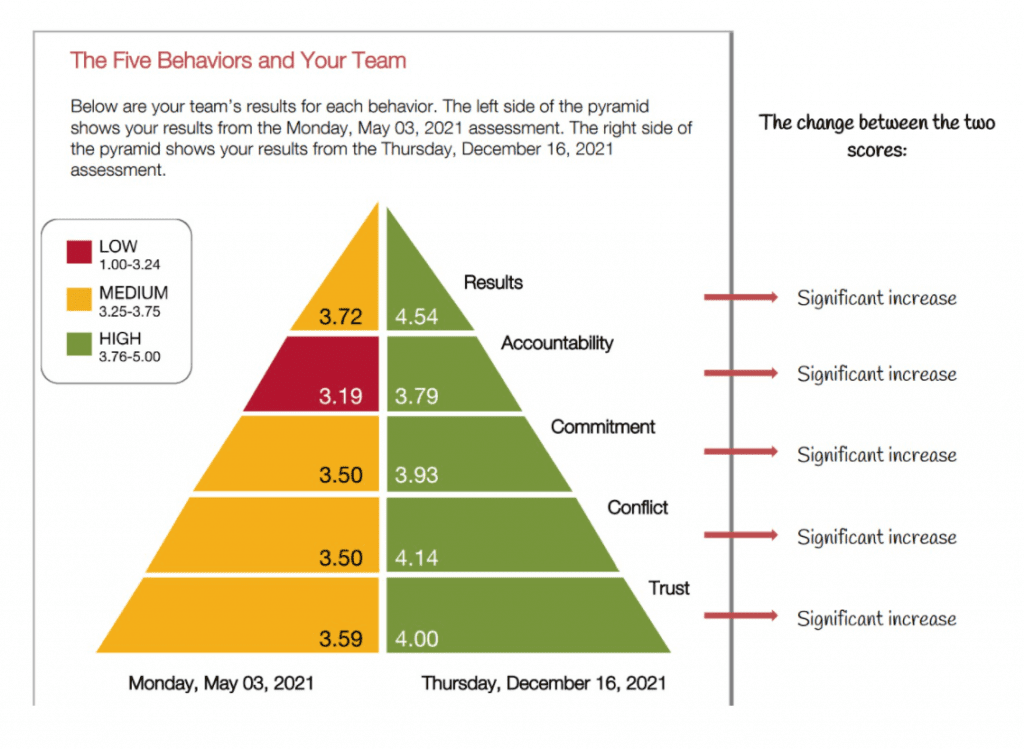 Want to Improve Your Team's Performance? Start with Trust
It can feel overwhelming and impossible to make changes with your senior team devolves or can't seem to move past the "working group" stage. But you will see results when you start with trust.
Building trust among your team is the foundational first step to moving through the performance curve and becoming the established, high-performance team you want to have. And when your team of leaders becomes high-performing, you're going to elevate the performance of your entire organization.
Ready to get started with your team? This is a simple trust-building exercise I encourage you to try in your next team meeting.
Personal Histories Exercise
Give everyone 2-3 minutes to think about their responses to these questions.

Where did you grow up?
How many siblings do you have and where do you fall in the sibling order (oldest, youngest, etc.)?
What was an important or unique challenge of your childhood - of being a kid?

Ask for a volunteer to begin. Each person as 3 minutes to share
Once everyone shares, discuss what you learned about your colleagues that you didn't know.
When you try this, you'll see the level of psychological safety increase as your team starts to actively build trust. It's simple, effective, and productive.
Ready to Increase Your Team's Trust and Performance?
Once you see the benefit of building trust – and the other 4 core behaviors – with your team, you'll wish you had started this process even sooner.
When you're ready, I provide customized team development programs based on your unique team needs, personalities, and goals.
Reach out and schedule a call to talk about how I can help your leaders become a high-performing team and elevate the results and efficacy of your entire organization.
You have big goals for your team – but are they rooted in a relationship?  Meaningful professional development can help you enhance your team's skills and build stronger relationships - the key to a strong year with much bigger impact.
Your team will see the most growth when you take the time to truly invest in getting to know them on a personal and professional level.
What are their individual goals and dreams?
What does success look or feel like to each member of your team?
What do your team members want to learn?
As a leader, you're responsible for driving the overall vision and plan. You'll make a lot more progress (and have a much more significant impact) when you use professional development to enhance your team's skills and build stronger relationships.
Leaving a Legacy
The first time I met my future father-in-law, I hadn't been dating my now-husband for long. We traveled up to Georgia to stay with his parents, and I ended up staying up late to chat with my father-in-law. Those late-night chats became something I looked forward to every time we would visit. And once, over a nightcap or two, my father-in-law told me that once he started working less and spending more time with his family, he realized his son (my husband) was his best friend.
It was a privilege to know my father-in-law for the ten years we had together. I came to realize that he was a genuine, humble family man who had scores of friends, family, former law partners, and colleagues come to pay their respects when he passed, even during a global pandemic.
At the end of his life, his relationships were what mattered.
He left an indelible legacy because he valued relationships and took time to get to know people.
The Importance of Meaningful Professional Development
My father-in-law lived and led by the belief that his team members wouldn't remember the metrics they hit, or the goals they achieved – but they will remember how he made them feel.
One of the best ways to get excellent results is to build strong relationships with your people. And strategic, intentional professional development can help you do exactly that!
What if instead of investing in professional development courses that teach your team the exact skills they've been working on for years, you invested in deepening your teams' relationships while focusing on their individual and group areas of growth and improvement?
What could your team be capable of if they prioritized their professional growth and personal growth?
Group Coaching as Professional Development
Group coaching is an ideal professional development opportunity for your team. Not only do they get to ask specific questions and focus on their skills and competencies, but they also get to bond with their teammates, learn from one another, and ultimately build strong relationships that are difficult to create in their daily work lives.
Group coaching can help your team:
Understand their areas of growth from an outside perspective
Develop more respect for their teammates
Get to know one another on a personal level
Create shared goals
Motivate and support one another
Excel
Ready to help your team reach new levels of success with group coaching? Relationships matter – and your team needs you to help them create a shared legacy that will extend beyond your team's impressive results!
Click here to schedule a call to discuss group coaching for your team.
Real Pros Need an Executive Coach
Why do real pros need an executive coach?  I was talking to one of my executive clients recently about a female leader on his team. After approaching her about working with a coach, she wasn't quite sure how to take his recommendation. But to him, a successful executive who had experienced the benefits of coaching firsthand (and also an avid golfer!), it made perfect sense.
"THE BEST ATHLETES IN THE WORLD HAVE COACHES. HOW DO YOU EXPECT TO COMPETE IN THE MASTERS WITHOUT A COACH?" – CEO
He isn't the first to use a sports analogy when it comes to leadership coaching.
The Masters is one of the most prestigious demonstrations of mental and physical strength in the world and my client knows that the right coaching relationship is what his team member needs to be ready to compete. Whether you are a sports fan or not, it is not that hard to draw parallels between elite sports athletes and the elite athletes in the boardroom.
Building on the analogy further…
To the world's top golfers, a trusted coach is invaluable. Expectations are high and their performance is played out on the television every weekend. The coach is their motivator, accountability partner, sometimes consultant, and often advisor on the fickle game of golf.  Likewise, Executive Pros need a coach for continuously improving performance.
Just like high-performing athletes, high-performing business leaders can also benefit from having a coach. This is especially the case today as leaders face volatile and uncertain times and are relied upon by their teams and organizations to tackle problems no one ever anticipated.
More and more CEOs, entrepreneurs, business owners, and managers are hiring executive coaches, not just for advice on business strategy, but to develop new skills – like interpersonal relationships, authentic leadership, listening, and empathy. Leaders can no longer rely solely on proven gameplay to drive results and achieve success today.
They must continue to up their game…question the status quo and be effectively challenged to go beyond what they have always done and what they even think is possible.
We have heard the saying – "a bad attitude is worse than a bad swing" – so no surprise that the best golfers use their coaching sessions to improve their swing and mental fitness most.
FOR LEADERS, THESE
5 SKILLS
AND PROFESSIONAL GOALS ARE CONSISTENTLY IN FOCUS WITH A COACH:
Doing the work to have a thorough understanding of your values, needs, strengths & weaknesses and using this self-knowledge to monitor thoughts, emotions, and beliefs.
Using tools and leadership styles, like collaboration, negotiation, and emotional intelligence to

influence

& inspire excellence in your team and the work they execute.
In business and life, knowing what you are aiming for, setting specific and measurable targets, and celebrating milestones along the way.
Coaching & Developing Others: 
Growing and developing your people – being intentional in engaging, connecting, and motivating – to produce exponential results in your organization.
SO ARE YOU AN AMATEUR OR A PRO?
The pros on the course maximize their chance of success by placing the ball in the right position, knowing the course, and focusing on the skills that prepare them best for the winning shot.
Similarly, the pros in business are intentional in their personal development and in improving their skills – like the ones above –so they can take their leadership game to the next level.
Whether you are preparing to compete in The Masters or the US Women's Open, men's and women's leadership development is enhanced greatly with the support of a coach.
If you are looking to improve your personal and professional performance, job satisfaction and ultimately, increase the effectiveness of your team and the outcomes of your organization, then you are a pro, and a trusted and valued coach is for you.
According to the well-known motivational speaker, Tony Robbins, Your life is controlled by what you focus on. So, what if you can't focus on anything these days? I imagine that life might feel a bit out of control.
This is a big theme across many of my clients right now – the inability to focus. It is fact that COVID-19 and the prolonged uncertainty, worry and stress we are experiencing is impacting the part of our brain that helps us think critically and supports our ability to focus.
Since February, there has been a 300% increase in people searching "how to get your brain to focus". Add to this our current working environments and the fact that it has never been so easy to get distracted. We are home, spending hours each day in front of our computers on zoom meetings; it is easy to let ourselves get distracted by the dog barking during a meeting, the kids coming in and out of the room, the emails & IM messages popping up on the screen and in my case, the funny shapes of people's heads when they move too quickly in front of a virtual background.
It is a perfect storm and the result is longer workdays, getting less accomplished!
If you are like so many others, you have a hard time focusing, you are faced with many things that distract you throughout the day and you quickly fall deep into the bad habit of multi-tasking.
You may think you are good at multi-tasking and it may make you feel more productive, but research shows just the opposite. It takes us much longer than expected to get back on task with frequent interruptions and context switching. While sometimes we have to do it, ultimately, we know that to maintain focus and block out distraction, we have to set clear priorities and dedicate blocks of time to certain activities.
Multi-tasking is not a high-performance habit. It prevents us from being fully present and actually makes us less productive.
We can't eliminate the stressors we are experiencing in our world right now and the prolonged anxiety that has our primitive minds in overdrive, but we can get creative and introduce new approaches to help us regain our attention.
If you find yourself googling "how to focus better", here are some things you can do to avoid shifting gears and bring your life back into focus and more in control:
Set your day's intention: Starting your day with clear priorities will improve your productivity and focus and it will also reduce stress and more importantly, help you create better boundaries for your day. Sometime before bed, take a few minutes to write down your intentions for the next day. This simple exercise helps you walk into the next morning clear on your own priorities and allows you to plan your day in support of them.
Find Your Flow: We all have a natural rhythm in a given day to when we are most focused and our energy is the highest. If your day is full of meetings and interruptions, it is hard to get into your flow and realize the benefits of this productive time where you are really "in the zone". Notice when you are most energized and creative during the day and schedule important tasks & activities that require your full attention during this time.
Block Your Time: Some of the most successful people in the world use time blocking, dedicating specific time "blocks" for certain tasks and responsibilities in a given day. Different than a "to-do" list, time blocking tells you when you are going "to-do" the tasks on your list. Focus is about eliminating distractions. Time blocking allows you to guard against distractions and pursue your own agenda rather than reacting to everyone else's agenda.
Find an Accountability Partner:  A strong accountability partner will help you stay focused, motivated and on track. It is harder to make excuses as to why you didn't get something done when you commit to doing it with someone you trust and respect. Find a friend, colleague, coach who will take the time to understand your goals, is willing to support you in achieving those goals and set a standing appointment to check-in on progress.
Lastly, having perspective around the unique place we are in and the fact that a lack of focus is completely normal for so many of us right now should also go a long way in gaining back a sense of control and understanding that it won't always be this hard.
Try these strategies to help you avoid the trap of multitasking, minimize distractions and regain your focus. But also remember, be kind to yourself, especially now 💜