As we step into the year 2023, corporate leaders are faced with an ongoing challenge of a rapidly changing business environment. For a few of my clients, I am seeing them face a very pressing and unfortunate issue - navigating the challenge of layoffs. This has created a sense of uncertainty and fear among employees and highlighted the importance for them to navigate - purposefully,  transparently, and with care and compassion.
The Heart of the Leader
Recently, I observed one of my executive clients communicate a very difficult message to his team that 50 jobs would be eliminated. Each one of the employees in the room was directly impacted. He delivered the news clearly yet compassionately as he explained the circumstances, acknowledged the impact of the decision, and offered space & uncomfortable silence for the individuals sitting in front of him to process the news best.
He put himself in the shoes of his employees - many tenured and committed for years to the organization - and took a heart-centered approach to share the difficult news. In navigating the challenge of layoffs, he met his employees in a place of empathy, went off script a little where necessary, and did his best to hold the space they needed to receive the news. He showed up as an intentional leader during a difficult time, and his actions served as an excellent example for other executives to follow.
In my book, Lead with Heart & Leave a Legacy, I talk about my own experience as a corporate executive faced with communicating a layoff. The lack of progress against the company strategy led to a top-down decision to execute a reduction in the workforce across the organization.  
It was a heartbreaking day, but my team needed a sincere, transparent, vulnerable leader.  The experience taught me the importance of leading with care and compassion during difficult times and proved to be the best approach in minimizing impact on the people. 
Three Ways Intentional Leaders Can Minimize the Impact of Layoffs on Employees
When navigating the challenge of layoffs, intentional leaders prioritize taking steps to minimize the impact on their employees. They do this by adopting a heart-led approach that focuses on transparency, compassion, and being connected.
Here are three things that intentional leaders do when navigating the challenge of layoffs:
Communicate with Transparency


When communicating with employees, leaders who want to navigate layoffs effectively must be transparent and honest. It is essential to clearly explain the reasons behind the layoffs and what steps the organization is taking to help affected employees. This can help alleviate some of the anxiety and uncertainty often accompanying layoffs.

Show Deep Care & Concern


It is important for leaders to show empathy and compassion towards their employees during these difficult times. This means taking the time to listen to employees, acknowledging their emotions, and showing genuine concern for their well-being. 

Leaders can demonstrate this by providing support and resources to employees during and after the layoffs.

Pay Attention to Remaining Workers' Concerns


After a layoff, the remaining employees may feel overwhelmed, anxious, and uncertain about their own future with the organization. It's important for leaders to pay attention to their concerns and make personal connections to understand how they are really doing. Leaders can organize one-on-one meetings, hold group discussions, and encourage open communication channels to create a space where employees can express their feelings, ask questions, and share their thoughts. This approach can also help identify potential issues and areas for improvement within the organization.
The Power of Intentional Leadership
For my executive client, how he chose to communicate the devastating news influenced how those individuals reacted and accelerated their ability to process through the change. While life-changing, they felt supported and mirrored their leader's calm sense of commitment.
The year 2023 will continue to present many challenges for corporate leaders, including the ongoing issue of layoffs. By communicating transparently, showing care and compassion, and being mindful of the concerns of their remaining employees, corporate leaders can navigate the challenge of layoffs while minimizing employee impact and fostering a culture that will thrive in the years to come.
If you are a corporate leader looking to develop intentional leadership skills in your organization and cultivate a culture of care and compassion even in the most challenging of times, I invite you to work with me. 
Looking Back Over the Past 5 Years of Business Ownership
I recently read a statistic: only 50% of businesses are still operating after 5 years. So, I quickly did some math and discovered that I established my LLC and took my first client after leaving the corporate world in 2017. Looks like I'm officially five years in – I made it!
My passion for leadership development began in my work at Catalina, and after some life-changing events, I left 70-hour work weeks to follow that passion. I knew I wanted more autonomy, flexibility, and fulfillment, and I wanted to make an even bigger impact. I wanted to take my experience and share it with other grow-minded leaders. So I started my company, named White Cap Coaching with inspiration from my kids (representing the things we love to do as a family – be on the water and in the mountains) and grew it from the ground up. 
The topic of leadership resonated with me so much I wrote an entire book about it – Lead with Heart & Leave a Legacy.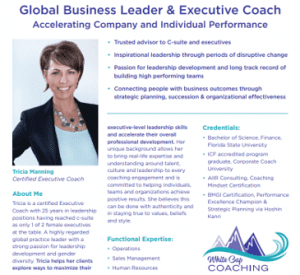 And over the past 5 years, I've led my company through multiple evolutions. I've refined my messaging, impact, and moved from what I knew – traditional corporate speak (the male CEOs I worked with and for over the years taught me well!) – to a more authentic, relatable and intentional message. Now, my messaging matches my experiences and, most importantly, the unique and meaningful value and service that only I can provide to my amazing clients. 

Learning the Keys to Business
I cannot believe it has been 5 years already! I have connected with so many wonderful, intentional leaders and learned so much from them, and I've practiced specific strategies for success to help me stay focused and set me up for success. 
As a solopreneur with a mission to support leaders as they define their own legacy of leadership for a happy, successful, and fulfilling life and career, I've learned quite a few things along the way. And today, I'd love to share the 5 keys to business that I've unlocked at this point in my business.
1. Show up for the right reasons – and do so unapologetically
In the early days, I was caught in the trap of looking at others who were further along their path. I thought if I emulated what I saw them doing, it would accelerate my success. 
But the truth is that comparing yourself to others knocks you off track from your true purpose. Comparison is the fastest way to forget the reason you started your business to begin with.
For me, it was to help leaders find simplicity in the complex and to be in service to them to find fulfillment, meaning & impact in their roles as leaders and in their lives as beautiful, whole people. Comparison can be evil. I learned that the faster path to success happened when I wasn't worried about what others thought, or how others perceive me. I learned to practice finding inspiration in others' successes while staying aligned to the path I was on without any apology for it. 
2. Progress not perfection
I quickly realized that if I spent too much time trying to perfect what I was working on, I would never move forward. My business has changed in mind blowing ways since it began. 
Over the years, I've changed my:
Brand look and feel… 3 times

Audience – refining who I serve and who I talk to

Message – updating and clarifying my messaging as I learn and grow

Work – shifting how I show up and how I help leaders
Trying to perfect everything was a distraction from the true work I needed to do. Instead of creating something perfect, stay in motion and keep moving forward – refining and improving as you go.
3. One of my favorite keys to business? Find ease… not easy
Starting your own business, especially as a solopreneur, requires a lot. The path will never be easy, but it can involve more ease. 
I was working 70 hours a week in the corporate world, and I easily carried that bad habit into my new business at first. But I had to remind myself that I started this business to be different, to enjoy my work, to have more time and freedom.
Starting your own business isn't easy but there should be some ease associated. Once I figured out how to stay in flow and connected to the work that I was doing and the impact I was making, I felt a lot more ease. It was also important that I operated in alignment, modeling what I was teaching my clients in my own work and business.
4. Intention in all you do
Intention is a huge reason my business has thrived for five years! In my work, intention shows up in every aspect of what I do: 
Intentional action

looks like taking purposeful, meaningful steps toward something important each day.

Intentional learning

is all about staying curious & learning from my clients and welcoming in new information. 

Intentional listening

involves building my awareness of how others are responding and how I am reacting. 
Showing up with intention helps me stay in alignment, be flexible with my work, and know when to pivot. 
5. Celebrating your wins is one of the most surprising keys to business
This month as I celebrate my 5 years in business, I am privileged to gather with clients, colleagues, and friends to celebrate this accomplishment and thank those who supported me along the way. 
The journey has not always been easy, there have been many ups and downs (including a significant health scare!) but starting my own business and following my passion has been one of the biggest wins of all. Over the past 5 years, whenever work became stressful and busy or something did not go my way, I often forgot to count the wins. 
But celebrating even the small wins matters. All of those tiny victories have contributed to my overall success – helping me become a better leader and entrepreneur. 
My journey to unlocking the keys to business
I started my business journey investing 25 years in the same company, learning 7 leadership lessons.
And now 5 years into my business as a solopreneur, I'm sharing the 5 keys to business I've discovered so far.
These milestones are the perfect opportunity to reflect on my experience and share all I've learned. 
I'm endlessly grateful for the people I've met, the leaders I've coached, the lives I've changed, and the business I've created. Cheers to the next five years as a small business owner!
Have you ever set an ambitious goal for yourself and then failed to reach it? Instead of engaging in unproductive negative self-talk, you'll make more progress and find more success when you learn to implement some proven self-compassion strategies. 
Failure often results in feeling guilt or shame, especially when you're a high achiever who is used to succeeding. But failing and falling short are an inevitable fact of life. And if you aren't ever failing, you probably aren't pushing yourself. 
The most successful leaders hold themselves to high standards, but employ serious self-compassion strategies when they don't hit the mark. This means you might have a bad day, but you know how to bounce back. Bumps in the road won't knock you off track and coming up short isn't the end of the world.
Self-compassion isn't about being weak or lowering your standards – it's a powerful leadership skill that will help you achieve more (and experience more joy) in the long run. While having a bad day and feeling down is a part of life, it's important to implement tools that help us practice being kind to ourselves and increase our self-compassion.
Self-compassion Strategies: Ask Yourself These Questions
The first step to developing self-compassion is noticing your emotional state. When you find yourself feeling guilt or shame, pause and recognize the truth about how you feel. 
Instead of reacting to your feelings of guilt and shame – this is often when we lash out at others because we want someone to blame – take a breath and consider some of the following questions.
What do I need?
Maybe you need space, time to process, a breath of fresh air, or some music to take the edge off. Or maybe you need something more complex – support with a big project, a change in responsibilities, or a discussion with a team member. Be open to the answers that pop up. You know yourself better than you may think.
How do I care for myself already?
When you feel like "a total failure," it's easy to let that inner critic take over. Take a minute to run through all the ways you already care for yourself. You make time to move your body each day, you prioritize spending time with your kids when you get home from the office, you read before bed instead of watching TV, you get regular facials… the list goes on and on.
Remind yourself of all the great things you do for yourself every day because you know you're worth it.
What would I say to a friend in a situation like this?
We're much kinder to others than we are to ourselves when we experience guilt and shame. Imagine a friend is in your situation. How would you help them see the truth of the situation? What would you say to help them feel better? Try saying those same things to yourself!
Self-Compassion Strategies: Start Being Kind to Yourself Today
Beating yourself up or engaging in pervasive negative self-talk is ultimately detrimental to your health, performance, and self-esteem. Try being kind to yourself instead! Here are some easy ways to be kinder to yourself starting today.
Let Go of Perfectionism
If your measure of "perfect" is based on being all things to all people at all times, you'll always fall short. Evaluate whether your own standards are realistic. Can you ease up on any self-imposed pressures?
Give Yourself Recognition 
We are quick to acknowledge the achievements of others, but slow to acknowledge our own. Become aware of your own achievements and give yourself recognition. Praise yourself and relish the moment. Talk to yourself the way you would to an employee or friend who just succeeded or met a big goal. 
Do a Reality Check 
Before beating yourself up and thinking of all the ways you've let others down… just stop. Do a reality check. On certain days your efforts might not seem good enough for others. You aren't falling short – their expectations may not be reasonable.
Starting to see the power of self-compassion? You'll want to click here to download this FREE resource that dives deeper into self-compassion strategies and questions to help you develop your practice.
ABOUT THE AUTHOR:
Tricia is a global business leader, author, and certified executive coach. Her unique corporate background gives her a clear understanding of the personal and professional challenges that senior business leaders face today. 
She brings real-life expertise around talent, culture, and leadership to every coaching engagement and is committed to helping individuals, teams, and organizations accelerate performance.
Tricia believes this can be done with authenticity and by staying true to personal values, beliefs, and leadership styles.
When people hear I was with the same company for 25 years, they assume I was content, complacent even…for certain, I didn't like change.
Nothing could be further from the truth.
I am certain I didn't grow my career from an entry level position to an executive in the C-suite by sitting back and waiting for someone show me the way.
On the contrary, I was in the driver's seat with my career. I was in constant motion, taking advantage of every opportunity that came my way to learn something new. Listening, learning and understanding the "why" behind the work I was doing was just as (if not more) important as the hours I put in to get the job done.
What about you?
Are you waiting for your company to point you down the next path in your career? Are you doing a good job hoping to be tapped on the shoulder for that next new assignment? Are you expecting your boss to recognize your efforts any day now and give you that big promotion?
The most fulfilled, engaged and happy people I know are in the driver's seat when it comes to their career. 
If you are ready to get out of the passenger seat and take the wheel as it relates to growing a long, successful, fulfilling career, here are FOUR ways to approach your work every day and FOUR questions to ask yourself in the process:
1)   Stay Curious: Are you learning as fast as the world is changing? Spend at least 10% of your time each week learning (reading, listening to podcasts, audio books, networking, meeting with a mentor, etc.). Be a continuous learner by asking questions to understand the "why" behind your work and remain open to the ideas and opinions of others. A learning mindset with intentional practices will be something that sustains you throughout your career. Download my Intentional Practices for Successful Learners here.
2)   Stay Open: Do you hesitate when asked to take on a stretch assignment or help with a special assignment? Even if it isn't something that sounds particularly interesting at the moment, say YES! Jumping into a new project is a chance to demonstrate your readiness for more responsibility and your adaptability to support the new needs of the business. It is likely that your boss sees something in you worth the investment and is watching to see how you respond. New opportunities also allow you to personally try out new skills and better understand what you enjoy. You may be surprised and I guarantee you will learn something new about yourself.
3)   Stay Uncomfortable: Are you one of the first people to adopt a new process or tool? If you are staying comfortable, you aren't growing and you certainly aren't showcasing your potential. There is a danger in becoming too comfortable too early in your career – it can stunt your growth. Many times I saw this happen, when senior leaders come together to assess their talent and someone on the team is labeled as "properly placed" based on one or two interactions. Be the first to adopt a new process or tool and push yourself through the change curve. This will minimize the discomfort of the change you are going to have to face anyway and it positions you as a change agent, someone who is ready and capable to help drive new initiatives in your organization.
4)   Stay Connected: Are you hiding behind emails and IM messages? Every time I dug in with a project team experiencing delays or unresolved conflict, I would hear, "I don't know what the problem is. I sent an email...". While it is obviously a little harder right now to connect face to face, the general rule should be to pick up the phone or schedule a zoom or stop by their desk. Making a connection, having a conversation is how trust is built…it does not happen through email. And, building the right relationships with people who can be a champion for you down the road can be a catalyst in your career growth.
If you want to stay in the driver's seat when it comes to your career, stay curious, stay open, stay uncomfortable and stay connected. These strategies will provide you with unique experiences, a more positive outlook and will position you to grow a successful and fulfilling career 💜
About the Author:
Tricia is a global business leader, author and women's leadership coach. Her unique corporate background gives her a clear understanding of the personal and professional challenges that senior business leaders face today. She brings real-life expertise around talent, culture and leadership to every coaching engagement and is committed to helping individuals, teams and organizations accelerate performance.
Tricia believes this can be done with authenticity and by staying true to personal values, beliefs, and leadership styles.
Contact Tricia at www.tricamanning.com
New Decade, New Beginning
I don't know why but there is something different about starting this new year. There's no doubt I've had a lot of change the last couple years – left my 25 year corporate career, started my own coaching practice, wrote a book about my journey and stretched myself in more ways than I can count – but still, the beginning of 2020 just feels different.
For the majority of my own career and then naturally in my work as a leadership coach, the start of each new year is the perfect time for annual goal setting. And when you're in the corporate world, annual goals are designed to be accountability measures that support the strategic direction of the organization (you know, strategic objectives, company pillars, big rocks…whatever your organization calls them!). We are taught to set SMART goals – Specific, Measurable, Achievable, Relevant, Time Bound; and even with this level of simplification, we often struggle. It feels impossible to whittle down all that is important to 3 to 5 specific and measurable goals! 
This detailed drill down is designed to ensure focus against the specific action that we need to take and the "to-do" list we need to check off during the course of the year. Ironically, this level of precision causes us to actually lose focus…focus on the big picture, on where we are headed, on what excites us and motivates us each day about the future. 
For me, Jan 1, 2020 felt different and it was different. I started the year focused less on SMART goals and what would become my "to-do's" for the year; and more on my intention for 2020. What do I see for myself come December 2020? How do I want to be showing up – as a parent, as a friend, as a business woman, as a leader? 
Starting with intention (rather than goals) can help you envision something for yourself that your goal-oriented mind could never dream. It aligns you to your journey ahead and the outcomes you wish to achieve – of where you want to be, how you want to feel by the end of the year.
As a coach, my job is to help clients develop possibilities for themselves that, in some cases, they never dreamed were possible. I hold this intention in the highest regard and remind them of where they are going when they forget, or become too focused on the day to day and lose track.
Sure, goals are important, but it is your intention for yourself – your whole self – that keeps you focused forward, inspired and motivated by the direction you are headed. Goals become the means for accountability in achieving that intention.
Setting intention is important for the following reasons:
Intention provides clarity on where you are headed: High performers seek clarity and intentions provide just this. They set the course and help determine the direction you are headed and ultimately, what it is you want and who you want to be.
Intentions allow you to live in your values: They act as guiding principles for your choices each day, moving you closer to what you want for yourself...all the while, helping you discern what isn't aligned with your values and who you are. Checking in on your intentions helps you see what isn't serving you or the leader you want to be. 
Intentions help you maintain a productive mindset: Mindful intentions allow you to shift focus from the problem at hand or the limitation/challenge you are facing in the moment to something that will have a positive impact on your life. Having intention or purpose for yourself helps you put in perspective the day to day pressures you are facing and maintain a productive & positive mindset.
One simple way to get started in setting intention for yourself is through mind mapping. I have used this with many of my clients this year to create a picture of their intentions for 2020.  Mind mapping is a great tool in business and maybe you have had exposure to it in your workplace – when aligning teams on actions, brainstorming new ideas, presenting complex information in a creative way. Mind mapping has become an important tool in my coaching toolbox to help clients create a holistic picture of what they want for themselves in a new year.
HOW TO: On a blank piece of paper, start in the center with "2020 Intentions". Allow your mind to wander creating main themes from the center and multiple branches from here writing words and thoughts, creating a visual connection to the intentions that come to you.  Use color, get creative and have fun!
This is a visual representation of your intentions for 2020 that you can display on your wall to remind you who you want to be and how you want to contribute in 2020!
If you have never done a mind map before, there are plenty of resources and videos out there to help. You can do this exercise yourself and of course, if you would like a coach and strong accountability partner to support you in staying true and achieving this intention for yourself in 2020, I can help!
www.triciamanning.com 
Last week I graduated from the Governing for Nonprofit Excellence (GNE) program at Harvard Business School. It was a privilege to represent CASA (Community Action Stops Abuse), the nonprofit organization where I sit on the board. I was 1 of 50 global business leaders and nonprofit board members who came to elevate skills in nonprofit governance and discover innovative ways to help our organizations thrive. What an opportunity!
We learned through the traditional HBS approach - studying, analizing, debating 6 case studies of other nonprofit organizations who faced some of the most pressing and complex business issues of today. It was rich learning that provided frameworks and strategic insights that we, as trustees, can now share with the organizations we are all so passionate in serving.
This unique experience brought front and center, a few important truths that we often forget in the grind of our daily work:
Continuous learning is so valuable yet requires both humility and bravery to get the most from the process. You don't have all the answers and being bold enough to ask the questions, while sometimes uncomfortable, advances the greater good.
People are genuinely good and have found it possible to create economic AND social value in this world. With passion and personal commitment in serving their communities, smart & successful leaders are tackling some of the greatest needs that exist today.
As individuals and organizations, we are more similar than we are different. Nonprofit organizations across the globe face many of the same challenges, as each other and as the for-profit world. There is incredible power in collaboration…not one of us is alone in this journey.
Another amazing part of this program was an evening spent with 1st year Harvard MBA students who are considering the study of Social Enterprise. Let me tell you, this is our future! Many of these students completed their internships or left the post-collegiate working world because they wanted to have a hand in solving complex social problems and make a meaningful difference in this world.
"I will give back when I am further along in my career and have more time."
They aren't like many of us…telling themselves that giving back is something they will do when they have more time or are further along in their career. They aren't checking the "nonprofit" box as something great to add to their resume. SEI (Social Enterprise Initiative) is the largest student club on Harvard's campus and this gives me hope! 
One of the most rewarding experiences in my career has been my nonprofit board service. I couldn't have anticipated the personal and professional fulfillment I would get in serving. I just wish I started sooner.
If you are considering giving back on an individual level through service on a nonprofit board, consider this advice:
Find passion in the mission. Start with something you care about, read up on the issue, ask how you can fit in as your authentic self to make the biggest impact. Find the right cause and the world opens up – personally and professionally.
Your unique talents are needed. Diversity in skill, experience and thought is critical for nonprofits today who must continue to transform. You can advance the mission in your leadership, business perspective, commitment and heart.
Be prepared to grow. You aren't working on your own agenda, rather that of whom your organization directly serves. This focus on social mission teaches you selflessness and patience and helps to reinforce your values. It softens your edges. 
There's no doubt that every dollar matters. What can matter even more is the impact a smart, passionate leader can have contributing their unique talents on the board of a nonprofit organization.  
If you have an interest in learning more about this #HBSGNE program or just how to get connected to take the first step, I would be happy to help!