Leading leaders is a complicated, complex task in the best of times. And I think we can all agree that the past two years have been more challenging than easy. 
Do you have a newly formed team of leaders?
Have the changes required by the state of the workplace (and the world) over the past two years challenged your team of leaders?
Have you found yourself focusing more on the short-term, immediate survival and results instead of prioritizing nurturing and communicating with your leadership team?
These scenarios cover a wide spectrum of experiences, but all of them have a similar effect – your team has become a "working group," focused on their individual performance and only interacting on a transactional, informational basis.
This helpful graph shows how your team's performance and effectiveness affect each other.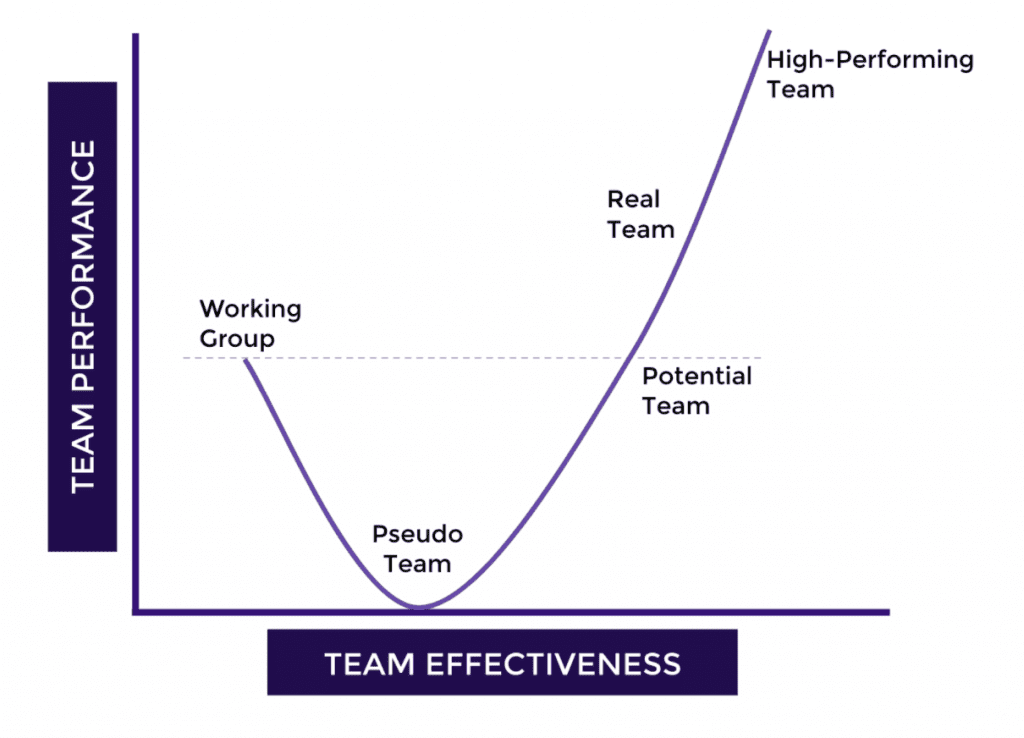 What To Do When "Working Group" Is NOT Enough
A "working group" of leaders should not be the goal. Effective leaders and CEOs want to foster a truly high-performing team.
Given the challenges and setbacks of working in and through a global pandemic, you may have had a high-performing team that has slid into "working group" mode.
You may have a new team that hasn't reached its potential yet.
Or maybe you have a team that has just never gotten past the "working group" stage.
Regardless of how you got here, you know that "working group" is not where you want your leaders to stay.
But how do you initiate change?
It all comes down to building connections and TRUST.
Trust is the foundation of a high-performing team. When trust is present, your leaders experience the psychological safety they need to make mistakes and learn from them, be vulnerable with one another, hold each team member mutually accountable, and be ready and willing to share professional wins and failures.
That is the true picture of a high-performing team.
Let's look at an example in action from one of my recent clients.
Developing Leaders with Trust: A Case Study
I was introduced to our case study team in early 2021. They were a newly-formed executive team that was brought together in a restructure post-acquisition. (Never an easy position to be in for any leader.)
The team members joined the new team from different functions in different companies with the goal to provide a new analytics function to the organization.
This group of individuals – the very definition of a "working group" – had the opportunity to move through the "Team Performance Curve" (see graph above) to establish a common purpose, performance goals, trust, and accountability.
We had 12 months together, and I needed them to make significant progress in the 5 core behaviors of a cohesive team:
Trust
Conflict
Commitment
Accountability
Results
I pulled the team together for monthly leadership development sessions where I covered these behaviors and then helped them apply what they learned in their own monthly meetings. They could practice demonstrating each behavior in real-time as they came together to address their business agenda.
This approach supported and developed an effective, cohesive team post-merger and reorganization.
Developing Leaders: The Results
In our first meeting, I had the leaders on this team score themselves in the 5 core behaviors. After 12 months of working together, I had them re-assess and we saw significant improvement across all FIVE behaviors.
Their growth in the 5 core behaviors helped this team move from a "working group" all the way through the curve to a high-performing team.
The leaders' results were also seen across the organization, and our team's mission became a new corporate pillar for the entire organization!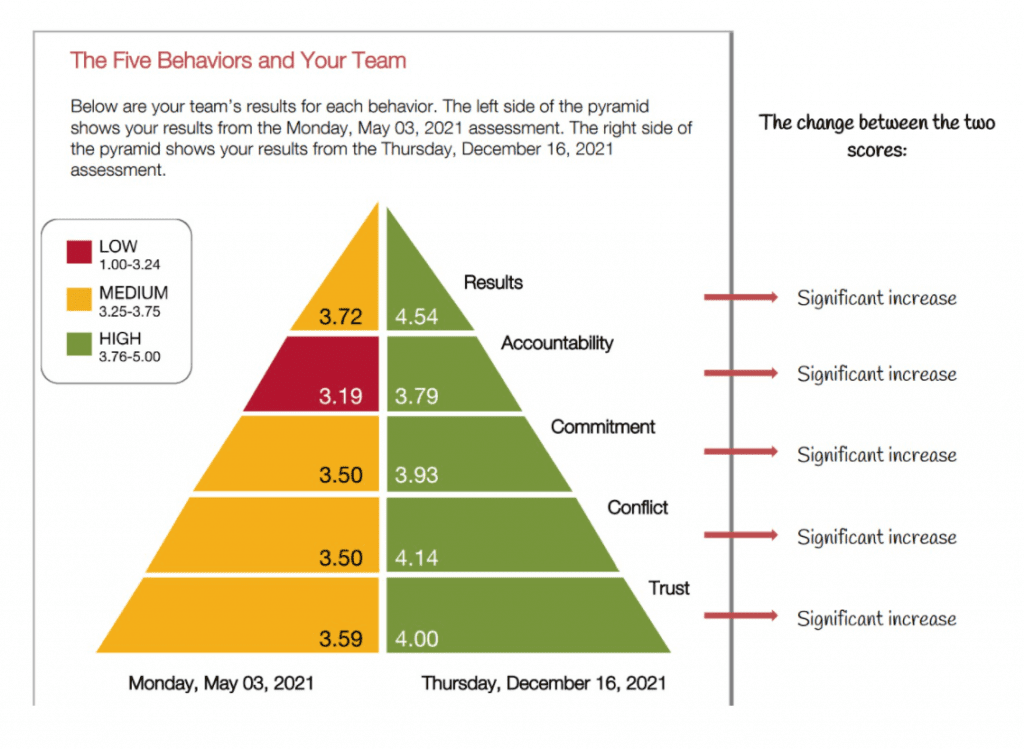 Want to Improve Your Team's Performance? Start with Trust
It can feel overwhelming and impossible to make changes with your senior team devolves or can't seem to move past the "working group" stage. But you will see results when you start with trust.
Building trust among your team is the foundational first step to moving through the performance curve and becoming the established, high-performance team you want to have. And when your team of leaders becomes high-performing, you're going to elevate the performance of your entire organization.
Ready to get started with your team? This is a simple trust-building exercise I encourage you to try in your next team meeting.
Personal Histories Exercise
Give everyone 2-3 minutes to think about their responses to these questions.

Where did you grow up?
How many siblings do you have and where do you fall in the sibling order (oldest, youngest, etc.)?
What was an important or unique challenge of your childhood - of being a kid?

Ask for a volunteer to begin. Each person as 3 minutes to share
Once everyone shares, discuss what you learned about your colleagues that you didn't know.
When you try this, you'll see the level of psychological safety increase as your team starts to actively build trust. It's simple, effective, and productive.
Ready to Increase Your Team's Trust and Performance?
Once you see the benefit of building trust – and the other 4 core behaviors – with your team, you'll wish you had started this process even sooner.
When you're ready, I provide customized team development programs based on your unique team needs, personalities, and goals.
Reach out and schedule a call to talk about how I can help your leaders become a high-performing team and elevate the results and efficacy of your entire organization.