The last few months have been a true awakening and forced us to recognize what is most important in our lives. 
Similar to the personal health crisis I faced a few short years ago, for all of us, this global health crisis is bringing our priorities into focus - health, family, relationships, time, happiness; and creating an inventory of what we need to be strong and prepared to continue to push through.
This defining moment in history and in our lives has made us more aware of what changes are needed.   
For those always in control of everything - they have been forced to let go and narrow their focus to those few things they can control. Liberating and freeing in so many ways.
For those addicted to the adrenaline rush associated with being on the hamster wheel of life – they have been forced to slow down and allow their thoughts to surface. No longer able to quiet their mind by being on the go.
For those who took relationships for granted, only concerned with their own agenda, getting what they needed, and moving on – they have been forced to work harder to access relationships. Intentional in building deeper connections to advance the ball forward.
For those who have been blindly walking through life, taking the expected path but not quite feeling happy or fulfilled – they have been forced to face their fear and challenge their comfort zone. Inspired to take a step toward change and more joyful life.
Let's face it…many of us have spent a good part of our lives waiting for the inspiration to do something different, to make a bold change. This world crisis is a defining moment and it is accelerating the shift. 
Now is the best time to take yourself out of what you do, the job you are in, the path you are on, the success you are tied to, and focus on the things that inspire you and that give you energy. It is up to you to create your own inspiration.
This doesn't mean that you have to walk into the boss' office tomorrow and quit, abandon your current business or make a complete career transition.
If you want to make a change but don't know where to start, don't know what you really want, or are fearful of leaving old measures of success behind, there are a few things you can do to take control and take the first steps:
Find Capacity – Give yourself the space to let in new thinking. Think about the areas of your life that are draining your mental real estate. What worries zap your energy? If you cleared then out, would it create the room you need to make a change? What is the one thing that needs to be considered or resolved for you to progress?
Define Who You Want To Be – Get in tune with who you are when you are happiest and most fulfilled. Think about a time when you were operating at your best. What strengths and characteristics did you leverage effortlessly?
Act – Take small steps toward your goals. What do you need to do as part of the preparation for making changes? List these things and start acting on them.
You have options and there is no better time to define your success on your own terms, achieve it by your own rules, and build a life you're PROUD AND INSPIRED to live...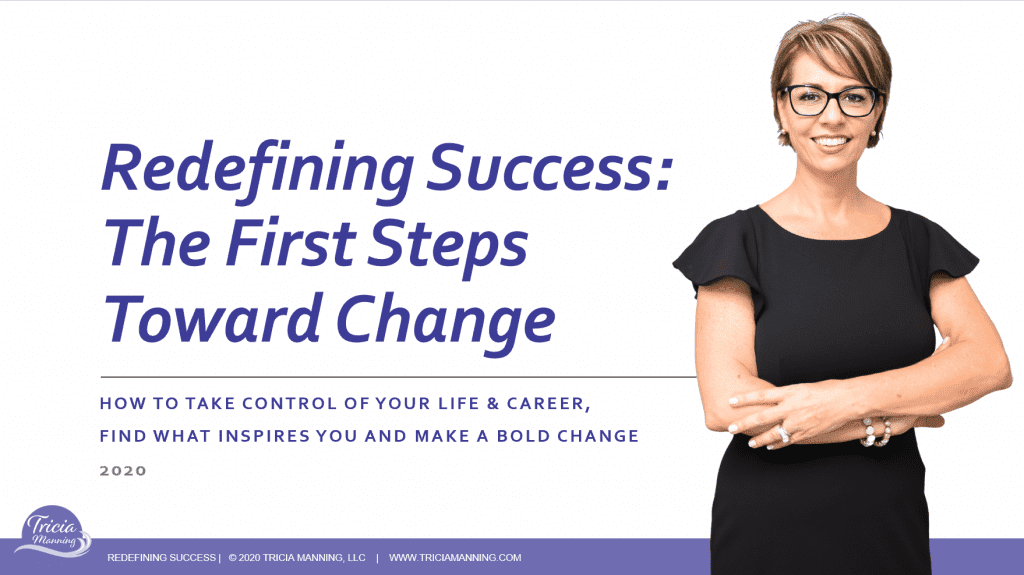 If you are feeling ready to face your fears and take the first brave step forward toward a more meaningful and fulfilling life and career, please join my next zoom webinar on June 9: Redefining Success: The First Steps Toward Change.  I will share more detail on how you can take back control and introduce you to the 8 Steps in creating a one-of-a-kind Heart-centered Women's Blueprint to re-engineer all aspects of your life and increase confidence and satisfaction in your career & your next great chapter overall.
ABOUT THE AUTHOR:
Engaged and inspired by smart business leaders who manage it all, personally and professionally, Tricia plays the role of coach, accountability partner, advisor, and consultant. Drawing on experiences, skills, and HEART, Tricia helps others elevate their leadership and develop new possibilities in how they show up and how they engage every day.