I don't know about you, but this Thanksgiving was the first time since 2019 we could have the extended family together. Our celebration included 50 family members – aunts, uncles, and cousins – together in close quarters, sharing stories, laughter, and hugs. We were all in a room together… without masks! It felt like a renewed spirit of family and connection.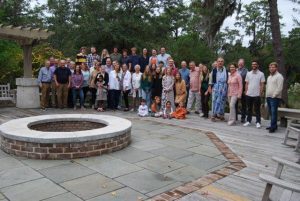 Because so much time had passed since our last gathering, it did take some time to "break the ice." We had to intentionally work to increase the comfort level and rebuild the connection with extended family we hadn't seen in a while. 
We all needed time and space to symbolically remove our (COVID) masks and create space to step into our authentic selves. Reflecting on this experience highlighted the importance of authenticity and reminded me of how often this topic has come up in my work recently, especially in my work with self-aware leaders. 
The Authenticity Paradox
I recently asked a group of leaders – "What do you believe builds trust most quickly within a team?" Their answer? Authenticity.
But when it comes to being authentic, we often get it wrong – thinking "being authentic" always equates to "feeling comfortable." 
HBR published information about the authenticity paradox – digging into how feeling like you're "faking it" can signify growth. Contrary to popular belief, genuine authenticity is about vulnerability and self-awareness, often requiring leaders to step out of their comfort zone.
What does the authenticity paradox look like in practice? Navigating the desire to be your "true self" when at the office while also recognizing that you are a work in progress that can (and should) grow and evolve to meet your organization's and team's changing needs.
As their careers advance, many leaders are challenged to elevate their leadership contributions in expanded or new roles. It's at this moment that we must fight the urge to retreat to familiar behaviors and styles that feel authentic but are actually a step back. Growth often requires leaders to live in discomfort, being willing to create a new authenticity that reflects their expanded skills and responsibilities. 
Self-aware Leaders Are Vulnerable Leaders
So many of us buy into the myth that authentic leaders have unwavering confidence in who they are. We believe it's a sign that we are not authentic if we show signs of weakness, self-doubt, or discomfort. This couldn't be further from the truth.
Authentic leaders commit to learning more about themselves. They are vulnerable in sharing their mistakes and humble in their willingness to learn as they go. 
I've noticed the importance of self-aware authenticity even more lately. These days, the new normal includes hybrid work schedules with remote teams and physically disconnected colleagues. With the leaders and teams I work with, on the rare occasion that teams come together in person, they need time to "remove the mask" and step into their authenticity. Everyone needs a little space before they are prepared to let themselves be seen and connect with one another.  
Removing the mask takes courage and intentionality. 
Leaders need the space to recognize the disconnect and the courage to stay open in the discomfort, so we can ultimately bring our best to the office and the teams we lead!
Interested in helping your leaders remove their masks and understand the crucial importance of self-aware, vulnerable authenticity?
I work directly with leadership teams to develop the soft skills required to succeed in the ever-changing landscape of today's modern workplace.