Women in leadership face different obstacles and challenges than their male counterparts. According to a Pew Research Center study, 43% of Americans agree that women in leadership positions are held to a higher standard than men. So those feelings you may have of needing to work harder to prove yourself or achieve better results just to be seen? They are real.
So what is a motivated, ambitious female leader to do?
We believe the workplace is better for everyone when there are more women in leadership positions. We also know that it can be a daunting task to take on heightened expectations and unfair bias on your own. So over the next few months, we'll be posting all about how to overcome some of the major challenges you face as a female leader. We will focus on identifying the issues and giving you concrete, actionable steps to overcome each obstacle you may encounter.
Yes – it is harder to be a woman in leadership, but we can do hard things. And together, we can help improve the workplace for our colleagues and the generation of women leaders behind us. Let's get to it!
Is Anyone Listening?
One of the biggest struggles I faced as a leader in the corporate space, and a struggle many of my clients identify with, is being able to clearly and effectively communicate your thoughts and ideas in a male-dominated space. This is also one of the most common challenges for women in leadership.
One of the worst ways I see this struggle play out is through "bro-propriating." Here's what happens – You, the female leader in a group of men, share a solution to a problem. No one listens, and your idea is pushed aside, and everyone keeps talking. A few minutes later, one of the men in the group offers up the exact same solution you suggested… except this time, everyone is on board. The idea is heard and valued because it came from a male leader in the room.
If you've ever worked somewhere that allows (and even promotes) this kind of behavior, you've probably felt discouraged from sharing your ideas and possibly even internalized the subconscious bias against female voices.
What Happens When Women Don't Trust Their Voices?
When your voice is consistently diminished, devalued, or ignored, a few things can happen:
You start to question your own idea or value
You stop sharing
Others don't expect you to contribute
You overcorrect by being defensive or aggressive
None of these are helpful or productive for you or your workplace.
I know when I personally felt unheard or devalued, I tended to react aggressively. I would talk over others, speak quickly, and make snap judgments, all in an effort to force others to listen. This is not my style. My value, knowledge, and skills were devalued by my delivery style, which led to me feeling even less appreciated and seen.
If you've experienced the struggle to be heard in a male-dominated group, you can probably also attest to the frustration and fear that comes with this particular challenge. You may have found yourself wondering – Do I really deserve to be here? Do I know what I'm doing? Should I just be quiet and listen?
But you don't have to stop here. There are some simple, direct steps you can take to overcome the communication barrier and ensure your voice is heard, valued, and appreciated.
How to Overcome the Communication Challenges for Women in Leadership
The first step in overcoming the challenge of communicating clearly and effectively as a woman in the workplace is acknowledging that this is a challenge. You need to put extra effort into this area of leadership in order to truly be heard.
Once you've acknowledged and accepted that this is an obstacle you want to overcome, there are some key steps to moving forward.
Stop Worrying and Start Trusting
You have to stop caring what others think. Your ideas are just as valid as the next person's, and you need to start trusting your own voice. When you're too wrapped up in worrying about what the group will think or if someone will judge you, you lose your power. Trust your skill. Trust your knowledge. Trust your voice.
Get Comfortable with Self-Promotion
Women traditionally find self-promotion to be a challenge. For most of us, it is much easier to celebrate and promote the people around us than it is to stand up for ourselves. The more comfortable you can get putting your ideas out there, the more people will listen. Be willing to stand up for your idea if it is questioned. Defend your position when it makes sense. Put yourself out there with confidence, even when it's not your natural instinct.
Call Out Double Standards
The next time a male colleague cuts you off or starts to speak over you, calmly and confidently say, "Hold on. I'm not done speaking," and resume the point you were making. If you find yourself the victim of "bro-propriating," say something about it. You can use your sense of humor or be direct (find the style that works for you) but call it out. Remind everyone that you brought that idea to the table just a few moments ago and reassert out the value or appeal of your original suggestion. Even though you may feel angry or frustrated, you will be more effective if you can point out these inconsistencies and biases confidently, without resorting to yelling or arguing.
Your Voice Matters
Communicating well in a male-dominated group is much easier and effective when you truly believe in your own voice. Start with acknowledging that most women in leadership face this same challenge – it's not just you! – and then take the steps outlined to overcome this challenge and make a place for your voice at the table.
And if you need some support in implementing these action items or building your own belief in your value, you may consider working with a leadership expert who can help you improve your skills and sharpen your self-confidence. I offer one-on-one leadership coaching for executive and senior leaders, as well as new or high-potential leaders. I would love to help you identify your own unique leadership challenges - often the most common challenges for women in leadership - and work together to find solutions and help you show up as the leader you want to be.
What does life after quarantine and COVID restrictions look like? It's a question a lot of us are currently dealing with – and I'm sharing some of my best advice for navigating the next "normal" with grace and ease.
After over a year of working from home, avoiding family gatherings, and checking in with friends and coworkers over Zoom, we're exhausted. We haven't hugged our loved ones or spent quality time with our friends or colleagues in person. The mental, emotional, and physical toll of our collective isolation is significant. But we have also discovered that we are more resilient than many of us even thought possible.
We have created a new integrated life, where work and home became a unique blend for many of us. We've discovered unexpected blessings, new priorities, and positive experiences amidst the chaos of pandemic life.
It is now time to decide what served us and be deliberate and intentional about what we carry forward into the next normal.
Are We Going Back To Normal?
I often hear from my clients, friends and family that they are anxious to "go back to normal." The truth is, we can't ever go back. Things have fundamentally changed: in public spaces, work environments, and social settings. There will be no "going back to normal" at any point.
But this isn't as dire as it sounds. In fact, I believe we all have a rare chance to live life with great intention, as we move into the next "normal."
We shouldn't want to go back. Remember that hamster wheel of life that was constantly spinning – late nights at the office, over-committed calendars, making time for everyone but ourselves? We have had a year (or more) to adjust and leave much of that life behind, and if we are intentional about moving forward, we can avoid ever falling back into those toxic patterns.
What Should We Bring With Us Into Life After Quarantine?
Despite the stress and disruption of a year-plus of COVID-restricted life, there are a whole host of positive things we can bring with us into our next normal. The key is in taking time to reflect on what we have learned about ourselves and truly come to appreciate since March 2020.
Living life with intention as we move forward is the only way to avoid falling back into bad habits. It took us over two months to adjust to social distancing and COVID restrictions, but we can fall back into our "old normal" way of life in as little as two weeks if we aren't diligent.
Examine your life now:
What bad habits or lack of self-care have you exchanged for positive habits and increased self-care?
Where have you found more time for the things that matter most?
How has your daily routine changed for the better?
Once you are aware of these shifts and the positive things you would like to keep, you can take steps to ensuring they remain part of your life.
Learning to Set Boundaries
You have reflected on your life since March 2020 and identified the changes, routines, and expectations you'd like to keep. Maybe this looks like closing your laptop at 4:30 and spending half-an-hour with your kids before you start dinner prep. Maybe it means keeping your morning walk. Or maybe you've fallen in love with having small blocks of unscheduled time in your week that you want to protect!
Learning to set boundaries will help you protect the things that serve you.
Boundaries are limits we set with others that establish what behaviors we will allow and what we will not. Setting healthy boundaries can feel uncomfortable if you've never really used them before, but boundaries actually help us enjoy our relationships and avoid stress, anger, and conflict.
We can't ever go back to life before COVID, but we can create boundaries to protect the things we have gained and come to appreciate since experiencing quarantine, social distancing, and COVID restrictions. You owe it to yourself to move into the next normal as strong, healthy, and balanced as possible.
I know that learning how to set boundaries can be challenging, which is why I created this helpful resource designed to help you determine your personal standards and then set healthy boundaries to protect those standards.
I invite you to download this resource and spend some time working through it. You'll be amazed at how your healthy boundaries will help you create and protect a life that serves you and your highest values.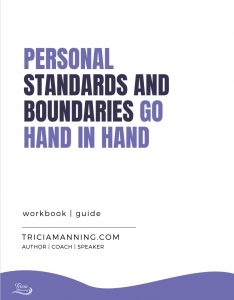 Life after quarantine doesn't have to mean falling back into your harmful or undesirable circumstances. It just takes a little intention to live the life you want.