A new era of female leadership in a post-pandemic era is dawning!
The pandemic disrupted economies and livelihoods, impacting women disproportionately and leading to what became known as the 'She-cession'. But now, women are returning to the workforce with unprecedented determination, according to the latest statistics from the Labor Department. June marked a historic milestone in the United States, seeing the highest number of women actively seeking jobs. Statistics have increased vs. last year for women holding board seats and women CEOs, as well. 
This progress is inspiring, but there's still more to be done. How do we further advance these statistics and help develop female leadership in a post-pandemic era to even greater heights?
Empowering through Executive Leadership Coaching
The answer lies in executive leadership coaching, a powerful "secret weapon" that can transform the trajectory of female leadership. Coaching provides a tailored and focused approach to unlocking a leader's true potential in an era where authenticity and impact are differentiators.
1. Defining Goals with Intention
The journey of development begins with clarity. Coaching helps women leaders connect with purpose-driven goals, clarify what they want, and feel confident about their action plans to get there. Whether it's attaining a board seat or becoming a CEO, setting precise goals provides a roadmap for success.
2. Refining Leadership Skills
Leadership is an evolving skill set; coaching provides a unique platform for honing these abilities. Through personalized guidance, women leaders can identify areas of strength and areas for growth. Whether it's effective communication, strategic thinking, or decision-making, coaching supports skill refinement that's tailored to the individual.
3. Amplifying Impact with Confidence
Confidence is a cornerstone of leadership impact, especially female leadership in a post-pandemic era. Many women face internal barriers like imposter syndrome or self-doubt that can hinder their progress. Coaching addresses these challenges head-on, fostering self-assurance and helping leaders step into their roles with unwavering confidence.
4. Navigating Challenges with Resilience
Challenges are inevitable on the path to leadership. Women leaders encounter various obstacles, from navigating complex corporate dynamics to addressing biases. Coaching equips them with strategies to overcome adversity, build resilience, and maintain a sustained focus on their goals
5. Building a Supportive Network
Coaching also extends beyond one-on-one interactions. It creates a support network, connecting women leaders with like-minded individuals with similar aspirations. This sense of community can be invaluable in providing guidance, sharing experiences, and celebrating achievements.
A Brighter Future for All
The re-entry of women into the workforce post-pandemic presents a unique opportunity to reshape leadership landscapes. By empowering women through executive coaching, we can amplify the impact of women leaders, ensuring their voices are heard and their contributions are recognized.
Are you ready to harness the power of coaching to develop and empower female leadership in a post-pandemic era in your organization?
If so, I invite you to reach out to me to explore the right development opportunities for your organization.
Is employee engagement a priority for your organization?
If it's not, it should be. 82% of employees want their company to see them as a person, not just an employee (Gartner (2022)). 
Being seen as a person looks like:
Being allowed – and encouraged – to express yourself at work

Having life needs outside of the office acknowledged and addressed

Receiving individualized goals

Using work styles and approaches that fit their needs and personal style
To meet the rising demand for more "people-centered" workplaces, leaders must lead differently. 
Which type of leader are you?
In my work, I see two types of leaders:
The transactional leader
Transaction leaders prioritize results, metrics, and outcomes. Intentional leaders prioritize people – while still meeting key targets and performance expectations.
Given what we know employees expect and prioritize, intentional leadership is more imperative than ever. 
Top performers want to work for someone who is focused on cultivating personal connections, digging into what inspires each individual contributor, and creating personalized motivational strategies. 
How can a leader become more intentional?
It's easy to tell leaders to show up differently and lean into the proven practices of intentional leadership – but it's a bit harder in practice.
Change fatigue and work friction, increased by remote and hybrid work, leave most leaders feeling unprepared, unsupported, and uncertain about how to be an effective leader.
Enter: Executive coaching.
This is the most effective way to equip today's leaders to make behavioral changes and perspective shifts to become an effective, intentional leader.
Executive coaching is effective. It's also one of the top resources and professional development tools requested by leaders themselves. 
48% of global leaders want to learn from external coaching (DDI 2022).
4 ways to build intentional leadership through executive coaching
Executive coaching has many benefits for leaders – both professionally and personally. Of those benefits, these are the 5 most important ways executive coaching can impact your leaders:
1. Create Space
An executive coaching engagement can provide the forum and breathing room that allows the leader to get off the hamster wheel for a moment and refocus/reconnect to their role as a leader. This space creates room to feel effective and connected to their purpose again.                                     
When leaders are given the gift of time/space to focus their own leadership, they feel seen, acknowledged, and understood. This leads to feeling inspired and supported, so they can show up and create value for their team and organization.
2. Expand Possibility
A skilled executive coach will guide your leaders to their highest potential. Coaches use their skills, like active listening and building trust, to create a connection with each leader. This personal connection and belief gives the leader a conduit to see their own strengths and potential.

3. Increase Self Awareness 
Leaders need to be more aware of their role. Without increased self-awareness, leaders, like all of us, will blindly continue doing things the same way as usual. The trouble with self-awareness is that it's challenging to develop on your own. 
An executive coach will guide leaders to examine their behavior, reflect on their decisions, and facilitate a powerful experience that allows the leader to become more aware of their values, emotions, and habits – and how they impact the people they lead.
Coaches help people see themselves more clearly and more compassionately. Executive coaching is the best way for a leader to understand their strengths and weaknesses, learning how to see different perspectives and accounting for their own actions as they are mirrored back. 
4. Challenge Beliefs and Support Shifts

Like with self-awareness, it's almost impossible to challenge long-held beliefs or shift your perspective on your own. Executive coaching gives leaders the power to examine the things they believe and the perspectives they hold to determine how these things affect their team and overall organization. Leaders who feel empowered to reconsider their beliefs and make important shifts are then able to re-engage with their team, recommit to their values and goals, and reignite their impact.

Leaders who participate in executive coaching feel more aligned to their priorities and are better at helping their team members feel aligned to their projects and responsibilities. An aligned leader is an inspired, effective leader.
Using executive coaching in your organization
The engagement, morale, retention, and overall well being of a company won't change if leaders don't start doing something different.
The benefits of effective executive coaching include improved emotional intelligence, better ego control, and an enhanced perspective. Is this the "different" you're looking for?
If you're ready to develop more effective, intentional leaders – click here to learn more about executive coaching and how our team of coaches can benefit your organization.
I don't know about you, but this Thanksgiving was the first time since 2019 we could have the extended family together. Our celebration included 50 family members – aunts, uncles, and cousins – together in close quarters, sharing stories, laughter, and hugs. We were all in a room together… without masks! It felt like a renewed spirit of family and connection.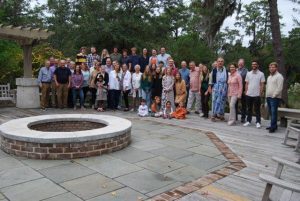 Because so much time had passed since our last gathering, it did take some time to "break the ice." We had to intentionally work to increase the comfort level and rebuild the connection with extended family we hadn't seen in a while. 
We all needed time and space to symbolically remove our (COVID) masks and create space to step into our authentic selves. Reflecting on this experience highlighted the importance of authenticity and reminded me of how often this topic has come up in my work recently, especially in my work with self-aware leaders. 
The Authenticity Paradox
I recently asked a group of leaders – "What do you believe builds trust most quickly within a team?" Their answer? Authenticity.
But when it comes to being authentic, we often get it wrong – thinking "being authentic" always equates to "feeling comfortable." 
HBR published information about the authenticity paradox – digging into how feeling like you're "faking it" can signify growth. Contrary to popular belief, genuine authenticity is about vulnerability and self-awareness, often requiring leaders to step out of their comfort zone.
What does the authenticity paradox look like in practice? Navigating the desire to be your "true self" when at the office while also recognizing that you are a work in progress that can (and should) grow and evolve to meet your organization's and team's changing needs.
As their careers advance, many leaders are challenged to elevate their leadership contributions in expanded or new roles. It's at this moment that we must fight the urge to retreat to familiar behaviors and styles that feel authentic but are actually a step back. Growth often requires leaders to live in discomfort, being willing to create a new authenticity that reflects their expanded skills and responsibilities. 
Self-aware Leaders Are Vulnerable Leaders
So many of us buy into the myth that authentic leaders have unwavering confidence in who they are. We believe it's a sign that we are not authentic if we show signs of weakness, self-doubt, or discomfort. This couldn't be further from the truth.
Authentic leaders commit to learning more about themselves. They are vulnerable in sharing their mistakes and humble in their willingness to learn as they go. 
I've noticed the importance of self-aware authenticity even more lately. These days, the new normal includes hybrid work schedules with remote teams and physically disconnected colleagues. With the leaders and teams I work with, on the rare occasion that teams come together in person, they need time to "remove the mask" and step into their authenticity. Everyone needs a little space before they are prepared to let themselves be seen and connect with one another.  
Removing the mask takes courage and intentionality. 
Leaders need the space to recognize the disconnect and the courage to stay open in the discomfort, so we can ultimately bring our best to the office and the teams we lead!
Interested in helping your leaders remove their masks and understand the crucial importance of self-aware, vulnerable authenticity?
I work directly with leadership teams to develop the soft skills required to succeed in the ever-changing landscape of today's modern workplace.