Leading with your heart intentionally.
I have a unique vantage point to the impact of this global pandemic. As a coach, I have had the privilege to support a number of clients as they maneuver through these unchartered waters.
From the manufacturing company who has an emerging growth opportunity from the epidemic and is struggling to keep up with demand, to the hospitality client who furloughed the majority of their corporate staff, to the local small business that had to close their doors after 25 years, to the national nonprofit who turned on a dime to focus all their own resources to helping other nonprofits simply try to survive.
While these organizations are all distinctive sizes, industries, communities and all impacted very differently by this unexpected crisis, there is one thing they have in common.
Leadership Qualities
Those managers and directors who are out in front – interacting daily with the employees executing the work and supporting the customer - are the ones showing the care, compassion & connection that is so critical right now. 
According to a new report from NordVPN, the average workday in the US has increased by almost 40% since mid-March...that's an extra 3 hours per day! Shelter-in-place orders have forced work from home and people are starting their days earlier and ending at the same time or even later. The boundaries between home life and work life are blurred and to make matters worse, the challenges associated with minimizing environmental distractions, zoom fatigue, and homeschooling guilt has the average employee experiencing a 10-20% reduction in productivity on any given day.
So how are people you lead feeling? 
Job satisfaction is decreasing, stress levels are increasing, and work environments are emotionally charged. Not surprising given all that we are taking in and experiencing 24/7 around this global pandemic.
 So who "gets" it?
Higher up in the organization, the tendency seems to be to lead with a heavy hand – directive approach, quick reaction, the crossing of boundaries, lack of empathy – and worse yet, not leading at all and missing opportunities to communicate hope for a brighter tomorrow.
Where I see leaders with fundamental awareness and authentic appreciation for the emotional and physical toll that social distancing and shelter-at-home is taking, is where I see the greatest stories of connected and intentional leadership.
Resilient Leadership
It is the customer service manager, the digital director, the senior account manager who are interacting daily with front-line employees in the work that is most in tune and taking the approach most necessary - people 1st, company 2nd, self 3rd.
Like the leader who holds weekly town hall meetings dubbed "zooming in" where she gives timely and relevant biz updates and encourages Q&A among her global team over zoom video conference
Like the leader who schedules 15-minute coffee breaks throughout the week so her team has a reason to get untethered from their desk to join a light-hearted, nonbusiness call from their patio, on a walk with their dog, from their kitchen with a cup of coffee
Like the leader who hosts "office hours" the same day/time each week to ensure she is accessible for anyone needing extra "face" time with their boss
Like the leader who sets up a group text with his 22 furloughed team members so he could send inspirational messages and quick company updates every other day
Like the leader who sends e-cards for birthdays and service anniversaries in order to recognize these milestones even though they are not physically in the office
These are some great examples of intentional leadership. 
So what else can be done to improve leadership qualities?
There is one more important thing you can be doing to engage employees and help them with a sustainable performance mindset through this difficult time? Ask one important question...
Being a cheerleader, encouraging fun, and spreading positivity is nice, but can be short-lived. In answering the question of unexpected blessings, we are moved to a mindset of gratitude which is much more sustaining and can appropriately help your people focused forward toward better days.
Through my work, I have curated some intentional practices of what's working well for leaders in leading their teams remotely through this uncertain time ==>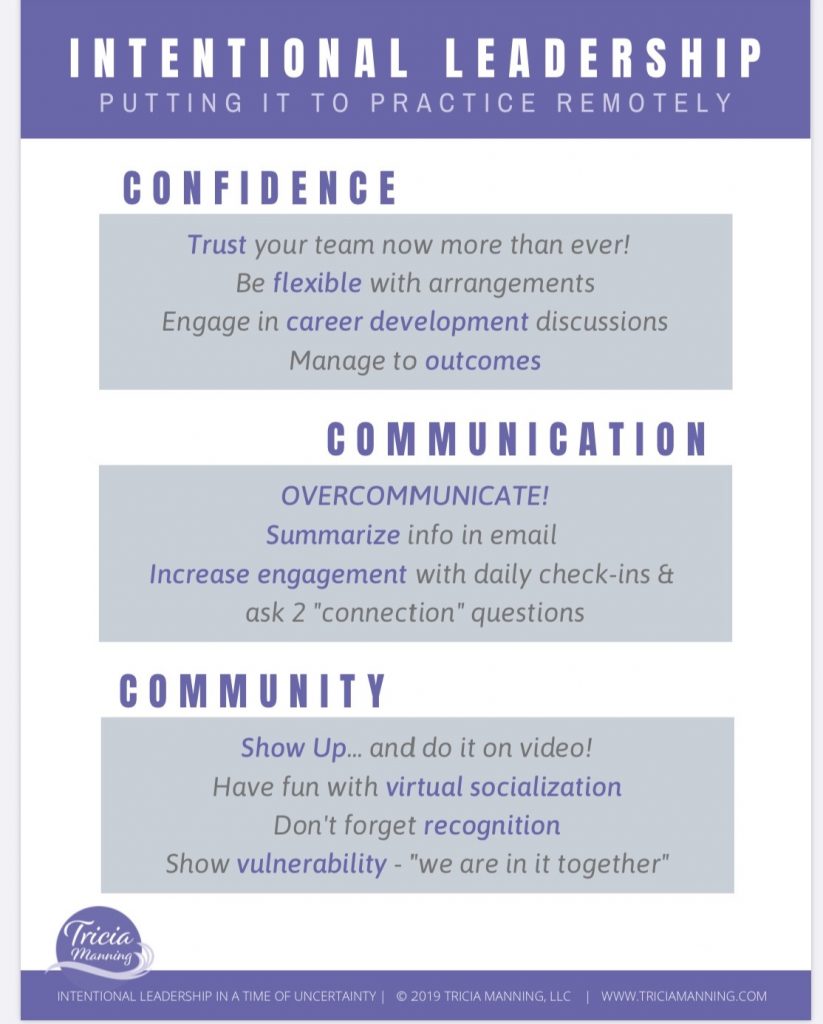 The 3 C's of Leadership: Confidence, Communication, Community
Think about how you are putting these strategies into practice with your teams. And for more details & examples around these strategies or help with additional ideas on to how to best support your teams, reach out to me directly. I would love to help.
Virtual HIGH FIVE to those front-line leaders who are committed to intentionally engaging the hearts and minds of their people, especially right now when it is needed most 💜