I don't know about you, but this Thanksgiving was the first time since 2019 we could have the extended family together. Our celebration included 50 family members – aunts, uncles, and cousins – together in close quarters, sharing stories, laughter, and hugs. We were all in a room together… without masks! It felt like a renewed spirit of family and connection.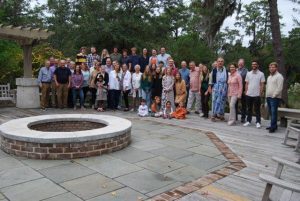 Because so much time had passed since our last gathering, it did take some time to "break the ice." We had to intentionally work to increase the comfort level and rebuild the connection with extended family we hadn't seen in a while. 
We all needed time and space to symbolically remove our (COVID) masks and create space to step into our authentic selves. Reflecting on this experience highlighted the importance of authenticity and reminded me of how often this topic has come up in my work recently, especially in my work with self-aware leaders. 
The Authenticity Paradox
I recently asked a group of leaders – "What do you believe builds trust most quickly within a team?" Their answer? Authenticity.
But when it comes to being authentic, we often get it wrong – thinking "being authentic" always equates to "feeling comfortable." 
HBR published information about the authenticity paradox – digging into how feeling like you're "faking it" can signify growth. Contrary to popular belief, genuine authenticity is about vulnerability and self-awareness, often requiring leaders to step out of their comfort zone.
What does the authenticity paradox look like in practice? Navigating the desire to be your "true self" when at the office while also recognizing that you are a work in progress that can (and should) grow and evolve to meet your organization's and team's changing needs.
As their careers advance, many leaders are challenged to elevate their leadership contributions in expanded or new roles. It's at this moment that we must fight the urge to retreat to familiar behaviors and styles that feel authentic but are actually a step back. Growth often requires leaders to live in discomfort, being willing to create a new authenticity that reflects their expanded skills and responsibilities. 
Self-aware Leaders Are Vulnerable Leaders
So many of us buy into the myth that authentic leaders have unwavering confidence in who they are. We believe it's a sign that we are not authentic if we show signs of weakness, self-doubt, or discomfort. This couldn't be further from the truth.
Authentic leaders commit to learning more about themselves. They are vulnerable in sharing their mistakes and humble in their willingness to learn as they go. 
I've noticed the importance of self-aware authenticity even more lately. These days, the new normal includes hybrid work schedules with remote teams and physically disconnected colleagues. With the leaders and teams I work with, on the rare occasion that teams come together in person, they need time to "remove the mask" and step into their authenticity. Everyone needs a little space before they are prepared to let themselves be seen and connect with one another.  
Removing the mask takes courage and intentionality. 
Leaders need the space to recognize the disconnect and the courage to stay open in the discomfort, so we can ultimately bring our best to the office and the teams we lead!
Interested in helping your leaders remove their masks and understand the crucial importance of self-aware, vulnerable authenticity?
I work directly with leadership teams to develop the soft skills required to succeed in the ever-changing landscape of today's modern workplace.
Click here to learn more about how I can support your team.
Looking Back Over the Past 5 Years of Business Ownership
I recently read a statistic: only 50% of businesses are still operating after 5 years. So, I quickly did some math and discovered that I established my LLC and took my first client after leaving the corporate world in 2017. Looks like I'm officially five years in – I made it!
My passion for leadership development began in my work at Catalina, and after some life-changing events, I left 70-hour work weeks to follow that passion. I knew I wanted more autonomy, flexibility, and fulfillment, and I wanted to make an even bigger impact. I wanted to take my experience and share it with other grow-minded leaders. So I started my company, named White Cap Coaching with inspiration from my kids (representing the things we love to do as a family – be on the water and in the mountains) and grew it from the ground up. 
The topic of leadership resonated with me so much I wrote an entire book about it – Lead with Heart & Leave a Legacy.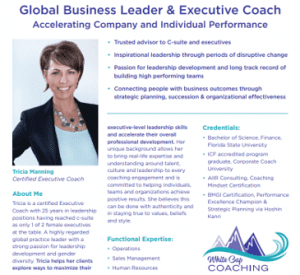 And over the past 5 years, I've led my company through multiple evolutions. I've refined my messaging, impact, and moved from what I knew – traditional corporate speak (the male CEOs I worked with and for over the years taught me well!) – to a more authentic, relatable and intentional message. Now, my messaging matches my experiences and, most importantly, the unique and meaningful value and service that only I can provide to my amazing clients. 

Learning the Keys to Business
I cannot believe it has been 5 years already! I have connected with so many wonderful, intentional leaders and learned so much from them, and I've practiced specific strategies for success to help me stay focused and set me up for success. 
As a solopreneur with a mission to support leaders as they define their own legacy of leadership for a happy, successful, and fulfilling life and career, I've learned quite a few things along the way. And today, I'd love to share the 5 keys to business that I've unlocked at this point in my business.
1. Show up for the right reasons – and do so unapologetically
In the early days, I was caught in the trap of looking at others who were further along their path. I thought if I emulated what I saw them doing, it would accelerate my success. 
But the truth is that comparing yourself to others knocks you off track from your true purpose. Comparison is the fastest way to forget the reason you started your business to begin with.
For me, it was to help leaders find simplicity in the complex and to be in service to them to find fulfillment, meaning & impact in their roles as leaders and in their lives as beautiful, whole people. Comparison can be evil. I learned that the faster path to success happened when I wasn't worried about what others thought, or how others perceive me. I learned to practice finding inspiration in others' successes while staying aligned to the path I was on without any apology for it. 
2. Progress not perfection
I quickly realized that if I spent too much time trying to perfect what I was working on, I would never move forward. My business has changed in mind blowing ways since it began. 
Over the years, I've changed my:
Brand look and feel… 3 times

Audience – refining who I serve and who I talk to

Message – updating and clarifying my messaging as I learn and grow

Work – shifting how I show up and how I help leaders
Trying to perfect everything was a distraction from the true work I needed to do. Instead of creating something perfect, stay in motion and keep moving forward – refining and improving as you go.
3. One of my favorite keys to business? Find ease… not easy
Starting your own business, especially as a solopreneur, requires a lot. The path will never be easy, but it can involve more ease. 
I was working 70 hours a week in the corporate world, and I easily carried that bad habit into my new business at first. But I had to remind myself that I started this business to be different, to enjoy my work, to have more time and freedom.
Starting your own business isn't easy but there should be some ease associated. Once I figured out how to stay in flow and connected to the work that I was doing and the impact I was making, I felt a lot more ease. It was also important that I operated in alignment, modeling what I was teaching my clients in my own work and business.
4. Intention in all you do
Intention is a huge reason my business has thrived for five years! In my work, intention shows up in every aspect of what I do: 
Intentional action

looks like taking purposeful, meaningful steps toward something important each day.

Intentional learning

is all about staying curious & learning from my clients and welcoming in new information. 

Intentional listening

involves building my awareness of how others are responding and how I am reacting. 
Showing up with intention helps me stay in alignment, be flexible with my work, and know when to pivot. 
5. Celebrating your wins is one of the most surprising keys to business
This month as I celebrate my 5 years in business, I am privileged to gather with clients, colleagues, and friends to celebrate this accomplishment and thank those who supported me along the way. 
The journey has not always been easy, there have been many ups and downs (including a significant health scare!) but starting my own business and following my passion has been one of the biggest wins of all. Over the past 5 years, whenever work became stressful and busy or something did not go my way, I often forgot to count the wins. 
But celebrating even the small wins matters. All of those tiny victories have contributed to my overall success – helping me become a better leader and entrepreneur. 
My journey to unlocking the keys to business
I started my business journey investing 25 years in the same company, learning 7 leadership lessons.
And now 5 years into my business as a solopreneur, I'm sharing the 5 keys to business I've discovered so far.
These milestones are the perfect opportunity to reflect on my experience and share all I've learned. 
I'm endlessly grateful for the people I've met, the leaders I've coached, the lives I've changed, and the business I've created. Cheers to the next five years as a small business owner!
I recently had an opportunity to host a leadership development session with an impressive leadership team in Chicago. When they gathered together for our custom workshop, it was the first time they had all been in the same room in two years due to Covid-19 and what transpired in the time that had past gave significant importance on the development of the leader as learner.
David, the CEO, worked with me to create a customized goal and topic for this leadership development workshop. He asked me to introduce strategies and tools to help his team be more open to new ideas, to "rethink" the way things had been done before, and to be curious problem solvers, decision-makers, and leaders. Based on these goals for the team, I curated an extremely relevant topic for leaders today – "Are You Learning as Fast as the World is Changing?"
Seeing the Leader as Learner
To prepare for our session, I asked the team to read Think Again by Adam Grant. This helped them feel equipped to dig deeply into the concept of rethinking. 
The key point of our session was this: In a world that never stops changing, leaders can never stop learning. 
I helped the leadership team embrace their role as continuous, curious learners by questioning common responses to their current actions and situations. We interrogated the validity of "that's the way we've always done it" to see that just because something has been done a certain way does not mean it can't be done differently. 
Change-capable leaders must grow and evolve with the world. The leader's job is constantly learning – rethinking current policies, questioning current responses, and investigating new potential solutions.
When your talent embraces their role, leader as learner:
Your organization's growth strategy improves

You'll see increased innovation of new products and a stronger competitive advantage

Leaders can "fail and learn."

Past mistakes are not repeated
The Importance of Interpersonal Connection
David, the CEO, and I also developed another important objective for this session: allowing people time to reconnect with each other.
We spent a little less time "doing" and more time "being." This time was crucial to the team – allowing them space and energy to renew their commitment to the organization and their roles as leaders.
The face-to-face time we prioritized brought up many interesting conversations, including:
setting boundaries in a remote setting

how messages can get misinterpreted over email

how each person behind the screen has emotions and a personal life
These discussions helped the leaders better understand their peers and themselves. 
Our custom session – focused on seeing the leader as a learner – was a perfect mix of learning and applying new concepts AND time sharing about what work and life look and feel like in today's environment.
The Role of Soft Skills in Leadership
Not everyone will be able to keep pace in a constantly changing and demanding world and business environment. 
Really smart people are studying the "future of work" and reporting that 10% of jobs will be automated in the next year, and 50% of jobs will be automated in the next decade. Specific requirements must be met to survive and thrive in the present and near future.
Successful leaders of the future must be proficient in these 3 soft skills:
1 | Balance between doing & learning
How much time on your calendar is spent doing vs. learning? Finding the right balance between current business demands and continuous learning is hard. The fast-paced environment often distracts leaders from their best, discouraging them from being curious, innovative, active, and engaged learners.
Leaders are often head down, trying to manage customer demands, fire drills, and simply keep up. Given this reality, it is easy to lose sight of the importance of learning. But if you want to be successful long-term, it is especially important to practice continuous learning. The leaders who will thrive are consistently, intentionally learning.
2 | Intention
As leaders progress and advance in their careers, they become less comfortable learning. Not knowing something, asking questions, being curious, and reaching out to experts require them to be brave.
Not knowing the answer to a question does not make a leader unintelligent. However, not asking and not learning something new because they are afraid will cause leaders to miss on many beautiful opportunities. The access to knowledge is there, but as they get further along, they have to be even more intentional about learning.
3 | Active Listening
Active listening is a key to learning. It is essential to listen to the thoughts and perspectives of people from different backgrounds to rethink our own perspectives, biases, and judgments that keep us opening up to other perspectives and from learning. By listening more deeply – and not just responding with the first thought that comes to mind – we can respond more intentionally. This kind of mindset helps encourage a culture of learning and an environment for others to learn, share thoughts, and allow their ideas to flourish.
Developing Your Team of Leaders as Learners
Are you and your employees ready to develop soft skills for the ever-changing future world? 
If you're interested in ensuring your team is growing and adapting to current and future demands, contact me to create and facilitate a custom leadership development session. 
Your team will love digging into the topic "Are you learning as fast as the world is changing?" and your entire organization will benefit from this targeted, intentional development.
Your early career professionals and high-potential leadership candidates will shape the near future landscape of your businesses. Looking five years to the future,  what are you doing to prepare leaders for the future of your organization? If you're unsure or unclear about effectively developing the leadership skills of your early career professionals, this post will give you clear next steps and strategies.
Employees are looking for help developing their leadership skills
A recent Gallup study showed that 70% of workers are likely to change jobs to one offering training/education opportunities that upgrade their skills. Today's employees want to feel supported and prepared for future roles. If employees do not feel properly trained or know exactly what to expect, they will likely search for other jobs and leave the company.
An organization that refuses to recognize the crucial need for targeted leadership development and ignores its employees' desire for targeted professional development will lose top talent and struggle to retain long-term employees.
The hybrid workplace
In light of the recent global pandemic, many employees have had to rethink how and where they work. Organizations must be aware of these changes to recruit and retain high-potential leaders. A "hybrid" work environment – with work time split between remote work and in-office work – has become an expectation for many.
As a coach, I help many leaders prepare for the hybrid work environment. Successful leaders need the right tools and strategies to excel in the new, modern workplace.
One of the leaders I coach summarized it like this:
"As leaders, we have to recognize change in the workforce. Instead of measuring hours of people sitting at their desks, we need to measure if the person is getting their job done effectively."  
B.D. Houston, TX.
Developing leadership soft skills
85% of the jobs that college students will be doing in the year 2030 do not even exist today. That means we are preparing our future leaders for virtually unknown jobs, which is why it is so important that emerging leaders develop the soft skills needed to succeed in the future workforce.
Soft skills are usually the hardest to understand. Technical skills are concrete and simple to measure. Performance can be tracked and evaluated. But soft skills can feel unclear, uncertain, and impossible to measure.
Successful future leaders need to develop soft skills like:
Self-awareness: understanding how you work and learn on your own and with others
Communication: engaging with others while practicing active listening and intentionally responding
Effective feedback: delivering and receiving constructive feedback and not shying away from difficult conversations
Adaptability: navigating a constantly changing world
Ability to connect: authentically connecting to increase engagement with your team and others
A leader's ability to manage their emotions, and provide context that helps their employees stay engaged, adapt, practice good judgment, and continue to learn are some of the additional soft skills that set leaders apart.
The High-Potential Leadership Program
Given what we know about the ever-evolving workplace and the needs and desires of today's future leaders – organizations must be forward-thinking and responsive.
You should be considering:
How has the recent shift in the working environment and employee expectations made it uncomfortable for leaders?
What soft skills have leaders had to develop in the last 3 years?
What have leaders learned is necessary? What will continue to be necessary as leaders continue to adapt for the future?
After working with so many leaders considering these critical questions, I was inspired my High-Potential Leadership Development Program.
This program focuses on the soft skills tomorrow's leaders need to succeed in an ever-changing marketplace.
Over the course of 6 months, I helped my high-potential leaders develop the key skills needed to succeed as a leader of the future.
They learn how to apply these approaches in different work environments – from remote work to in-person settings and the more complicated hybrid work environment.
They learn how to influence others and be change-capable leaders in an ever-changing world.
The High Potential Leadership Development Program is a six-month group coaching, mentoring, and development program that allows your emerging leadership talent to develop skills, discover tools, and practice habits that successful leaders have proved.
I recently onboarded 30 high-potential leaders into this program, and they are making incredible growth and implementing the skills and strategies we've learned.
Ready to make an investment in your own high-potential leaders? Click here to connect with me and learn more about how my coaching program can equip your top talent to become the most effective leaders of the near future.
Have you ever considered how self-awareness affects your career success? Self-awareness, for leaders especially, is the foundation of authenticity and impact. 
How can you expect to understand and influence others if you don't first understand yourself? 
Once you know your leadership style, you can see how your approach and perspective impact those around you. Self-awareness helps you better understand others and improves how you collaborate and work together.
Assessing Self-awareness for Leaders
The challenge with self-awareness is that it is often hard to see ourselves accurately. Any number of factors can skew our perceptions. I was recently introduced to an assessment that facilitates a deep, meaningful understanding of self: the Profile XT. 
Profile XT assesses your:
Thinking style (how you communicate)
Behavioral traits (how you interact with others)
Interests (what engages and motivates you)
This specific combination of insights creates powerful self-knowledge that would not be possible on your own. 
Self-awareness in Practice
I work with a client who was just promoted to VP of Information Technology, receiving a considerably more significant scope of responsibility. He now has more visibility and the ability to impact his company's strategic results. This is his chance to make the most of his opportunity to prove he is ready, capable, and a clear candidate for a C-level position in the future.
We kicked off our work together with the Profile XT so we could understand his current leadership style and elevate his skills. This client is naturally reserved. He brings a highly analytical perspective to his work and needs certainty before making decisions.
However, the organization relies on him to bridge the gap between data and technology, expecting him to accelerate their shift toward leveraging both functions to support their growth strategy. 
Given the high stakes of his new leadership role and the self-awareness he gained from the Profile XT, he could see where he needed to make some changes and where he should focus his development.
My client could clearly see where his analytical, results-driven, and low-risk style interfered with his ability to be a vulnerable, connected, intentional leader. Together, we identified actions he could immediately put in place to communicate more often, communicate more clearly, and practice active listening to help his team feel seen, valued, and heard.
The Benefits of Increased Self-Awareness for Leaders
When you are willing, like my client in this example, to invest in yourself and dig into your leadership approach, you can improve your skills, hone your talents, and expand your capabilities. 
The main benefits this client experienced during our self-awareness work were:
Awareness of his thinking and behavioral style

– These showed up in how he communicated and interacted with others

Increased impact

 – He learned how to communicate more effectively and use his strengths to improve results while deepening his ability to connect with and motivate his team

Clear action plan

– The Profile XT provided the data I needed to create intentional action items to improve his leadership presence with his team, peers, and senior leaders
Because the Profile XT was so powerful with my 1:1 coaching clients, I've recently begun leveraging it in group coaching. (You can click here to see the coaching services I offer.)
How Can Self-awareness Improve Your Leadership?
After seeing how useful the Profile XT assessment has been for my clients, I decided to put my time and energy into becoming PXT Certified. Now I can support my clients even better while efficiently and effectively accelerating their leadership and career goals.
While there are several benefits to improving your self-awareness, there are 2 key benefits to engaging with coaching and the Profile XT assessment: 
Increase understanding of your leadership style.


Understanding your leadership style benefits not only you but also benefits your entire team. By digging deeper into how you

think

and

act

as a leader, you can better understand yourself and lead with intention. Understanding your strengths and style increases your productivity. You'll also learn how to work more efficiently with other leadership styles.

Intentionally engage with your people.


When you understand yourself, you are better at understanding others. You can engage your people more intentionally by being vulnerable at work and showing care and interest in the lives of your employees. Increased self-awareness will help you become a better active listener, taking the time to listen, understand, and respond to your team members. If your employees are happy and engaged, you will also be more productive as a team and company. (That's what we call a win-win!) 
Experience the Power of Self-Awareness Yourself
You've seen all the evidence and witnessed what is possible when you engage with your self-awareness as a leader. Now you're ready to put the Profile XT to work in your own professional development, and I'm excited for you to see what's in store!
When you join a small group coaching circle – intimate, truly small groups of like-minded leaders committed to growing together – you get access to the robust PXT assessment alongside numerous other resources and tools. The group accountability and support facilitate deeper learning and more effective coaching, helping you reach your goals and develop new skills. 
Interested in taking your leadership to the next level? Click here to contact me about joining a group coaching program and intentionally engaging with your self-awareness. 
Leading leaders is a complicated, complex task in the best of times. And I think we can all agree that the past two years have been more challenging than easy. 
Do you have a newly formed team of leaders?
Have the changes required by the state of the workplace (and the world) over the past two years challenged your team of leaders?
Have you found yourself focusing more on the short-term, immediate survival and results instead of prioritizing nurturing and communicating with your leadership team?
These scenarios cover a wide spectrum of experiences, but all of them have a similar effect – your team has become a "working group," focused on their individual performance and only interacting on a transactional, informational basis.
This helpful graph shows how your team's performance and effectiveness affect each other.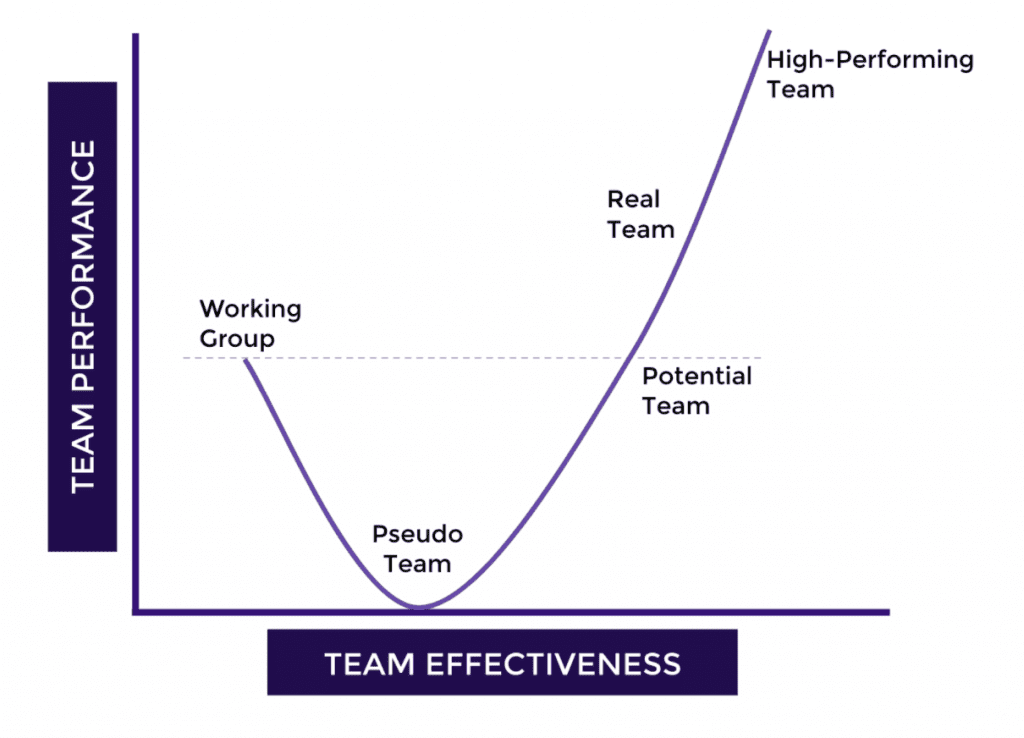 What To Do When "Working Group" Is NOT Enough
A "working group" of leaders should not be the goal. Effective leaders and CEOs want to foster a truly high-performing team.
Given the challenges and setbacks of working in and through a global pandemic, you may have had a high-performing team that has slid into "working group" mode.
You may have a new team that hasn't reached its potential yet.
Or maybe you have a team that has just never gotten past the "working group" stage.
Regardless of how you got here, you know that "working group" is not where you want your leaders to stay.
But how do you initiate change?
It all comes down to building connections and TRUST.
Trust is the foundation of a high-performing team. When trust is present, your leaders experience the psychological safety they need to make mistakes and learn from them, be vulnerable with one another, hold each team member mutually accountable, and be ready and willing to share professional wins and failures.
That is the true picture of a high-performing team.
Let's look at an example in action from one of my recent clients.
Developing Leaders with Trust: A Case Study
I was introduced to our case study team in early 2021. They were a newly-formed executive team that was brought together in a restructure post-acquisition. (Never an easy position to be in for any leader.)
The team members joined the new team from different functions in different companies with the goal to provide a new analytics function to the organization.
This group of individuals – the very definition of a "working group" – had the opportunity to move through the "Team Performance Curve" (see graph above) to establish a common purpose, performance goals, trust, and accountability.
We had 12 months together, and I needed them to make significant progress in the 5 core behaviors of a cohesive team:
Trust
Conflict
Commitment
Accountability
Results
I pulled the team together for monthly leadership development sessions where I covered these behaviors and then helped them apply what they learned in their own monthly meetings. They could practice demonstrating each behavior in real-time as they came together to address their business agenda.
This approach supported and developed an effective, cohesive team post-merger and reorganization.
Developing Leaders: The Results
In our first meeting, I had the leaders on this team score themselves in the 5 core behaviors. After 12 months of working together, I had them re-assess and we saw significant improvement across all FIVE behaviors.
Their growth in the 5 core behaviors helped this team move from a "working group" all the way through the curve to a high-performing team.
The leaders' results were also seen across the organization, and our team's mission became a new corporate pillar for the entire organization!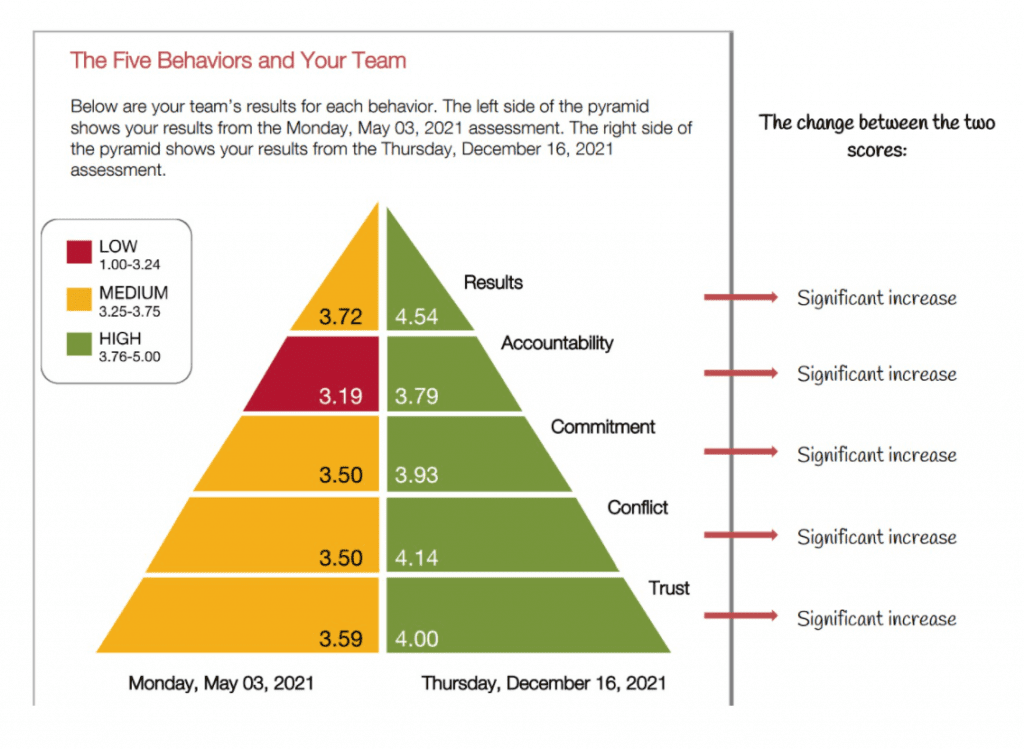 Want to Improve Your Team's Performance? Start with Trust
It can feel overwhelming and impossible to make changes with your senior team devolves or can't seem to move past the "working group" stage. But you will see results when you start with trust.
Building trust among your team is the foundational first step to moving through the performance curve and becoming the established, high-performance team you want to have. And when your team of leaders becomes high-performing, you're going to elevate the performance of your entire organization.
Ready to get started with your team? This is a simple trust-building exercise I encourage you to try in your next team meeting.
Personal Histories Exercise
Give everyone 2-3 minutes to think about their responses to these questions.

Where did you grow up?
How many siblings do you have and where do you fall in the sibling order (oldest, youngest, etc.)?
What was an important or unique challenge of your childhood - of being a kid?

Ask for a volunteer to begin. Each person as 3 minutes to share
Once everyone shares, discuss what you learned about your colleagues that you didn't know.
When you try this, you'll see the level of psychological safety increase as your team starts to actively build trust. It's simple, effective, and productive.
Ready to Increase Your Team's Trust and Performance?
Once you see the benefit of building trust – and the other 4 core behaviors – with your team, you'll wish you had started this process even sooner.
When you're ready, I provide customized team development programs based on your unique team needs, personalities, and goals.
Reach out and schedule a call to talk about how I can help your leaders become a high-performing team and elevate the results and efficacy of your entire organization.
We just turned a fresh new page on the calendar, and we are ready to take on the new year. As leaders, specifically female leaders, a new year has us wondering how to start the year strong.
Here's what I see happening with a lot of women in leadership – you start in the hole, with one arm tied behind your back, feeling like you are already "doing it all" and feeling incapable of adding one more thing to your plate.
You put yourself last, worrying about helping your team and those around you, sacrificing your own career goals in the process.
This is not the picture of a strong start. But it is often reality.
And it leaves many of us wondering how to start the year strong.
That's why I want to talk about how starting the new year from a position of strength – instead of a position of exhaustion – is the key to hitting your goals, increasing your impact, and finishing 2022 on the best note.
What's On Your To-Do List?
I have a coaching client who is focused on her career growth. She has big goals and wants to do the things necessary to level up her skills and prepare for upcoming advancement opportunities. But she doesn't know where to start, because she doesn't know where she is heading. 
This client hasn't even taken the first step because she's so overrun by her day-to-day tasks and responsibilities. She is highly motivated and a high-achiever, but her to-do list runs her day and she feels like she can't keep up… resulting in her feeling exhausted, defeated, guilty, and further from her goals as each day passes.
Maybe you have experienced what my client is struggling with, too.
Do you find yourself spending all of your energy on checking off to-do items so you feel like you're contributing… but not actually focusing on the things that actually have the most impact?
You and my client are not alone. In fact, 88% of business people don't accomplish their top three priorities on any given day. Of the time given to a workday, 80% is spent doing tasks with little to no value and only 20% is spent doing something important.
That means almost all of us are struggling with getting the right things done. But why?
You Need to Address Your Priorities
That always-open inbox and never-ending to-do list? Those keep us consistently inundated with smaller, trivial tasks. The constant presence of these insignificant responsibilities draws us in and sucks all our energy.
Want to end the overwhelm and start each day from a position of strength?
You must be intentional in deciding what matters most – with your own goals at the top of the list. 
Your goals and high-impact tasks should drive your day, not the mile-long to-do list of little time-sucking tasks.
When you're ready to take back control of your day and step into your strength as a leader, there are three steps to take to make sure your overall vision, goals, and priorities are in line.
Redefine
Redesign
Realign
Redefine

– This is where you look at your vision – professionally and personally. Take some time to get serious about what you want your life to look like and redefine your version of success.

Redesign

– Design goals that will get you to your new, clearly defined vision.

Realign

– Everything on your plate is not created equal. Get serious and realign your priorities to drive toward your overall goals and vision.
Everything starts with redefining. It's vital that you have a clear idea of where you want to go before you take off. You can't work toward a goal without knowing what you're working for.
When you take the time to redefine, redesign, and realign, you will be confident and ready to strike with the right opportunity coming your way!
How Do I Redefine, Redesign, and Realign?
Taking on these reflections and major life decisions on your own can be daunting.
That's why I'm here to help you take the first step!
Download my Leadership and Career Dashboard to give you a head start in "redefining" the vision you have for your career & your leadership in the new year.
And when you're ready to truly accelerate your growth, overcome any challenge, and realign your values to reflect what matters most – consider partnering with a leadership coach and accountability partner to help you get where you want to be!
Click here to schedule a call to discuss what coaching can do for you.
Does this sound familiar? 
You have achieved a certain level of success as a leader. Colleagues respect you, and your team recognizes that you have the knowledge and skills they need to be successful, too. You get results. It is clear to everyone in your organization that you are a disciplined, proven leader.
And yet you still feel like an imposter.
Every day you find yourself doubting your decisions, second-guessing your choices, and feeling like you'll never be enough.
It's exhausting. And you're not alone.
Women have made incredible strides in the workplace – we're earning more college and graduate degrees than men and closing the gap in middle-management… but men are still getting paid more and promoted faster. (The Atlantic)
So what's going on?
According to reporters and researchers Claire Shipman and Katty Kay:
"Compared with men, women don't consider themselves as ready for promotions, they predict they'll do worse on tests, and they generally underestimate their abilities."
But when it comes to actual outcomes and results for men versus women? The quality of their actual performance doesn't differ much. (The Atlantic) 
As women, we doubt ourselves. There's a massive confidence gap that's holding us back from top leadership positions and exhausting us on a daily basis. Yes, your role as a leader is complex and stressful – that's true for any leader, male or female.
But when you actively step into your power and embrace your confidence, things do start to feel a bit easier. You free up your mental and creative energy to focus on problem-solving and helping your team instead of constantly worrying that you're not enough or doing something wrong.
And because you know we are all about taking action around here – I'm sharing 4 simple, direct ways you can increase your confidence, decrease your self-doubt, and close that confidence gap.
How to Close the Confidence Gap
I work with my one-on-one leadership coaching clients to help them shift their perspective, change the narrative, reframe the stories they tell themselves, and declutter their minds so they can lead with less overwhelm and more balance, less stress, and more ease; less push and more receive.
Those changes and shifts take months to fully take hold, but you can follow these steps to start closing your own confidence gap today.
Step #1: Know Your Values
Make a "Top 5" list of the qualities you think it's most important to have. You'll feel more confident – and more authentically you – when you know you're living and leading by your own set of values instead of trying to conform to someone else's.
Step #2: Keep an Open Mind
Sticking to rigid thinking leaves you second-guessing every choice and decision. Approach your work, your team, and your colleagues with an open mind and see how much easier it is to appreciate good ideas, be more creative, and stop worrying so much about being "right."
Step #3: Practice Boldness
A huge reason for the confidence gap? Men believe their ideas are great and women are timider about putting themselves out there. Start small – with speaking up in a meeting or starting a conversation – and practice increasing your bold actions each day. Will it feel uncomfortable? Probably. But keep practicing, and soon, you will feel comfortable standing up and standing out!
Step #4: Avoid Perfectionism
Done is better than perfect. So many times, we (women) second-guess our work and let perfectionism keep us from sharing an idea, solving a problem, or achieving a result. You are not naturally perfect (no one is), and the sooner you can let go of that need the sooner you will see your confidence bloom. 
Why Does Confidence Matter?
Doubting yourself and second-guessing your decisions is exhausting. It also ends up hurting your productivity, your results, and ultimately your career. 
If you want to be the most effective leader possible, you have to step into your confidence and lead from a place of feeling empowered, capable, and authentic. That is when you will really live up to your potential, see your true success, and help your team members grow. 
Feel like you need some help in this area? It can be difficult to overcome your self-doubt tendencies on your own. That's where a coach can make a huge difference. I help women identify their own confidence gap and make major shifts in perspective, mindset, and beliefs in order to increase their confidence, ditch the stress and overwhelm, and lead with ease.
If that sounds like something you would like to experience, you can click here to check out my 1:1 services. 
And if you're ready to tackle your confidence gap on your own, make sure you start with the steps above and systematically break down your doubt and fears. Your team, your organization, and your career will thank you!
Women in leadership face different obstacles and challenges than their male counterparts. According to a Pew Research Center study, 43% of Americans agree that women in leadership positions are held to a higher standard than men. So those feelings you may have of needing to work harder to prove yourself or achieve better results just to be seen? They are real.
So what is a motivated, ambitious female leader to do?
We believe the workplace is better for everyone when there are more women in leadership positions. We also know that it can be a daunting task to take on heightened expectations and unfair bias on your own. So over the next few months, we'll be posting all about how to overcome some of the major challenges you face as a female leader. We will focus on identifying the issues and giving you concrete, actionable steps to overcome each obstacle you may encounter.
Yes – it is harder to be a woman in leadership, but we can do hard things. And together, we can help improve the workplace for our colleagues and the generation of women leaders behind us. Let's get to it!
Is Anyone Listening?
One of the biggest struggles I faced as a leader in the corporate space, and a struggle many of my clients identify with, is being able to clearly and effectively communicate your thoughts and ideas in a male-dominated space. This is also one of the most common challenges for women in leadership.
One of the worst ways I see this struggle play out is through "bro-propriating." Here's what happens – You, the female leader in a group of men, share a solution to a problem. No one listens, and your idea is pushed aside, and everyone keeps talking. A few minutes later, one of the men in the group offers up the exact same solution you suggested… except this time, everyone is on board. The idea is heard and valued because it came from a male leader in the room.
If you've ever worked somewhere that allows (and even promotes) this kind of behavior, you've probably felt discouraged from sharing your ideas and possibly even internalized the subconscious bias against female voices.
What Happens When Women Don't Trust Their Voices?
When your voice is consistently diminished, devalued, or ignored, a few things can happen:
You start to question your own idea or value
You stop sharing
Others don't expect you to contribute
You overcorrect by being defensive or aggressive
None of these are helpful or productive for you or your workplace.
I know when I personally felt unheard or devalued, I tended to react aggressively. I would talk over others, speak quickly, and make snap judgments, all in an effort to force others to listen. This is not my style. My value, knowledge, and skills were devalued by my delivery style, which led to me feeling even less appreciated and seen.
If you've experienced the struggle to be heard in a male-dominated group, you can probably also attest to the frustration and fear that comes with this particular challenge. You may have found yourself wondering – Do I really deserve to be here? Do I know what I'm doing? Should I just be quiet and listen?
But you don't have to stop here. There are some simple, direct steps you can take to overcome the communication barrier and ensure your voice is heard, valued, and appreciated.
How to Overcome the Communication Challenges for Women in Leadership
The first step in overcoming the challenge of communicating clearly and effectively as a woman in the workplace is acknowledging that this is a challenge. You need to put extra effort into this area of leadership in order to truly be heard.
Once you've acknowledged and accepted that this is an obstacle you want to overcome, there are some key steps to moving forward.
Stop Worrying and Start Trusting
You have to stop caring what others think. Your ideas are just as valid as the next person's, and you need to start trusting your own voice. When you're too wrapped up in worrying about what the group will think or if someone will judge you, you lose your power. Trust your skill. Trust your knowledge. Trust your voice.
Get Comfortable with Self-Promotion
Women traditionally find self-promotion to be a challenge. For most of us, it is much easier to celebrate and promote the people around us than it is to stand up for ourselves. The more comfortable you can get putting your ideas out there, the more people will listen. Be willing to stand up for your idea if it is questioned. Defend your position when it makes sense. Put yourself out there with confidence, even when it's not your natural instinct.
Call Out Double Standards
The next time a male colleague cuts you off or starts to speak over you, calmly and confidently say, "Hold on. I'm not done speaking," and resume the point you were making. If you find yourself the victim of "bro-propriating," say something about it. You can use your sense of humor or be direct (find the style that works for you) but call it out. Remind everyone that you brought that idea to the table just a few moments ago and reassert out the value or appeal of your original suggestion. Even though you may feel angry or frustrated, you will be more effective if you can point out these inconsistencies and biases confidently, without resorting to yelling or arguing.
Your Voice Matters
Communicating well in a male-dominated group is much easier and effective when you truly believe in your own voice. Start with acknowledging that most women in leadership face this same challenge – it's not just you! – and then take the steps outlined to overcome this challenge and make a place for your voice at the table.
And if you need some support in implementing these action items or building your own belief in your value, you may consider working with a leadership expert who can help you improve your skills and sharpen your self-confidence. I offer one-on-one leadership coaching for executive and senior leaders, as well as new or high-potential leaders. I would love to help you identify your own unique leadership challenges - often the most common challenges for women in leadership - and work together to find solutions and help you show up as the leader you want to be.
How to Delegate with Intention: A Key Skill for Women in Business Leadership
"It will get done faster (and better) if I just do it myself!"
"Even when I explain in detail how to do it, it isn't done right."
I don't want someone to think I'm dumping something I just don't want to do on them!"
If you're a woman in business leadership, you've likely made a statement like one of these recently.
Delegating is a skill that does not come easily to most leaders. We struggle with giving up control of the outcomes and worry others will see us "avoiding" work if we ask them to handle it.
But learning how to delegate with intention is one of the key leadership skills you need to master if you want to be a truly effective leader. Delegating with intention elevates your leadership and helps you empower and develop the people you lead. Done well, delegating might just become your new favorite task.
WHAT DOES DELEGATING WITH INTENTION LOOK LIKE?
In practice, delegating with intention helps us combat our discomfort and unease with the practice of asking others to take on work for us. It's important to remember that sharing the right work with the right people means that each person – you included – can focus on those things that add the most value.
When it comes to delegating with intention, you have two areas of focus:
Empowering and Developing Your Team (and yourself!)
Adding More Value to the Organization
So let's see this at work...
You have a data set that needs to be sorted before you can use the data to make a recommendation to a committee about the next steps for a specific project. You also have a few memos to write, an employee review to complete, and some admin tasks. If you decide to do all of this work yourself, you know it will be done correctly, but it's going to take you an entire day to work through everything.
The kind of delegating you're used to (that feels uncomfortable) would include you calling up someone "beneath" you and tossing the work that you don't have time for at them. No wonder that doesn't feel great!
But you're a woman in business leadership who leads – and delegates – with intention. So you think about the conversations you've been having with your team lately to see who might be a good fit for a few of the tasks you have on hand.
Samantha mentioned that she wanted to deepen her analytics skills in your last one-on-one, so you ask her if she can step in and support the team (and develop a skill she's interested in) by sorting the data set. She's thrilled to be trusted with a side project in her area of interest, and you've freed up some of your time.
You've noticed that Greg is an excellent writer, so you let him know you appreciate his writing skills and could use his help crafting a few key memos for the team. He completes the memos in a fraction of the time it would have taken you, and they are clearly written and easy to understand.
Because you've learned how to delegate with intention, you now have plenty of time to sort through the data Samantha aggregated for you and make a well-informed, insightful recommendation to the committee. You don't have an endless to-do list dangling over your head, so you're able to be more focused and intentional in the employee review.
HOW TO DELEGATE WITH INTENTION AS WOMEN IN BUSINESS LEADERSHIP
Sure, the above scenario sounds great, but how do you start delegating with intention in your own role?
There are some key questions you can ask to help start putting this important leadership skill into practice. A skill important to develop for women in business leadership.
Why is this task important?
Get clear on why the task at hand matters. That will help you decide who is the right person to handle it.
What is the desired outcome?
Understanding the desired outcome will help you realize how important each task is, and help you feel more confident about delegating it to someone else or keeping it on your list.
Why do I not want to delegate this task?
Do you feel like it's a waste of time to explain to someone else? Are you worried that they'll think you're giving them work you simply don't want to do? Figure out why you don't want to do it so you know how to course-correct. Maybe you need to shift your mindset, change your attitude, or remind yourself of the value of delegating.
What is it that only you should be doing?
Knowing your zone of genius – those things that you truly excel at – will help you sort through the things that need your personal attention and those things that someone else can take over. Saying "no" to work you don't need to do gives you time and energy for those things that specifically need you.
WOMEN IN BUSINESS LEADERSHIP BENEFIT FROM DELEGATING WITH INTENTION
Learning how to effectively and intentionally delegate helps:
Your employees
You
Your organization
Delegating with intention is essentially a win-win.
"When you get the best from your employees, the company gets the best results."
– LEAD WITH HEART AND LEAVE A LEGACY
Asking employees to manage certain tasks will help them develop new and existing skills. They'll also feel empowered and appreciate being needed. People want to feel valued – and delegating with intention is one of the best ways to help them contribute to the team.
When you give yourself space to focus on the things you are best at, your work will be even better. You can pour your time and energy into focused tasks, improve your own skills, and deliver excellent results.
Your organization will benefit in a number of ways when you start delegating with intention. First, everyone is involved in delivering better work – which improves the quality of the organization across the board. You're also helping improve employee quality and satisfaction, which leads to better organization-wide results. In fact, highly engaged teams show 21% greater profitability (Gallup).
READY TO START DELEGATING WITH INTENTION
You see the benefits and you're ready to sharpen your delegating skills. I'm excited to see how this benefits you and your team! And to start dividing up tasks based on urgency and importance, I highly recommend using Eisenhower's Urgent/Important Principle.
You can click here to download a free guide to help you get started delegating with intention and improving outcomes. You'll be delegating like a pro in no time!