Looking Back Over the Past 5 Years of Business Ownership
I recently read a statistic: only 50% of businesses are still operating after 5 years. So, I quickly did some math and discovered that I established my LLC and took my first client after leaving the corporate world in 2017. Looks like I'm officially five years in – I made it!
My passion for leadership development began in my work at Catalina, and after some life-changing events, I left 70-hour work weeks to follow that passion. I knew I wanted more autonomy, flexibility, and fulfillment, and I wanted to make an even bigger impact. I wanted to take my experience and share it with other grow-minded leaders. So I started my company, named White Cap Coaching with inspiration from my kids (representing the things we love to do as a family – be on the water and in the mountains) and grew it from the ground up. 
The topic of leadership resonated with me so much I wrote an entire book about it – Lead with Heart & Leave a Legacy.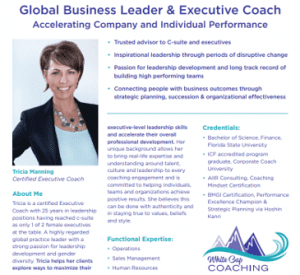 And over the past 5 years, I've led my company through multiple evolutions. I've refined my messaging, impact, and moved from what I knew – traditional corporate speak (the male CEOs I worked with and for over the years taught me well!) – to a more authentic, relatable and intentional message. Now, my messaging matches my experiences and, most importantly, the unique and meaningful value and service that only I can provide to my amazing clients. 

Learning the Keys to Business
I cannot believe it has been 5 years already! I have connected with so many wonderful, intentional leaders and learned so much from them, and I've practiced specific strategies for success to help me stay focused and set me up for success. 
As a solopreneur with a mission to support leaders as they define their own legacy of leadership for a happy, successful, and fulfilling life and career, I've learned quite a few things along the way. And today, I'd love to share the 5 keys to business that I've unlocked at this point in my business.
1. Show up for the right reasons – and do so unapologetically
In the early days, I was caught in the trap of looking at others who were further along their path. I thought if I emulated what I saw them doing, it would accelerate my success. 
But the truth is that comparing yourself to others knocks you off track from your true purpose. Comparison is the fastest way to forget the reason you started your business to begin with.
For me, it was to help leaders find simplicity in the complex and to be in service to them to find fulfillment, meaning & impact in their roles as leaders and in their lives as beautiful, whole people. Comparison can be evil. I learned that the faster path to success happened when I wasn't worried about what others thought, or how others perceive me. I learned to practice finding inspiration in others' successes while staying aligned to the path I was on without any apology for it. 
2. Progress not perfection
I quickly realized that if I spent too much time trying to perfect what I was working on, I would never move forward. My business has changed in mind blowing ways since it began. 
Over the years, I've changed my:
Brand look and feel… 3 times

Audience – refining who I serve and who I talk to

Message – updating and clarifying my messaging as I learn and grow

Work – shifting how I show up and how I help leaders
Trying to perfect everything was a distraction from the true work I needed to do. Instead of creating something perfect, stay in motion and keep moving forward – refining and improving as you go.
3. One of my favorite keys to business? Find ease… not easy
Starting your own business, especially as a solopreneur, requires a lot. The path will never be easy, but it can involve more ease. 
I was working 70 hours a week in the corporate world, and I easily carried that bad habit into my new business at first. But I had to remind myself that I started this business to be different, to enjoy my work, to have more time and freedom.
Starting your own business isn't easy but there should be some ease associated. Once I figured out how to stay in flow and connected to the work that I was doing and the impact I was making, I felt a lot more ease. It was also important that I operated in alignment, modeling what I was teaching my clients in my own work and business.
4. Intention in all you do
Intention is a huge reason my business has thrived for five years! In my work, intention shows up in every aspect of what I do: 
Intentional action

looks like taking purposeful, meaningful steps toward something important each day.

Intentional learning

is all about staying curious & learning from my clients and welcoming in new information. 

Intentional listening

involves building my awareness of how others are responding and how I am reacting. 
Showing up with intention helps me stay in alignment, be flexible with my work, and know when to pivot. 
5. Celebrating your wins is one of the most surprising keys to business
This month as I celebrate my 5 years in business, I am privileged to gather with clients, colleagues, and friends to celebrate this accomplishment and thank those who supported me along the way. 
The journey has not always been easy, there have been many ups and downs (including a significant health scare!) but starting my own business and following my passion has been one of the biggest wins of all. Over the past 5 years, whenever work became stressful and busy or something did not go my way, I often forgot to count the wins. 
But celebrating even the small wins matters. All of those tiny victories have contributed to my overall success – helping me become a better leader and entrepreneur. 
My journey to unlocking the keys to business
I started my business journey investing 25 years in the same company, learning 7 leadership lessons.
And now 5 years into my business as a solopreneur, I'm sharing the 5 keys to business I've discovered so far.
These milestones are the perfect opportunity to reflect on my experience and share all I've learned. 
I'm endlessly grateful for the people I've met, the leaders I've coached, the lives I've changed, and the business I've created. Cheers to the next five years as a small business owner!
Your early career professionals and high-potential leadership candidates will shape the near future landscape of your businesses. Looking five years to the future,  what are you doing to prepare leaders for the future of your organization? If you're unsure or unclear about effectively developing the leadership skills of your early career professionals, this post will give you clear next steps and strategies.
Employees are looking for help developing their leadership skills
A recent Gallup study showed that 70% of workers are likely to change jobs to one offering training/education opportunities that upgrade their skills. Today's employees want to feel supported and prepared for future roles. If employees do not feel properly trained or know exactly what to expect, they will likely search for other jobs and leave the company.
An organization that refuses to recognize the crucial need for targeted leadership development and ignores its employees' desire for targeted professional development will lose top talent and struggle to retain long-term employees.
The hybrid workplace
In light of the recent global pandemic, many employees have had to rethink how and where they work. Organizations must be aware of these changes to recruit and retain high-potential leaders. A "hybrid" work environment – with work time split between remote work and in-office work – has become an expectation for many.
As a coach, I help many leaders prepare for the hybrid work environment. Successful leaders need the right tools and strategies to excel in the new, modern workplace.
One of the leaders I coach summarized it like this:
"As leaders, we have to recognize change in the workforce. Instead of measuring hours of people sitting at their desks, we need to measure if the person is getting their job done effectively."  
B.D. Houston, TX.
Developing leadership soft skills
85% of the jobs that college students will be doing in the year 2030 do not even exist today. That means we are preparing our future leaders for virtually unknown jobs, which is why it is so important that emerging leaders develop the soft skills needed to succeed in the future workforce.
Soft skills are usually the hardest to understand. Technical skills are concrete and simple to measure. Performance can be tracked and evaluated. But soft skills can feel unclear, uncertain, and impossible to measure.
Successful future leaders need to develop soft skills like:
Self-awareness: understanding how you work and learn on your own and with others
Communication: engaging with others while practicing active listening and intentionally responding
Effective feedback: delivering and receiving constructive feedback and not shying away from difficult conversations
Adaptability: navigating a constantly changing world
Ability to connect: authentically connecting to increase engagement with your team and others
A leader's ability to manage their emotions, and provide context that helps their employees stay engaged, adapt, practice good judgment, and continue to learn are some of the additional soft skills that set leaders apart.
The High-Potential Leadership Program
Given what we know about the ever-evolving workplace and the needs and desires of today's future leaders – organizations must be forward-thinking and responsive.
You should be considering:
How has the recent shift in the working environment and employee expectations made it uncomfortable for leaders?
What soft skills have leaders had to develop in the last 3 years?
What have leaders learned is necessary? What will continue to be necessary as leaders continue to adapt for the future?
After working with so many leaders considering these critical questions, I was inspired my High-Potential Leadership Development Program.
This program focuses on the soft skills tomorrow's leaders need to succeed in an ever-changing marketplace.
Over the course of 6 months, I helped my high-potential leaders develop the key skills needed to succeed as a leader of the future.
They learn how to apply these approaches in different work environments – from remote work to in-person settings and the more complicated hybrid work environment.
They learn how to influence others and be change-capable leaders in an ever-changing world.
The High Potential Leadership Development Program is a six-month group coaching, mentoring, and development program that allows your emerging leadership talent to develop skills, discover tools, and practice habits that successful leaders have proved.
I recently onboarded 30 high-potential leaders into this program, and they are making incredible growth and implementing the skills and strategies we've learned.
Ready to make an investment in your own high-potential leaders? Click here to connect with me and learn more about how my coaching program can equip your top talent to become the most effective leaders of the near future.
May is mental health awareness month, so it feels like the perfect time to discuss what burnout and self-care can look like in the workplace.  
The topic of burnout is becoming a major focus for many organizations. It's encouraging to see workplaces raise awareness of the dangers of burnout and the importance of self-care and acknowledge the significant impact of workplace stress and long hours on employee health.
But this is still an area where many leaders need to deepen their understanding of burnout and self-care – putting in the time and energy to truly care for their employees and team members.
What exactly is burnout?
Burnout is defined as Chronic workplace stress not successfully managed by employers or employees.
One important thing to note here is that the opposite of burnout is not an absence of stress, but rather the successful management of stress. Leading successful teams will always carry some stress, but if we can learn how to use self-care to appropriately handle our job responsibilities – and teach our teams to do the same – we can avoid the dangerous repercussions of severe burnout.
How does burnout show up in the workplace?
Here's what we know is true: Teams are burnt out – it's a global health condition at this point.
According to Gallup, workplace stress costs $300B per year and 44% of workers regularly experience burnout and exhaustion. 
These stats show us that, as leaders, we are acutely responsible for the mental health and wellbeing of our people. We must be aware of what can happen when we ignore the signs of burnout, push our teams too far, and don't make space for proper self-care. 
I started thinking more about burnout – specifically who is to blame when it happens – after I was asked to speak about the benefits of self-care (and the negative impact of burnout). I personally experienced a serious health scare due to the burnout I suffered, which ultimately led me to make huge changes in my lifestyle and career. And I really wanted to know – whose fault is it? 
Was it my leaders' fault for not seeing the signs and creating an unhealthy environment?
Was it my organization's fault for creating a toxic culture and having outsized expectations?
Or was it my fault – for letting things get so bad before I made any personal changes?
As I thought about who to blame, I realized something: The better question is what can be done about burnout and self-care in the workplace?
We have all played a part in letting things get so out of hand, and I think our energy should be spent on finding solutions and creating positive change within our realm of influence.
Before we can find feasible solutions, we need to understand how burnout occurs, even in businesses that don't intend to work their employees into an unhealthy state.
What contributes to burnout and self-care?
The world is changing at an exhaustive rate. We are always on. We have competing priorities to keep up with and everyone expects instantaneous gratification. We can always be reached. Everything is urgent. 
And while it's convenient to blame COVID, this burnout culture existed long before the global pandemic. COVID simply accelerated and exacerbated the issue.
For organizations who thrived during COVID, it was game on to capitalize on the opportunity to experience exponential growth in a new segment, new category, or new industry.
For organizations who struggled during COVID, it was game on to keep the business afloat, rethink, reinvent and emerge on the other side so they could rebuild what once was.
Employees on either side of the coin were overworked with blurred lines between work and home, anxiously facing sleepless nights, worried about their job, or worried they wouldn't appear as productive as they needed to be to save themselves if they had to.
The demands of our busy lives, coupled with the performance cultures we face in our jobs, wear us down and make burnout a real experience.
Burnout is caused by:
Lack of sleep

Long hours

Poor boundaries

Job insecurity

Excessive worry 
And these are all things that destroy performance while harming individuals.
How do we treat burnout and self-care in the workplace?
When speaking to a local news channel about burnout in 2019, I gave a suggestion to "get 7 hours of sleep" as an effective way to combat burnout. This simple suggestion garnered a snicker from the anchor – you can watch the clip here. It just shows how far we have to come, and how embedded the burnout culture truly is. 
So what are we, as leaders, supposed to do?
The solution for burnout isn't "self-care" – and it isn't lowering performance expectations. 
Solving burnout in the workplace requires a co-created space between employees and the company that includes ambition, drive, results, and time to rest and recharge.
Hard work should be met by equal rest. The most ambitious of your people need to be praised for recharging the same way they are praised for meeting big goals. We must remove the stigma of "laziness" and reframe genuine rest and recharging as essential components of success.
Whether you're a leader looking for better ways to support your employee's overall well-being or an employee teetering on the edge, looking for ways to avoid burnout – here are 3 strategies to try:
Get clear on expectations

. Only 60% of workers know what is expected of them at work. This causes conflict between manager and employee and creates internal conflict for the employee when they place unrealistic expectations on themselves.

Get comfortable disconnectin

g. A vacation is a great option and many employers are offering unlimited PTO, but employees aren't taking it. Leaders need to encourage it and even consider more unconventional options, like sabbaticals. At a minimum, leaders must be aware when employees eat at their desks and answer emails in the evenings. As a leader, discourage this behavior. As an employee, stop doing these things.

Get serious about a People First Culture

. When an employee is able to be their best self at work, the company gets the best outcome. Employees should know what things give them energy, and be encouraged to share these with their leaders without guilt. As a leader, show you care, and ask them how you can support them in this without making them feel they have to get the company's buy-in.
Need one-on-one help navigating burnout and self-care as a leader?
My work is centered around helping leaders become more effective while also leading more fulfilling lives. If you're interested in working together to avoid burnout, recover from existing burnout, help your employees avoid burnout, or learn how to implement a self-care practice that prioritizes success and recharging – I'd love to chat with you.
You can contact me here to get started. 
Leading leaders is a complicated, complex task in the best of times. And I think we can all agree that the past two years have been more challenging than easy. 
Do you have a newly formed team of leaders?
Have the changes required by the state of the workplace (and the world) over the past two years challenged your team of leaders?
Have you found yourself focusing more on the short-term, immediate survival and results instead of prioritizing nurturing and communicating with your leadership team?
These scenarios cover a wide spectrum of experiences, but all of them have a similar effect – your team has become a "working group," focused on their individual performance and only interacting on a transactional, informational basis.
This helpful graph shows how your team's performance and effectiveness affect each other.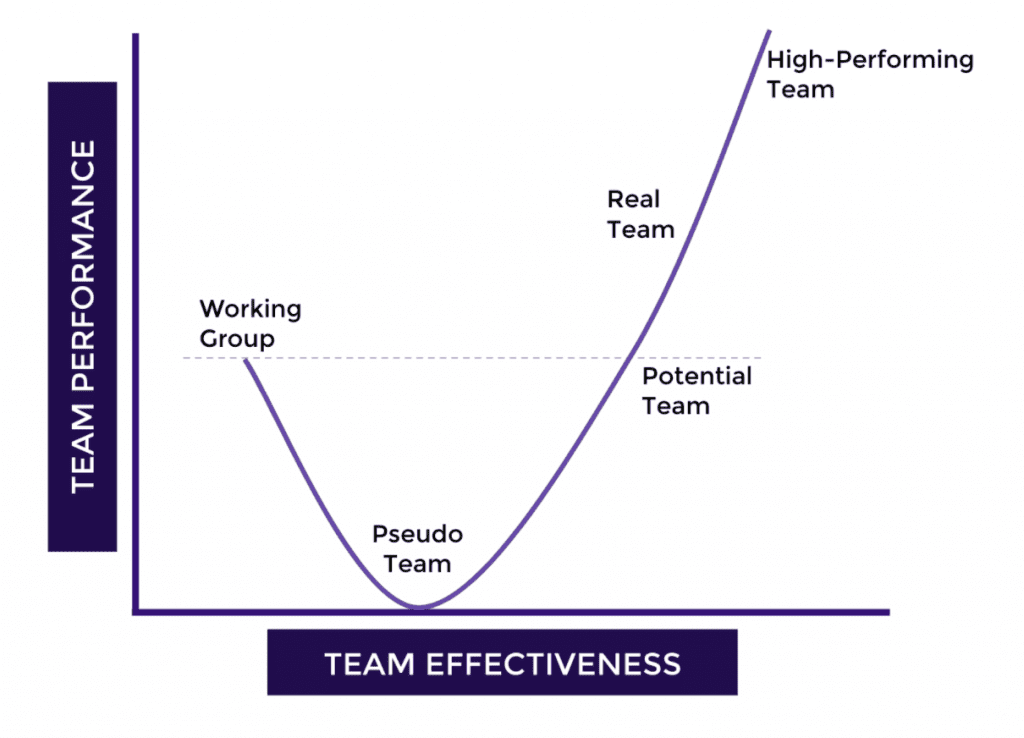 What To Do When "Working Group" Is NOT Enough
A "working group" of leaders should not be the goal. Effective leaders and CEOs want to foster a truly high-performing team.
Given the challenges and setbacks of working in and through a global pandemic, you may have had a high-performing team that has slid into "working group" mode.
You may have a new team that hasn't reached its potential yet.
Or maybe you have a team that has just never gotten past the "working group" stage.
Regardless of how you got here, you know that "working group" is not where you want your leaders to stay.
But how do you initiate change?
It all comes down to building connections and TRUST.
Trust is the foundation of a high-performing team. When trust is present, your leaders experience the psychological safety they need to make mistakes and learn from them, be vulnerable with one another, hold each team member mutually accountable, and be ready and willing to share professional wins and failures.
That is the true picture of a high-performing team.
Let's look at an example in action from one of my recent clients.
Developing Leaders with Trust: A Case Study
I was introduced to our case study team in early 2021. They were a newly-formed executive team that was brought together in a restructure post-acquisition. (Never an easy position to be in for any leader.)
The team members joined the new team from different functions in different companies with the goal to provide a new analytics function to the organization.
This group of individuals – the very definition of a "working group" – had the opportunity to move through the "Team Performance Curve" (see graph above) to establish a common purpose, performance goals, trust, and accountability.
We had 12 months together, and I needed them to make significant progress in the 5 core behaviors of a cohesive team:
Trust
Conflict
Commitment
Accountability
Results
I pulled the team together for monthly leadership development sessions where I covered these behaviors and then helped them apply what they learned in their own monthly meetings. They could practice demonstrating each behavior in real-time as they came together to address their business agenda.
This approach supported and developed an effective, cohesive team post-merger and reorganization.
Developing Leaders: The Results
In our first meeting, I had the leaders on this team score themselves in the 5 core behaviors. After 12 months of working together, I had them re-assess and we saw significant improvement across all FIVE behaviors.
Their growth in the 5 core behaviors helped this team move from a "working group" all the way through the curve to a high-performing team.
The leaders' results were also seen across the organization, and our team's mission became a new corporate pillar for the entire organization!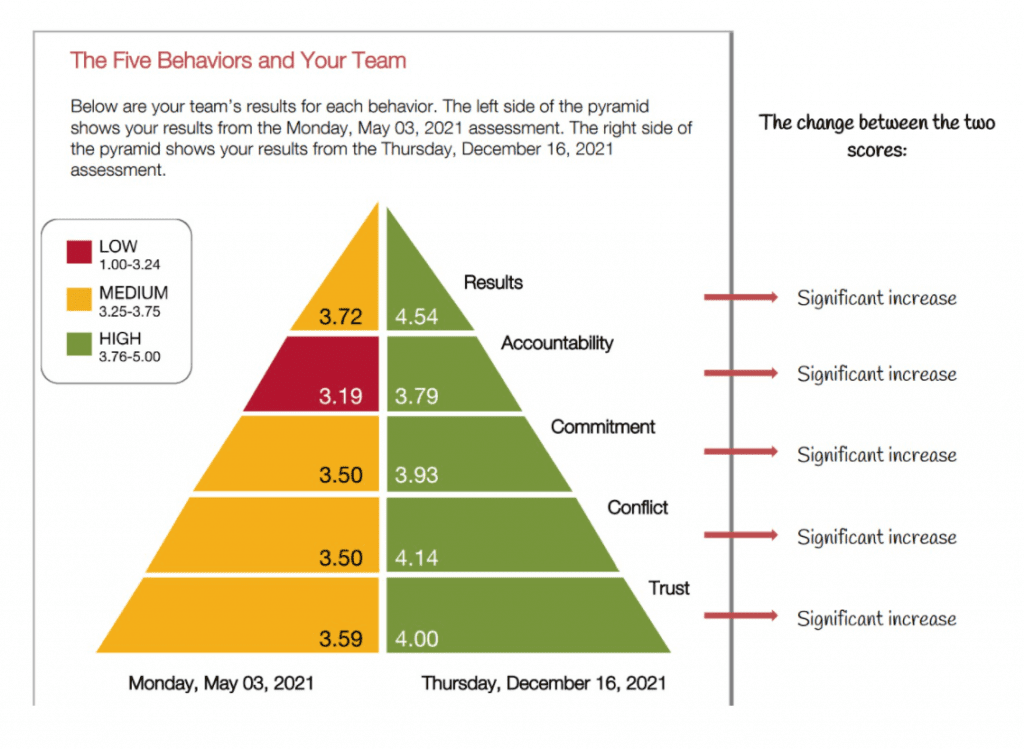 Want to Improve Your Team's Performance? Start with Trust
It can feel overwhelming and impossible to make changes with your senior team devolves or can't seem to move past the "working group" stage. But you will see results when you start with trust.
Building trust among your team is the foundational first step to moving through the performance curve and becoming the established, high-performance team you want to have. And when your team of leaders becomes high-performing, you're going to elevate the performance of your entire organization.
Ready to get started with your team? This is a simple trust-building exercise I encourage you to try in your next team meeting.
Personal Histories Exercise
Give everyone 2-3 minutes to think about their responses to these questions.

Where did you grow up?
How many siblings do you have and where do you fall in the sibling order (oldest, youngest, etc.)?
What was an important or unique challenge of your childhood - of being a kid?

Ask for a volunteer to begin. Each person as 3 minutes to share
Once everyone shares, discuss what you learned about your colleagues that you didn't know.
When you try this, you'll see the level of psychological safety increase as your team starts to actively build trust. It's simple, effective, and productive.
Ready to Increase Your Team's Trust and Performance?
Once you see the benefit of building trust – and the other 4 core behaviors – with your team, you'll wish you had started this process even sooner.
When you're ready, I provide customized team development programs based on your unique team needs, personalities, and goals.
Reach out and schedule a call to talk about how I can help your leaders become a high-performing team and elevate the results and efficacy of your entire organization.
You have big goals for your team – but are they rooted in a relationship?  Meaningful professional development can help you enhance your team's skills and build stronger relationships - the key to a strong year with much bigger impact.
Your team will see the most growth when you take the time to truly invest in getting to know them on a personal and professional level.
What are their individual goals and dreams?
What does success look or feel like to each member of your team?
What do your team members want to learn?
As a leader, you're responsible for driving the overall vision and plan. You'll make a lot more progress (and have a much more significant impact) when you use professional development to enhance your team's skills and build stronger relationships.
Leaving a Legacy
The first time I met my future father-in-law, I hadn't been dating my now-husband for long. We traveled up to Georgia to stay with his parents, and I ended up staying up late to chat with my father-in-law. Those late-night chats became something I looked forward to every time we would visit. And once, over a nightcap or two, my father-in-law told me that once he started working less and spending more time with his family, he realized his son (my husband) was his best friend.
It was a privilege to know my father-in-law for the ten years we had together. I came to realize that he was a genuine, humble family man who had scores of friends, family, former law partners, and colleagues come to pay their respects when he passed, even during a global pandemic.
At the end of his life, his relationships were what mattered.
He left an indelible legacy because he valued relationships and took time to get to know people.
The Importance of Meaningful Professional Development
My father-in-law lived and led by the belief that his team members wouldn't remember the metrics they hit, or the goals they achieved – but they will remember how he made them feel.
One of the best ways to get excellent results is to build strong relationships with your people. And strategic, intentional professional development can help you do exactly that!
What if instead of investing in professional development courses that teach your team the exact skills they've been working on for years, you invested in deepening your teams' relationships while focusing on their individual and group areas of growth and improvement?
What could your team be capable of if they prioritized their professional growth and personal growth?
Group Coaching as Professional Development
Group coaching is an ideal professional development opportunity for your team. Not only do they get to ask specific questions and focus on their skills and competencies, but they also get to bond with their teammates, learn from one another, and ultimately build strong relationships that are difficult to create in their daily work lives.
Group coaching can help your team:
Understand their areas of growth from an outside perspective
Develop more respect for their teammates
Get to know one another on a personal level
Create shared goals
Motivate and support one another
Excel
Ready to help your team reach new levels of success with group coaching? Relationships matter – and your team needs you to help them create a shared legacy that will extend beyond your team's impressive results!
Click here to schedule a call to discuss group coaching for your team.
How to Delegate with Intention: A Key Skill for Women in Business Leadership
"It will get done faster (and better) if I just do it myself!"
"Even when I explain in detail how to do it, it isn't done right."
I don't want someone to think I'm dumping something I just don't want to do on them!"
If you're a woman in business leadership, you've likely made a statement like one of these recently.
Delegating is a skill that does not come easily to most leaders. We struggle with giving up control of the outcomes and worry others will see us "avoiding" work if we ask them to handle it.
But learning how to delegate with intention is one of the key leadership skills you need to master if you want to be a truly effective leader. Delegating with intention elevates your leadership and helps you empower and develop the people you lead. Done well, delegating might just become your new favorite task.
WHAT DOES DELEGATING WITH INTENTION LOOK LIKE?
In practice, delegating with intention helps us combat our discomfort and unease with the practice of asking others to take on work for us. It's important to remember that sharing the right work with the right people means that each person – you included – can focus on those things that add the most value.
When it comes to delegating with intention, you have two areas of focus:
Empowering and Developing Your Team (and yourself!)
Adding More Value to the Organization
So let's see this at work...
You have a data set that needs to be sorted before you can use the data to make a recommendation to a committee about the next steps for a specific project. You also have a few memos to write, an employee review to complete, and some admin tasks. If you decide to do all of this work yourself, you know it will be done correctly, but it's going to take you an entire day to work through everything.
The kind of delegating you're used to (that feels uncomfortable) would include you calling up someone "beneath" you and tossing the work that you don't have time for at them. No wonder that doesn't feel great!
But you're a woman in business leadership who leads – and delegates – with intention. So you think about the conversations you've been having with your team lately to see who might be a good fit for a few of the tasks you have on hand.
Samantha mentioned that she wanted to deepen her analytics skills in your last one-on-one, so you ask her if she can step in and support the team (and develop a skill she's interested in) by sorting the data set. She's thrilled to be trusted with a side project in her area of interest, and you've freed up some of your time.
You've noticed that Greg is an excellent writer, so you let him know you appreciate his writing skills and could use his help crafting a few key memos for the team. He completes the memos in a fraction of the time it would have taken you, and they are clearly written and easy to understand.
Because you've learned how to delegate with intention, you now have plenty of time to sort through the data Samantha aggregated for you and make a well-informed, insightful recommendation to the committee. You don't have an endless to-do list dangling over your head, so you're able to be more focused and intentional in the employee review.
HOW TO DELEGATE WITH INTENTION AS WOMEN IN BUSINESS LEADERSHIP
Sure, the above scenario sounds great, but how do you start delegating with intention in your own role?
There are some key questions you can ask to help start putting this important leadership skill into practice. A skill important to develop for women in business leadership.
Why is this task important?
Get clear on why the task at hand matters. That will help you decide who is the right person to handle it.
What is the desired outcome?
Understanding the desired outcome will help you realize how important each task is, and help you feel more confident about delegating it to someone else or keeping it on your list.
Why do I not want to delegate this task?
Do you feel like it's a waste of time to explain to someone else? Are you worried that they'll think you're giving them work you simply don't want to do? Figure out why you don't want to do it so you know how to course-correct. Maybe you need to shift your mindset, change your attitude, or remind yourself of the value of delegating.
What is it that only you should be doing?
Knowing your zone of genius – those things that you truly excel at – will help you sort through the things that need your personal attention and those things that someone else can take over. Saying "no" to work you don't need to do gives you time and energy for those things that specifically need you.
WOMEN IN BUSINESS LEADERSHIP BENEFIT FROM DELEGATING WITH INTENTION
Learning how to effectively and intentionally delegate helps:
Your employees
You
Your organization
Delegating with intention is essentially a win-win.
"When you get the best from your employees, the company gets the best results."
– LEAD WITH HEART AND LEAVE A LEGACY
Asking employees to manage certain tasks will help them develop new and existing skills. They'll also feel empowered and appreciate being needed. People want to feel valued – and delegating with intention is one of the best ways to help them contribute to the team.
When you give yourself space to focus on the things you are best at, your work will be even better. You can pour your time and energy into focused tasks, improve your own skills, and deliver excellent results.
Your organization will benefit in a number of ways when you start delegating with intention. First, everyone is involved in delivering better work – which improves the quality of the organization across the board. You're also helping improve employee quality and satisfaction, which leads to better organization-wide results. In fact, highly engaged teams show 21% greater profitability (Gallup).
READY TO START DELEGATING WITH INTENTION
You see the benefits and you're ready to sharpen your delegating skills. I'm excited to see how this benefits you and your team! And to start dividing up tasks based on urgency and importance, I highly recommend using Eisenhower's Urgent/Important Principle.
You can click here to download a free guide to help you get started delegating with intention and improving outcomes. You'll be delegating like a pro in no time!
Have you ever worked for an excellent, intentional leader? If you have, you probably experienced higher employee engagement – a positive emotional connection to your work and workplace. This engagement generally leads to more productivity and better outcomes. Essentially, happy employees are successful employees. And it is a leader's job to positively impact employee engagement.
When you lead with intention, you foster an environment that teaches your employees that their work matters. You help them feel the importance of their contribution, build their self-confidence, and connect their work to their own core values. But this doesn't just happen.
Intentional Leaders Practice these 4 Principles and Behaviors to Impact their Employees' Emotional Engagement:
You do this by using your role as a leader to motivate, coach, and engage your team members so they become more self-reliant and independent. People feel empowered when they have a strong sense of pride in their work.
One of the most influential trends across the globe right now is the practice of customer preference. CEOs and executive leadership teams are implementing customer experience strategies. The customer experience is a direct result of the employee experience.  Empower your people to be engaged and passionate about the customer experience and you will get greater fulfillment and engagement all around.   This customer-first approach can cause a fundamental shift in how teams and leaders operate, serving as a catalyst for developing a culture of empowerment.
When you, as the leader, have a growth mindset, you believe in endless possibilities for your company and your people. And when you help your employees develop their own growth mindset, they carry that belief into their own work, knowing they can always learn and grow – becoming the best version of themselves.
One thing you can do to model a growth mindset and encourage it within your teams is to share your own mistakes and failures. When your employees see you open up about their own vulnerabilities, they feel safe to acknowledge their own vs. hiding behind them.
Intentional leaders know that there is much more to leadership than being in charge. They believe in their people, and they make sure everyone knows it. They take a genuine interest in their employees and encourage both personal and professional growth. Championing your people looks like helping them develop their skills, paying attention to their happiness, focusing on keeping morale up, and creating a sense of goodwill and loyalty.
When you are on your employees' side, they can feel it in everything you do!
Learn from your employees
The best leaders are always open to learning new things, approaching their people with a sense of curiosity. When you are interested in exploring and learning about their passions and perspectives, you're not just learning – you're also modeling open, transparent leadership. Employees are more willing to contribute their voice and skills when they feel like they are appreciated and understood. This humble and curious approach to leadership helps everyone improve!
Lifelong learning is the new normal for leaders these days. By committing yourself to a learning mindset, you are committing yourself to being an intentional leader.
Are you an intentional leader?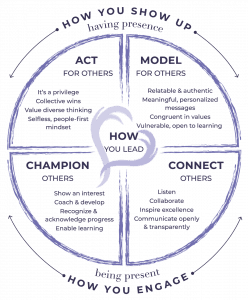 Intentional leadership means consistently putting these effective leadership principles and skills into practice and fostering a culture of engagement. Our leadership style matters. When leaders improve their engagement, connections, and behaviors, they positively influence their employees.
Do you practice these principles and behaviors in your own leadership role? Sometimes it can be hard to accurately assess ourselves. That's why I created an effective assessment to help you determine if you're showing up as the intentional, heart-centered leader you want to be.
Take the assessment today to find out what kind of leader you are!
Leading with your heart intentionally.
I have a unique vantage point to the impact of this global pandemic. As a coach, I have had the privilege to support a number of clients as they maneuver through these unchartered waters.
From the manufacturing company who has an emerging growth opportunity from the epidemic and is struggling to keep up with demand, to the hospitality client who furloughed the majority of their corporate staff, to the local small business that had to close their doors after 25 years, to the national nonprofit who turned on a dime to focus all their own resources to helping other nonprofits simply try to survive.
While these organizations are all distinctive sizes, industries, communities and all impacted very differently by this unexpected crisis, there is one thing they have in common.
Leadership Qualities
Those managers and directors who are out in front – interacting daily with the employees executing the work and supporting the customer - are the ones showing the care, compassion & connection that is so critical right now. 
According to a new report from NordVPN, the average workday in the US has increased by almost 40% since mid-March...that's an extra 3 hours per day! Shelter-in-place orders have forced work from home and people are starting their days earlier and ending at the same time or even later. The boundaries between home life and work life are blurred and to make matters worse, the challenges associated with minimizing environmental distractions, zoom fatigue, and homeschooling guilt has the average employee experiencing a 10-20% reduction in productivity on any given day.
So how are people you lead feeling? 
Job satisfaction is decreasing, stress levels are increasing, and work environments are emotionally charged. Not surprising given all that we are taking in and experiencing 24/7 around this global pandemic.
 So who "gets" it?
Higher up in the organization, the tendency seems to be to lead with a heavy hand – directive approach, quick reaction, the crossing of boundaries, lack of empathy – and worse yet, not leading at all and missing opportunities to communicate hope for a brighter tomorrow.
Where I see leaders with fundamental awareness and authentic appreciation for the emotional and physical toll that social distancing and shelter-at-home is taking, is where I see the greatest stories of connected and intentional leadership.
Resilient Leadership
It is the customer service manager, the digital director, the senior account manager who are interacting daily with front-line employees in the work that is most in tune and taking the approach most necessary - people 1st, company 2nd, self 3rd.
Like the leader who holds weekly town hall meetings dubbed "zooming in" where she gives timely and relevant biz updates and encourages Q&A among her global team over zoom video conference
Like the leader who schedules 15-minute coffee breaks throughout the week so her team has a reason to get untethered from their desk to join a light-hearted, nonbusiness call from their patio, on a walk with their dog, from their kitchen with a cup of coffee
Like the leader who hosts "office hours" the same day/time each week to ensure she is accessible for anyone needing extra "face" time with their boss
Like the leader who sets up a group text with his 22 furloughed team members so he could send inspirational messages and quick company updates every other day
Like the leader who sends e-cards for birthdays and service anniversaries in order to recognize these milestones even though they are not physically in the office
These are some great examples of intentional leadership. 
So what else can be done to improve leadership qualities?
There is one more important thing you can be doing to engage employees and help them with a sustainable performance mindset through this difficult time? Ask one important question...
Being a cheerleader, encouraging fun, and spreading positivity is nice, but can be short-lived. In answering the question of unexpected blessings, we are moved to a mindset of gratitude which is much more sustaining and can appropriately help your people focused forward toward better days.
Through my work, I have curated some intentional practices of what's working well for leaders in leading their teams remotely through this uncertain time ==>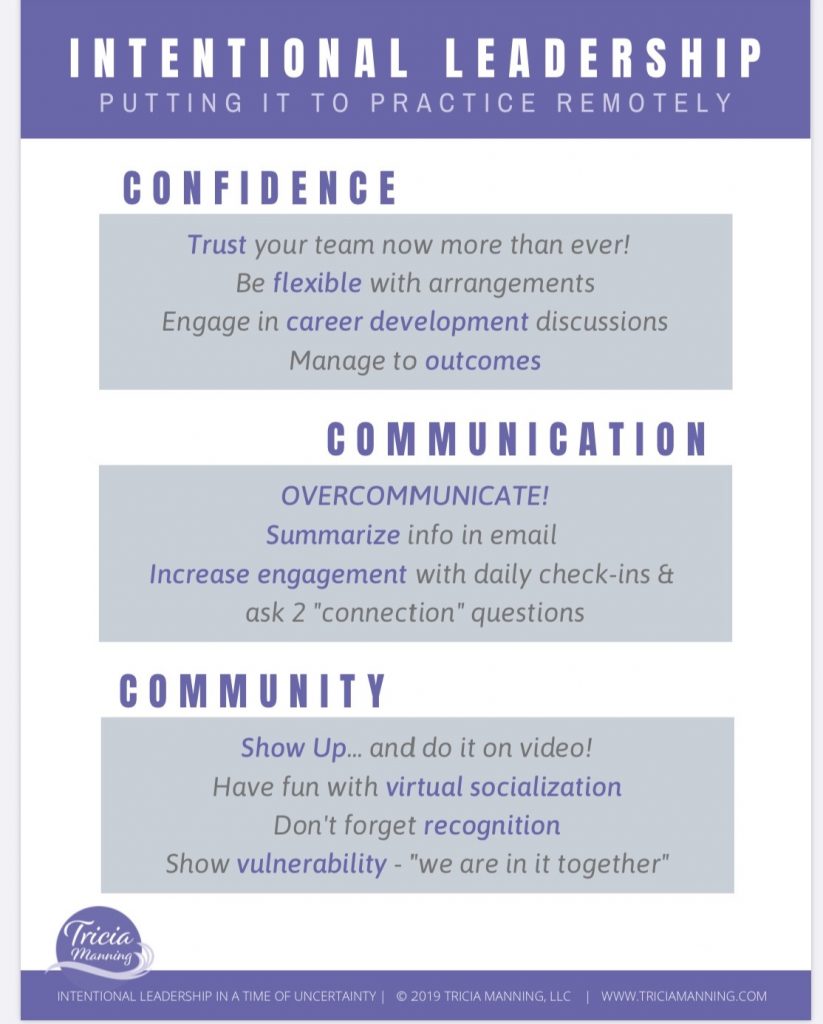 The 3 C's of Leadership: Confidence, Communication, Community
Think about how you are putting these strategies into practice with your teams. And for more details & examples around these strategies or help with additional ideas on to how to best support your teams, reach out to me directly. I would love to help.
Virtual HIGH FIVE to those front-line leaders who are committed to intentionally engaging the hearts and minds of their people, especially right now when it is needed most 💜
Leadership Prioritization to Achieve More
"I would like to be less productive", said no one ever!  Often, my coaching clients are faced with overwhelming demands to increase the speed of decision making & delivery and caught up in that always-on / always-connected feeling – trying to keep pace by doing more, multi-tasking, context switching.  While not intended, this approach can actually cause them to be less productive in the end.
It is so important to be present and mindful about what we are adding to our plate – prioritization is critical to helping us stay focused on high-value activities (the critical few things!) that drive successful outcomes.
Even more than that, a prioritization mindset is what will help us achieve our personal and professional best!  When adopted, a prioritization mindset will create the space and energy to focus on the things that really matter.
Adopt the Prioritization Mindset
So what can you do to adopt a prioritization mindset and how do you know when you get there?
Set Boundaries:
As a leader, you hold true to the vision for the organization, you set the agenda and you make the rules. You establish boundaries and hold your team accountable to certain standards of performance.  But are you giving yourself permission to set boundaries that protect your own happiness at work?
Boundaries set the tone for the emotional climate of the organization and reflect the behaviors you will allow and the culture you desire.  When you set boundaries, you are making space for your personal goals and your best work as your best self.
"No" as a Full Sentence:
If saying no is difficult for you, you may be drowning in a sea of Yes's. Your to-do list is long and filled with tasks that weren't originally on your radar and aren't in support of the goals you set for yourself.
Know what matters to YOU – ask yourself these questions…  does this request align to strategy or delight a customer?  Does it play to my strengths, develop a blind spot, provides an opportunity?
When you say No, you are saying Yes to those things that excite you, advance your development, move you toward your goal.
Embrace Simplicity:
It is easier to develop a complex solution than a simple one. Simplicity is hard but when it comes into focus, it creates abundance – in energy, time, meaningful work, health. It enables you to move away from complex, chaotic choices and begin thinking about your work and life in a different way.
Be intentional in looking for the simple solution, start planning ahead, stop watching so much tv, spend less time on social media.  When you embrace simplicity, you embrace possibilities and become even more focused, confident, and committed to your direction in your career and your life.
Commit to Self-care:
When you feel depleted, you have nothing to give. It is easy to fill your time with the needs and priorities of others and activities you "should" do. Often personal priorities, self-care, "you time", falls to the bottom of the list.  If you are kind to yourself and consider your own needs, you will be able to show up fully for those around you.
When you commit to self-care, you are able to engage and contribute graciously so everyone benefits.
Prioritization Mindset Reduces Stress
If you are stressed out, overwhelmed, or overcommitted, try some of these strategies.  Developing and sustaining a prioritization mindset is one of the best ways to achieve more.  More time and more energy to focus on activities that will help you reach your goals and achieve your personal and professional best.
Consider a professional business coach to help you narrow your focus, energy, resource so you can dedicate more of yourself to the few things that are going to make the biggest difference in your life!
Leadership Mindsets are key ingredients to success
The wrong mindset might be the very thing holding you back from achieving your potential. It doesn't matter what specific goals they set for themselves – career change, job shift, promotion, better work/life balance – we inevitably end up talking about mindset.
I see this time and time again with my clients.
It is only when we have a calm, clear, focused, intentional mind, that we do our best work. This is when amazing things happen!
Clarity and Focus - Performance Mindset
This state – one of clarity and focus – is also known as a "performance mindset," and a high-performance mindset is an essential tool in your leadership toolbox.
It determines how you think about and interprets situations. It determines your emotional reactions. It determines the decisions you make and the actions you take.
All crucial considerations and choices for any leadership role in this global, complex, urgent world today.
Take the example of the emerging leader who has proven herself in her company, driven results, and built effective teams. If she had a bit more confidence, she wouldn't get thrown off her game with tough executives and demanding clients.
Or the example of the senior operations leader who has the runway and the support to grow her team and take her career to the next level. If she would realize she doesn't need to do it all herself and be a martyr for others to appreciate her value.
Or the example of the high-performing sales executive who has grown her territory by 50% in 1 year through strong customer relationship skills. If she would just let her results speak for themselves and stop approaching every internal resource as the competition that she has to outpace and outrun.
…The emerging leader is focused on increasing her confidence.
…The senior operations leader is focused on delegating to her team.
…The high-performing sales executive is focused on internal collaboration.
To be successful with any developmental strategies that improve these areas, the right mindset is required FIRST. Your mindset directly supports your ability to reframe your thinking and create new habits for success.
How are you showing up each day?
If you aren't operating as your best self every day, then it is likely you are bringing beliefs and thoughts to the table that are not serving you and could actually be pushing you further away from the life you want.
3 strategies for a high-performance mindset each day.
Slow Down:
So many high-achieving leaders charge forward. But the most successful leaders I coach, seek clarity first. Go slow, to go fast. When you slow down, you have time to assess the situation, gather additional inputs, and come up with an intentional plan of action, free from speedbumps and unintended consequences that take you off course. Slowing down will help you go further, faster.
Practice Positive Daily Habits:
One size does not fit all. Building and sustaining a high-performance mindset has to be authentic to you and it should be reflective of the way you naturally approach the world. The practices, patterns, and approaches will look different for everyone but they generate the same outcome – increased confidence, a sense of calm, and most importantly, awareness of your emotions and behaviors. Positive daily habits like – affirmations, gratitude, physical exercise, meditation – start to automatically produce thoughts and beliefs that are productive.
Know Your Motivation:
Why is it important for you to do well? Define your greater purpose – that reason beyond yourself that you connect to and that motivates you to show up as your best self. Harnessing this motivation will help you be mentally tough and give you the energy and resilience you need when things get hard.
A high-performance mindset requires practice.
Start small and build from there. Committing to new habits and nurturing a calm, clear, focused, intentional mindset will be a differentiator in your success.