One of the biggest challenges facing leaders today is meeting fatigue and the epidemic of unproductive meetings. When you ask any leader about their calendar these days, the response is often, "My calendar is unmanageable." It's not just back-to-back meetings, but sometimes two or even three meetings happening at a time.
Some leaders find themselves juggling multiple screens and logins, taking multitasking to the next level, but is it really?
In my own corporate experience, I spent hours upon hours in meetings, but I had an executive assistant who could help protect some small slivers of time each week on my calendar. 
Navigating the Meeting Maze
With the ever-increasing speed of change and the rising expectations for urgency, how can leaders be at their best? They plow through the day, switching contexts like crazy, leaving little room for actual work…or leadership!
As companies require their leaders to bring new thinking to the table, keep up with emerging trends and technologies that significantly impact strategy, and lead differently to meet the new expectations of a post-COVID workforce, leaders struggle to find a moment for a bathroom break or lunch.
Of course, we all have the opportunity to hold ourselves more accountable for our own time, our most precious resource. I've recommended and walked leaders through tools like the Eisenhower matrix, "start/stop/continue", and time tracking. These excellent approaches enhance focus, prioritize tasks, and manage time better. However, we've reached a point where companies need to more actively support their leaders in these efforts and in breaking the meeting culture.
We can delve into what's holding us back from setting boundaries or saying no. Still, it's less effective if leaders aren't provided with encouragement or examples of how to do this.
I've spent the last three weeks with three different clients in three states, discussing various leadership topics. The common theme that emerged across all these leaders' experiences and occupied the minds of everyone I spoke to was TIME — specifically, finding time on their calendars to do more: more of what's expected, more of what their teams need, and more of what makes them feel fulfilled and alive.
Leading with Intention in a Time-Starved World
How can I find time in my day to lead ...and lead like I really want to? The desire to lead with intention is there, but stepping off the hamster wheel and making that desire a reality is incredibly challenging.
Shopify recently confronted this problem head-on by installing a calendar app to track the number of hours spent in meetings and their associated costs. By simply being aware of this data, they are on track to save $322,000 in meeting time costs in the first year alone.
During a discussion and facilitated brainstorming session about strategic priorities this week, one of my clients decided to focus on meeting and email overload as a strategy in itself! 
Sometimes, awareness is all that's needed to drive change. Leaders are crying out for help as they feel conflicted, unprepared, and unsupported in giving their best in today's workplace. If we ask leaders to lead differently in this ever-changing world, organizations need to do something different to support them and their teams in this endeavor. 
Support them in pushing back, support them in changing the trajectory of where we're headed, and support them in prioritizing the true value they bring to the table.
Practical Steps to Combat Meeting Overload
Here are four actions to consider in the fight against meeting fatigue at your organization:
Survey your organization to gather facts:

Conduct a comprehensive survey across your organization to quantify the extent of meeting overload. Ask employees how many meetings they attend regularly and how valuable they perceive them to be. Gather insights into common pain points and frustrations related to meetings.

Implement technology to track meeting time and costs:

Leverage technology solutions similar to Shopify's approach to track the amount of time employees spend in meetings and calculate associated costs. This data will provide valuable insights into the financial impact of meetings and highlight areas for potential optimization.

Establish meeting-free zones in your calendar:

Encourage leaders to designate specific time blocks in their calendars where no meetings are allowed. These meeting-free zones provide leaders with uninterrupted periods to focus on critical tasks, engage in strategic thinking, and prioritize their most important work. This practice helps prevent burnout and fosters productivity.

Implement Meeting Purpose and Agenda Guidelines:

Encourage the adoption of clear meeting purpose and agenda guidelines within your organization. Require meeting organizers to define a clear purpose for each meeting and share a well-structured agenda in advance. This ensures that meetings stay on track, focused, and result-oriented, reducing unnecessary meetings and time wastage.
What other ideas do you have to help leaders dig out of the meeting culture of today?
If you are ready to navigate these challenges and invest in your leaders, let's connect.
Looking Back Over the Past 5 Years of Business Ownership
I recently read a statistic: only 50% of businesses are still operating after 5 years. So, I quickly did some math and discovered that I established my LLC and took my first client after leaving the corporate world in 2017. Looks like I'm officially five years in – I made it!
My passion for leadership development began in my work at Catalina, and after some life-changing events, I left 70-hour work weeks to follow that passion. I knew I wanted more autonomy, flexibility, and fulfillment, and I wanted to make an even bigger impact. I wanted to take my experience and share it with other grow-minded leaders. So I started my company, named White Cap Coaching with inspiration from my kids (representing the things we love to do as a family – be on the water and in the mountains) and grew it from the ground up. 
The topic of leadership resonated with me so much I wrote an entire book about it – Lead with Heart & Leave a Legacy.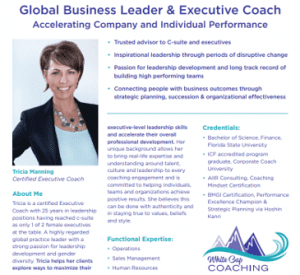 And over the past 5 years, I've led my company through multiple evolutions. I've refined my messaging, impact, and moved from what I knew – traditional corporate speak (the male CEOs I worked with and for over the years taught me well!) – to a more authentic, relatable and intentional message. Now, my messaging matches my experiences and, most importantly, the unique and meaningful value and service that only I can provide to my amazing clients. 

Learning the Keys to Business
I cannot believe it has been 5 years already! I have connected with so many wonderful, intentional leaders and learned so much from them, and I've practiced specific strategies for success to help me stay focused and set me up for success. 
As a solopreneur with a mission to support leaders as they define their own legacy of leadership for a happy, successful, and fulfilling life and career, I've learned quite a few things along the way. And today, I'd love to share the 5 keys to business that I've unlocked at this point in my business.
1. Show up for the right reasons – and do so unapologetically
In the early days, I was caught in the trap of looking at others who were further along their path. I thought if I emulated what I saw them doing, it would accelerate my success. 
But the truth is that comparing yourself to others knocks you off track from your true purpose. Comparison is the fastest way to forget the reason you started your business to begin with.
For me, it was to help leaders find simplicity in the complex and to be in service to them to find fulfillment, meaning & impact in their roles as leaders and in their lives as beautiful, whole people. Comparison can be evil. I learned that the faster path to success happened when I wasn't worried about what others thought, or how others perceive me. I learned to practice finding inspiration in others' successes while staying aligned to the path I was on without any apology for it. 
2. Progress not perfection
I quickly realized that if I spent too much time trying to perfect what I was working on, I would never move forward. My business has changed in mind blowing ways since it began. 
Over the years, I've changed my:
Brand look and feel… 3 times

Audience – refining who I serve and who I talk to

Message – updating and clarifying my messaging as I learn and grow

Work – shifting how I show up and how I help leaders
Trying to perfect everything was a distraction from the true work I needed to do. Instead of creating something perfect, stay in motion and keep moving forward – refining and improving as you go.
3. One of my favorite keys to business? Find ease… not easy
Starting your own business, especially as a solopreneur, requires a lot. The path will never be easy, but it can involve more ease. 
I was working 70 hours a week in the corporate world, and I easily carried that bad habit into my new business at first. But I had to remind myself that I started this business to be different, to enjoy my work, to have more time and freedom.
Starting your own business isn't easy but there should be some ease associated. Once I figured out how to stay in flow and connected to the work that I was doing and the impact I was making, I felt a lot more ease. It was also important that I operated in alignment, modeling what I was teaching my clients in my own work and business.
4. Intention in all you do
Intention is a huge reason my business has thrived for five years! In my work, intention shows up in every aspect of what I do: 
Intentional action

looks like taking purposeful, meaningful steps toward something important each day.

Intentional learning

is all about staying curious & learning from my clients and welcoming in new information. 

Intentional listening

involves building my awareness of how others are responding and how I am reacting. 
Showing up with intention helps me stay in alignment, be flexible with my work, and know when to pivot. 
5. Celebrating your wins is one of the most surprising keys to business
This month as I celebrate my 5 years in business, I am privileged to gather with clients, colleagues, and friends to celebrate this accomplishment and thank those who supported me along the way. 
The journey has not always been easy, there have been many ups and downs (including a significant health scare!) but starting my own business and following my passion has been one of the biggest wins of all. Over the past 5 years, whenever work became stressful and busy or something did not go my way, I often forgot to count the wins. 
But celebrating even the small wins matters. All of those tiny victories have contributed to my overall success – helping me become a better leader and entrepreneur. 
My journey to unlocking the keys to business
I started my business journey investing 25 years in the same company, learning 7 leadership lessons.
And now 5 years into my business as a solopreneur, I'm sharing the 5 keys to business I've discovered so far.
These milestones are the perfect opportunity to reflect on my experience and share all I've learned. 
I'm endlessly grateful for the people I've met, the leaders I've coached, the lives I've changed, and the business I've created. Cheers to the next five years as a small business owner!
Just as I challenge my clients to grow, develop, and progress as intentional leaders and toward their goals, they also challenge me. Through our discussions, I regularly learn new things that are reinforced daily, and I am challenged to continue to embody the coaching mindset (one of the ICF core competencies).
This challenge serves me well, as I ensure to "walk the talk" – both in my work and in my life.
Most recently, a client conversation inspired a discussion, and further consideration, of intention.
The Power of Intention
Intention has always been a major concept and guiding principle for me, both as a leader and as a coach of leaders.
I practiced intentional leadership, wrote about it in my book, and now I help my clients define and practice how to show up and engage with others with intention in their own leadership.
It's clear that being intentional is a big deal. Being a present, effective, heart-led leader is a defining characteristic. But it doesn't always have to be a big habit or a big practice.
Being Intentional Can Feel Monumental
In the previously mentioned discussion with my client, our conversation showed me the power of practicing, and demonstrating, micro-moments of intention.
As I've written about a number of times, and like I tell all of my clients – being an intentional leader requires thought and planning. Choosing to lead with intention can be time-consuming and detailed. You can feel like you need dedicated time to think, plan, and get ahead of your goals each day.
You spend time considering, "Who can I purposefully engage with today?" and "How can I show up in this meeting to best engage with my team and inspire them to take action to solve XYZ?"
An intentional leader champions their employees, connects with their colleagues, and acts with purpose.
Whew! I'm exhausted just reading that description. It's true – being an intentional leader does take time, energy, and focus. (And it's worth it!)
But it doesn't always have to be so arduous. In fact, there are daily opportunities to practice micro-moments of intention outside of the bigger, more recognizable areas of intention.
Intentional Leaders Embrace the Micro-moments
You're not always going to have a plan – and that's okay. The best leaders know how to embrace micro-moments of intention to stand in their power and remain in the driver's seat of a particular situation.
You can be intentional without a plan! These micro-moments are all about reinforcing your ability to lead with intention at your core, without a pre-planned effort or decision.
To put it another way, these micro-moments help you build an intrinsic, natural reflex and habit of being intentional. They are a powerful addition to your leadership toolkit! And micro-moments help you show your people who you really are.
What do these micro-moments look like in practice? Let's explore some examples.
A micro-moment of intention can be a:
A quick reflection of an outcome – What went as expected? What did not?
Specific routine for the day – How am I spending my time to create a discipline of self-care and high performance?
A decision about the one thing I want to be present for with my family today. (It's not realistic to think you can be present with everything – so choose one thing.)
Moment of giving myself permission to let something go instead of giving it the space, time, and effort it would take to address it.
Choice in a meeting to create space for a diverse voice or point of view to be heard without overthinking it, creating a specific forum to highlight the topic, or bringing the right person to the table.
Choosing Your Own Intentional Micro-moments
Take 3 minutes right now and jot down a few times today when you experienced a potential micro-moment of intention.
Did you choose to act with intention or did you let the moment pass? This isn't a practice in judgment – it's about recognizing how often these moments occur and being more aware of how we engage with them.
Invite the micro-moments in and choose to show up with intention. This is how you'll become the leader you want to be.
Need help understanding how to engage with more intention or improve your skills as an intentional leader? This is exactly what I help my clients with, and I'd love to see how I can help you step into your true leadership potential. Everyone benefits when you lead with compassion, empathy, and intention.
Let's chat and see what's possible when we work together. Click here to schedule a free consultation.
You have big goals for your team – but are they rooted in a relationship?  Meaningful professional development can help you enhance your team's skills and build stronger relationships - the key to a strong year with much bigger impact.
Your team will see the most growth when you take the time to truly invest in getting to know them on a personal and professional level.
What are their individual goals and dreams?
What does success look or feel like to each member of your team?
What do your team members want to learn?
As a leader, you're responsible for driving the overall vision and plan. You'll make a lot more progress (and have a much more significant impact) when you use professional development to enhance your team's skills and build stronger relationships.
Leaving a Legacy
The first time I met my future father-in-law, I hadn't been dating my now-husband for long. We traveled up to Georgia to stay with his parents, and I ended up staying up late to chat with my father-in-law. Those late-night chats became something I looked forward to every time we would visit. And once, over a nightcap or two, my father-in-law told me that once he started working less and spending more time with his family, he realized his son (my husband) was his best friend.
It was a privilege to know my father-in-law for the ten years we had together. I came to realize that he was a genuine, humble family man who had scores of friends, family, former law partners, and colleagues come to pay their respects when he passed, even during a global pandemic.
At the end of his life, his relationships were what mattered.
He left an indelible legacy because he valued relationships and took time to get to know people.
The Importance of Meaningful Professional Development
My father-in-law lived and led by the belief that his team members wouldn't remember the metrics they hit, or the goals they achieved – but they will remember how he made them feel.
One of the best ways to get excellent results is to build strong relationships with your people. And strategic, intentional professional development can help you do exactly that!
What if instead of investing in professional development courses that teach your team the exact skills they've been working on for years, you invested in deepening your teams' relationships while focusing on their individual and group areas of growth and improvement?
What could your team be capable of if they prioritized their professional growth and personal growth?
Group Coaching as Professional Development
Group coaching is an ideal professional development opportunity for your team. Not only do they get to ask specific questions and focus on their skills and competencies, but they also get to bond with their teammates, learn from one another, and ultimately build strong relationships that are difficult to create in their daily work lives.
Group coaching can help your team:
Understand their areas of growth from an outside perspective
Develop more respect for their teammates
Get to know one another on a personal level
Create shared goals
Motivate and support one another
Excel
Ready to help your team reach new levels of success with group coaching? Relationships matter – and your team needs you to help them create a shared legacy that will extend beyond your team's impressive results!
Click here to schedule a call to discuss group coaching for your team.
The last few months have been a true awakening and forced us to recognize what is most important in our lives. 
Similar to the personal health crisis I faced a few short years ago, for all of us, this global health crisis is bringing our priorities into focus - health, family, relationships, time, happiness; and creating an inventory of what we need to be strong and prepared to continue to push through.
This defining moment in history and in our lives has made us more aware of what changes are needed.   
For those always in control of everything - they have been forced to let go and narrow their focus to those few things they can control. Liberating and freeing in so many ways.
For those addicted to the adrenaline rush associated with being on the hamster wheel of life – they have been forced to slow down and allow their thoughts to surface. No longer able to quiet their mind by being on the go.
For those who took relationships for granted, only concerned with their own agenda, getting what they needed, and moving on – they have been forced to work harder to access relationships. Intentional in building deeper connections to advance the ball forward.
For those who have been blindly walking through life, taking the expected path but not quite feeling happy or fulfilled – they have been forced to face their fear and challenge their comfort zone. Inspired to take a step toward change and more joyful life.
Let's face it…many of us have spent a good part of our lives waiting for the inspiration to do something different, to make a bold change. This world crisis is a defining moment and it is accelerating the shift. 
Now is the best time to take yourself out of what you do, the job you are in, the path you are on, the success you are tied to, and focus on the things that inspire you and that give you energy. It is up to you to create your own inspiration.
This doesn't mean that you have to walk into the boss' office tomorrow and quit, abandon your current business or make a complete career transition.
If you want to make a change but don't know where to start, don't know what you really want, or are fearful of leaving old measures of success behind, there are a few things you can do to take control and take the first steps:
Find Capacity – Give yourself the space to let in new thinking. Think about the areas of your life that are draining your mental real estate. What worries zap your energy? If you cleared then out, would it create the room you need to make a change? What is the one thing that needs to be considered or resolved for you to progress?
Define Who You Want To Be – Get in tune with who you are when you are happiest and most fulfilled. Think about a time when you were operating at your best. What strengths and characteristics did you leverage effortlessly?
Act – Take small steps toward your goals. What do you need to do as part of the preparation for making changes? List these things and start acting on them.
You have options and there is no better time to define your success on your own terms, achieve it by your own rules, and build a life you're PROUD AND INSPIRED to live...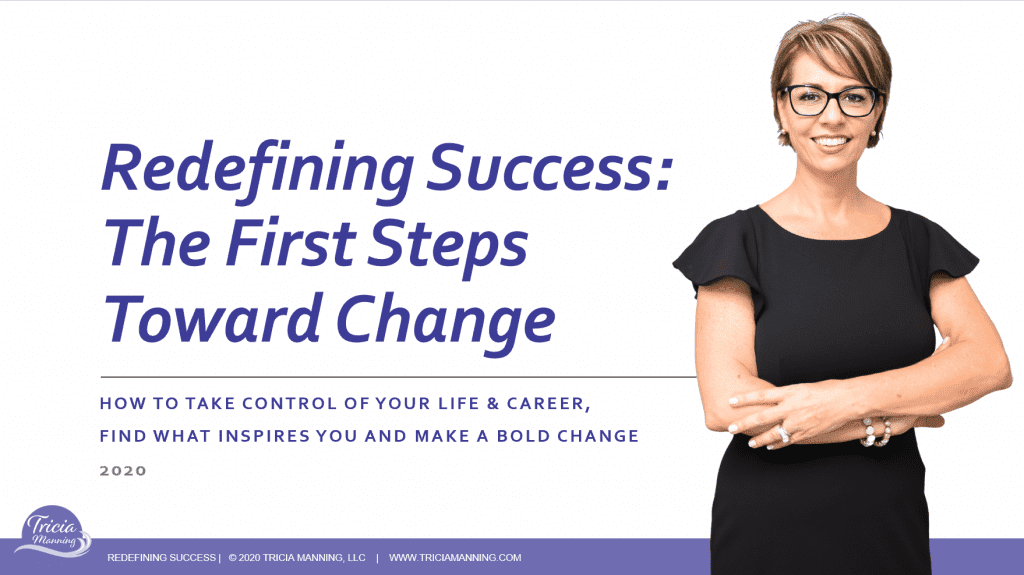 If you are feeling ready to face your fears and take the first brave step forward toward a more meaningful and fulfilling life and career, please join my next zoom webinar on June 9: Redefining Success: The First Steps Toward Change.  I will share more detail on how you can take back control and introduce you to the 8 Steps in creating a one-of-a-kind Heart-centered Women's Blueprint to re-engineer all aspects of your life and increase confidence and satisfaction in your career & your next great chapter overall.
ABOUT THE AUTHOR:
Engaged and inspired by smart business leaders who manage it all, personally and professionally, Tricia plays the role of coach, accountability partner, advisor, and consultant. Drawing on experiences, skills, and HEART, Tricia helps others elevate their leadership and develop new possibilities in how they show up and how they engage every day.