Your early career professionals and high-potential leadership candidates will shape the near future landscape of your businesses. Looking five years to the future,  what are you doing to prepare leaders for the future of your organization? If you're unsure or unclear about effectively developing the leadership skills of your early career professionals, this post will give you clear next steps and strategies.
Employees are looking for help developing their leadership skills
A recent Gallup study showed that 70% of workers are likely to change jobs to one offering training/education opportunities that upgrade their skills. Today's employees want to feel supported and prepared for future roles. If employees do not feel properly trained or know exactly what to expect, they will likely search for other jobs and leave the company.
An organization that refuses to recognize the crucial need for targeted leadership development and ignores its employees' desire for targeted professional development will lose top talent and struggle to retain long-term employees.
The hybrid workplace
In light of the recent global pandemic, many employees have had to rethink how and where they work. Organizations must be aware of these changes to recruit and retain high-potential leaders. A "hybrid" work environment – with work time split between remote work and in-office work – has become an expectation for many.
As a coach, I help many leaders prepare for the hybrid work environment. Successful leaders need the right tools and strategies to excel in the new, modern workplace.
One of the leaders I coach summarized it like this:
"As leaders, we have to recognize change in the workforce. Instead of measuring hours of people sitting at their desks, we need to measure if the person is getting their job done effectively."  
B.D. Houston, TX.
Developing leadership soft skills
85% of the jobs that college students will be doing in the year 2030 do not even exist today. That means we are preparing our future leaders for virtually unknown jobs, which is why it is so important that emerging leaders develop the soft skills needed to succeed in the future workforce.
Soft skills are usually the hardest to understand. Technical skills are concrete and simple to measure. Performance can be tracked and evaluated. But soft skills can feel unclear, uncertain, and impossible to measure.
Successful future leaders need to develop soft skills like:
Self-awareness: understanding how you work and learn on your own and with others
Communication: engaging with others while practicing active listening and intentionally responding
Effective feedback: delivering and receiving constructive feedback and not shying away from difficult conversations
Adaptability: navigating a constantly changing world
Ability to connect: authentically connecting to increase engagement with your team and others
A leader's ability to manage their emotions, and provide context that helps their employees stay engaged, adapt, practice good judgment, and continue to learn are some of the additional soft skills that set leaders apart.
The High-Potential Leadership Program
Given what we know about the ever-evolving workplace and the needs and desires of today's future leaders – organizations must be forward-thinking and responsive.
You should be considering:
How has the recent shift in the working environment and employee expectations made it uncomfortable for leaders?
What soft skills have leaders had to develop in the last 3 years?
What have leaders learned is necessary? What will continue to be necessary as leaders continue to adapt for the future?
After working with so many leaders considering these critical questions, I was inspired my High-Potential Leadership Development Program.
This program focuses on the soft skills tomorrow's leaders need to succeed in an ever-changing marketplace.
Over the course of 6 months, I helped my high-potential leaders develop the key skills needed to succeed as a leader of the future.
They learn how to apply these approaches in different work environments – from remote work to in-person settings and the more complicated hybrid work environment.
They learn how to influence others and be change-capable leaders in an ever-changing world.
The High Potential Leadership Development Program is a six-month group coaching, mentoring, and development program that allows your emerging leadership talent to develop skills, discover tools, and practice habits that successful leaders have proved.
I recently onboarded 30 high-potential leaders into this program, and they are making incredible growth and implementing the skills and strategies we've learned.
Ready to make an investment in your own high-potential leaders? Click here to connect with me and learn more about how my coaching program can equip your top talent to become the most effective leaders of the near future.
Leading leaders is a complicated, complex task in the best of times. And I think we can all agree that the past two years have been more challenging than easy. 
Do you have a newly formed team of leaders?
Have the changes required by the state of the workplace (and the world) over the past two years challenged your team of leaders?
Have you found yourself focusing more on the short-term, immediate survival and results instead of prioritizing nurturing and communicating with your leadership team?
These scenarios cover a wide spectrum of experiences, but all of them have a similar effect – your team has become a "working group," focused on their individual performance and only interacting on a transactional, informational basis.
This helpful graph shows how your team's performance and effectiveness affect each other.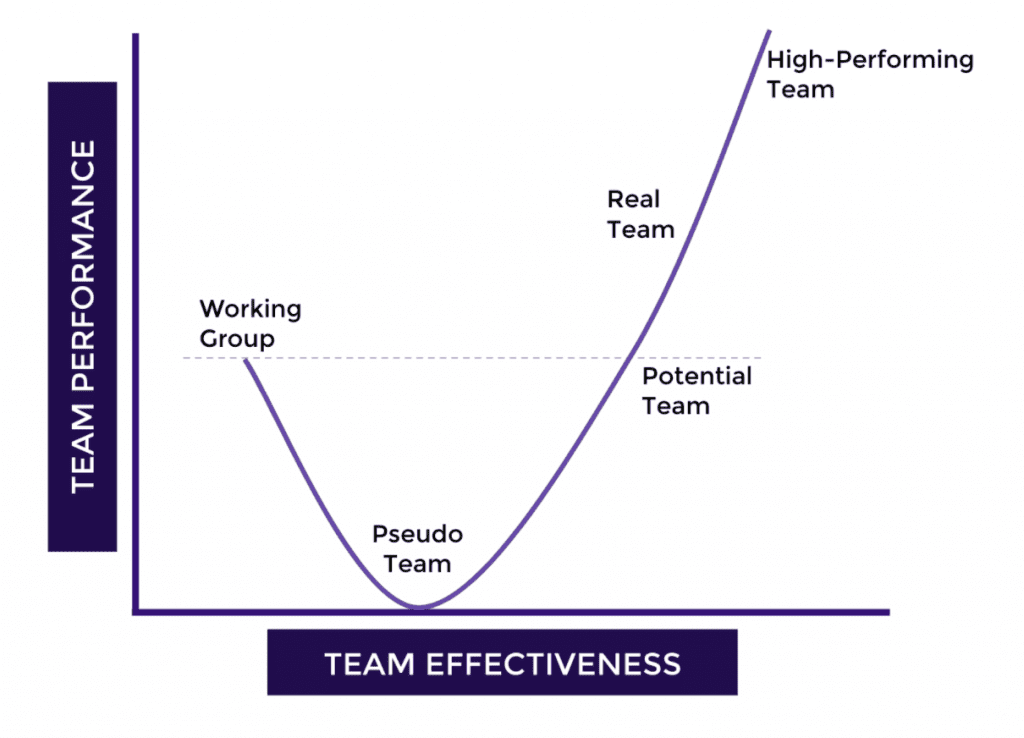 What To Do When "Working Group" Is NOT Enough
A "working group" of leaders should not be the goal. Effective leaders and CEOs want to foster a truly high-performing team.
Given the challenges and setbacks of working in and through a global pandemic, you may have had a high-performing team that has slid into "working group" mode.
You may have a new team that hasn't reached its potential yet.
Or maybe you have a team that has just never gotten past the "working group" stage.
Regardless of how you got here, you know that "working group" is not where you want your leaders to stay.
But how do you initiate change?
It all comes down to building connections and TRUST.
Trust is the foundation of a high-performing team. When trust is present, your leaders experience the psychological safety they need to make mistakes and learn from them, be vulnerable with one another, hold each team member mutually accountable, and be ready and willing to share professional wins and failures.
That is the true picture of a high-performing team.
Let's look at an example in action from one of my recent clients.
Developing Leaders with Trust: A Case Study
I was introduced to our case study team in early 2021. They were a newly-formed executive team that was brought together in a restructure post-acquisition. (Never an easy position to be in for any leader.)
The team members joined the new team from different functions in different companies with the goal to provide a new analytics function to the organization.
This group of individuals – the very definition of a "working group" – had the opportunity to move through the "Team Performance Curve" (see graph above) to establish a common purpose, performance goals, trust, and accountability.
We had 12 months together, and I needed them to make significant progress in the 5 core behaviors of a cohesive team:
Trust
Conflict
Commitment
Accountability
Results
I pulled the team together for monthly leadership development sessions where I covered these behaviors and then helped them apply what they learned in their own monthly meetings. They could practice demonstrating each behavior in real-time as they came together to address their business agenda.
This approach supported and developed an effective, cohesive team post-merger and reorganization.
Developing Leaders: The Results
In our first meeting, I had the leaders on this team score themselves in the 5 core behaviors. After 12 months of working together, I had them re-assess and we saw significant improvement across all FIVE behaviors.
Their growth in the 5 core behaviors helped this team move from a "working group" all the way through the curve to a high-performing team.
The leaders' results were also seen across the organization, and our team's mission became a new corporate pillar for the entire organization!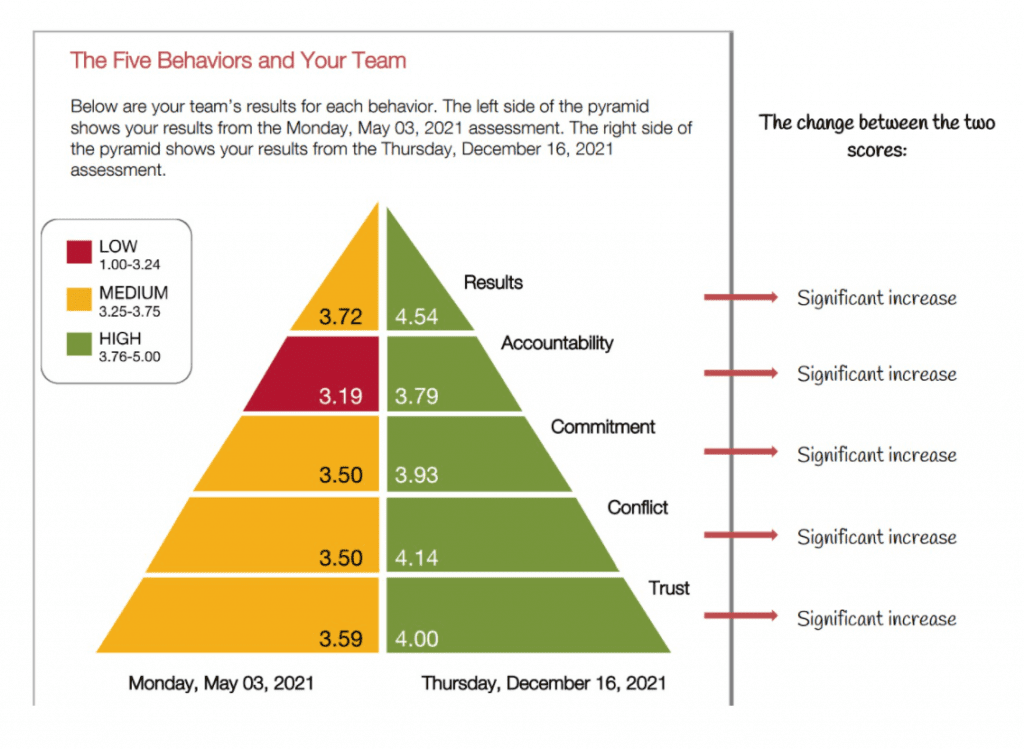 Want to Improve Your Team's Performance? Start with Trust
It can feel overwhelming and impossible to make changes with your senior team devolves or can't seem to move past the "working group" stage. But you will see results when you start with trust.
Building trust among your team is the foundational first step to moving through the performance curve and becoming the established, high-performance team you want to have. And when your team of leaders becomes high-performing, you're going to elevate the performance of your entire organization.
Ready to get started with your team? This is a simple trust-building exercise I encourage you to try in your next team meeting.
Personal Histories Exercise
Give everyone 2-3 minutes to think about their responses to these questions.

Where did you grow up?
How many siblings do you have and where do you fall in the sibling order (oldest, youngest, etc.)?
What was an important or unique challenge of your childhood - of being a kid?

Ask for a volunteer to begin. Each person as 3 minutes to share
Once everyone shares, discuss what you learned about your colleagues that you didn't know.
When you try this, you'll see the level of psychological safety increase as your team starts to actively build trust. It's simple, effective, and productive.
Ready to Increase Your Team's Trust and Performance?
Once you see the benefit of building trust – and the other 4 core behaviors – with your team, you'll wish you had started this process even sooner.
When you're ready, I provide customized team development programs based on your unique team needs, personalities, and goals.
Reach out and schedule a call to talk about how I can help your leaders become a high-performing team and elevate the results and efficacy of your entire organization.
You have big goals for your team – but are they rooted in a relationship?  Meaningful professional development can help you enhance your team's skills and build stronger relationships - the key to a strong year with much bigger impact.
Your team will see the most growth when you take the time to truly invest in getting to know them on a personal and professional level.
What are their individual goals and dreams?
What does success look or feel like to each member of your team?
What do your team members want to learn?
As a leader, you're responsible for driving the overall vision and plan. You'll make a lot more progress (and have a much more significant impact) when you use professional development to enhance your team's skills and build stronger relationships.
Leaving a Legacy
The first time I met my future father-in-law, I hadn't been dating my now-husband for long. We traveled up to Georgia to stay with his parents, and I ended up staying up late to chat with my father-in-law. Those late-night chats became something I looked forward to every time we would visit. And once, over a nightcap or two, my father-in-law told me that once he started working less and spending more time with his family, he realized his son (my husband) was his best friend.
It was a privilege to know my father-in-law for the ten years we had together. I came to realize that he was a genuine, humble family man who had scores of friends, family, former law partners, and colleagues come to pay their respects when he passed, even during a global pandemic.
At the end of his life, his relationships were what mattered.
He left an indelible legacy because he valued relationships and took time to get to know people.
The Importance of Meaningful Professional Development
My father-in-law lived and led by the belief that his team members wouldn't remember the metrics they hit, or the goals they achieved – but they will remember how he made them feel.
One of the best ways to get excellent results is to build strong relationships with your people. And strategic, intentional professional development can help you do exactly that!
What if instead of investing in professional development courses that teach your team the exact skills they've been working on for years, you invested in deepening your teams' relationships while focusing on their individual and group areas of growth and improvement?
What could your team be capable of if they prioritized their professional growth and personal growth?
Group Coaching as Professional Development
Group coaching is an ideal professional development opportunity for your team. Not only do they get to ask specific questions and focus on their skills and competencies, but they also get to bond with their teammates, learn from one another, and ultimately build strong relationships that are difficult to create in their daily work lives.
Group coaching can help your team:
Understand their areas of growth from an outside perspective
Develop more respect for their teammates
Get to know one another on a personal level
Create shared goals
Motivate and support one another
Excel
Ready to help your team reach new levels of success with group coaching? Relationships matter – and your team needs you to help them create a shared legacy that will extend beyond your team's impressive results!
Click here to schedule a call to discuss group coaching for your team.
If right now you are making a big decision in your career, you aren't alone. I know so many people making some kind of change. For some, it has been forced while others are just finding it to be time to move on. Either way, it feels like a season of change…and growth!
I am working with a client right now who is in the fortunate position to decide between two new job opportunities. She describes the options as the difference between "known" and "unknown". Known because it is a company that she has admired for years and she is still in touch with former colleagues who now work there. Unknown because it is a company whose culture and leadership philosophies she only knows through interview questions and glass door reviews.
Something in her heart and her gut is drawing her toward the unknown. Her head is vying for the known. We have been working on that alignment – head, heart, gut.
What I love is that she is open to exploring what is holding her back from stepping into the unknown and giving her full attention and energy toward that more unfamiliar choice.
When we are faced with a choice - a new direction, a decision point, a crossroads - it is important to consider TWO perspectives =>
What am I fearful of leaving behind?
What am I excited & hopeful I'm moving toward?
We often get caught up in the fear of what we might lose that we actually miss seeing what we stand to gain.
She came to the conclusion...her choice of the unknown could be the risk she takes that allows her to do something greater. Wow, something greater! Isn't that what we all say we want? But do we all know what this means? When faced with a crossroad, are you clear on where you are headed?
If you don't have a vision of "greater" for yourself then you will never get your head, heart & gut to align. This limits the energy you have to fully commit to the choice you make.
What is your greater?
For most who take the time to answer this question, they learn that it isn't always more money, or a bigger title, team or office.
Re-frame what "greater" means to you.
Greater is that thing that allows you to live out your purpose. Greater is possibility. Greater is what you do effortlessly. Greater is what gives you energy. Greater is what allows you to be your best self in your career and your life 💜
What is your greater?