Looking Back Over the Past 5 Years of Business Ownership
I recently read a statistic: only 50% of businesses are still operating after 5 years. So, I quickly did some math and discovered that I established my LLC and took my first client after leaving the corporate world in 2017. Looks like I'm officially five years in – I made it!
My passion for leadership development began in my work at Catalina, and after some life-changing events, I left 70-hour work weeks to follow that passion. I knew I wanted more autonomy, flexibility, and fulfillment, and I wanted to make an even bigger impact. I wanted to take my experience and share it with other grow-minded leaders. So I started my company, named White Cap Coaching with inspiration from my kids (representing the things we love to do as a family – be on the water and in the mountains) and grew it from the ground up. 
The topic of leadership resonated with me so much I wrote an entire book about it – Lead with Heart & Leave a Legacy.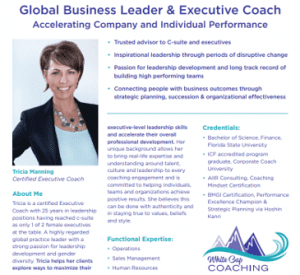 And over the past 5 years, I've led my company through multiple evolutions. I've refined my messaging, impact, and moved from what I knew – traditional corporate speak (the male CEOs I worked with and for over the years taught me well!) – to a more authentic, relatable and intentional message. Now, my messaging matches my experiences and, most importantly, the unique and meaningful value and service that only I can provide to my amazing clients. 

Learning the Keys to Business
I cannot believe it has been 5 years already! I have connected with so many wonderful, intentional leaders and learned so much from them, and I've practiced specific strategies for success to help me stay focused and set me up for success. 
As a solopreneur with a mission to support leaders as they define their own legacy of leadership for a happy, successful, and fulfilling life and career, I've learned quite a few things along the way. And today, I'd love to share the 5 keys to business that I've unlocked at this point in my business.
1. Show up for the right reasons – and do so unapologetically
In the early days, I was caught in the trap of looking at others who were further along their path. I thought if I emulated what I saw them doing, it would accelerate my success. 
But the truth is that comparing yourself to others knocks you off track from your true purpose. Comparison is the fastest way to forget the reason you started your business to begin with.
For me, it was to help leaders find simplicity in the complex and to be in service to them to find fulfillment, meaning & impact in their roles as leaders and in their lives as beautiful, whole people. Comparison can be evil. I learned that the faster path to success happened when I wasn't worried about what others thought, or how others perceive me. I learned to practice finding inspiration in others' successes while staying aligned to the path I was on without any apology for it. 
2. Progress not perfection
I quickly realized that if I spent too much time trying to perfect what I was working on, I would never move forward. My business has changed in mind blowing ways since it began. 
Over the years, I've changed my:
Brand look and feel… 3 times

Audience – refining who I serve and who I talk to

Message – updating and clarifying my messaging as I learn and grow

Work – shifting how I show up and how I help leaders
Trying to perfect everything was a distraction from the true work I needed to do. Instead of creating something perfect, stay in motion and keep moving forward – refining and improving as you go.
3. One of my favorite keys to business? Find ease… not easy
Starting your own business, especially as a solopreneur, requires a lot. The path will never be easy, but it can involve more ease. 
I was working 70 hours a week in the corporate world, and I easily carried that bad habit into my new business at first. But I had to remind myself that I started this business to be different, to enjoy my work, to have more time and freedom.
Starting your own business isn't easy but there should be some ease associated. Once I figured out how to stay in flow and connected to the work that I was doing and the impact I was making, I felt a lot more ease. It was also important that I operated in alignment, modeling what I was teaching my clients in my own work and business.
4. Intention in all you do
Intention is a huge reason my business has thrived for five years! In my work, intention shows up in every aspect of what I do: 
Intentional action

looks like taking purposeful, meaningful steps toward something important each day.

Intentional learning

is all about staying curious & learning from my clients and welcoming in new information. 

Intentional listening

involves building my awareness of how others are responding and how I am reacting. 
Showing up with intention helps me stay in alignment, be flexible with my work, and know when to pivot. 
5. Celebrating your wins is one of the most surprising keys to business
This month as I celebrate my 5 years in business, I am privileged to gather with clients, colleagues, and friends to celebrate this accomplishment and thank those who supported me along the way. 
The journey has not always been easy, there have been many ups and downs (including a significant health scare!) but starting my own business and following my passion has been one of the biggest wins of all. Over the past 5 years, whenever work became stressful and busy or something did not go my way, I often forgot to count the wins. 
But celebrating even the small wins matters. All of those tiny victories have contributed to my overall success – helping me become a better leader and entrepreneur. 
My journey to unlocking the keys to business
I started my business journey investing 25 years in the same company, learning 7 leadership lessons.
And now 5 years into my business as a solopreneur, I'm sharing the 5 keys to business I've discovered so far.
These milestones are the perfect opportunity to reflect on my experience and share all I've learned. 
I'm endlessly grateful for the people I've met, the leaders I've coached, the lives I've changed, and the business I've created. Cheers to the next five years as a small business owner!
I recently had an opportunity to host a leadership development session with an impressive leadership team in Chicago. When they gathered together for our custom workshop, it was the first time they had all been in the same room in two years due to Covid-19 and what transpired in the time that had past gave significant importance on the development of the leader as learner.
David, the CEO, worked with me to create a customized goal and topic for this leadership development workshop. He asked me to introduce strategies and tools to help his team be more open to new ideas, to "rethink" the way things had been done before, and to be curious problem solvers, decision-makers, and leaders. Based on these goals for the team, I curated an extremely relevant topic for leaders today – "Are You Learning as Fast as the World is Changing?"
Seeing the Leader as Learner
To prepare for our session, I asked the team to read Think Again by Adam Grant. This helped them feel equipped to dig deeply into the concept of rethinking. 
The key point of our session was this: In a world that never stops changing, leaders can never stop learning. 
I helped the leadership team embrace their role as continuous, curious learners by questioning common responses to their current actions and situations. We interrogated the validity of "that's the way we've always done it" to see that just because something has been done a certain way does not mean it can't be done differently. 
Change-capable leaders must grow and evolve with the world. The leader's job is constantly learning – rethinking current policies, questioning current responses, and investigating new potential solutions.
When your talent embraces their role, leader as learner:
Your organization's growth strategy improves

You'll see increased innovation of new products and a stronger competitive advantage

Leaders can "fail and learn."

Past mistakes are not repeated
The Importance of Interpersonal Connection
David, the CEO, and I also developed another important objective for this session: allowing people time to reconnect with each other.
We spent a little less time "doing" and more time "being." This time was crucial to the team – allowing them space and energy to renew their commitment to the organization and their roles as leaders.
The face-to-face time we prioritized brought up many interesting conversations, including:
setting boundaries in a remote setting

how messages can get misinterpreted over email

how each person behind the screen has emotions and a personal life
These discussions helped the leaders better understand their peers and themselves. 
Our custom session – focused on seeing the leader as a learner – was a perfect mix of learning and applying new concepts AND time sharing about what work and life look and feel like in today's environment.
The Role of Soft Skills in Leadership
Not everyone will be able to keep pace in a constantly changing and demanding world and business environment. 
Really smart people are studying the "future of work" and reporting that 10% of jobs will be automated in the next year, and 50% of jobs will be automated in the next decade. Specific requirements must be met to survive and thrive in the present and near future.
Successful leaders of the future must be proficient in these 3 soft skills:
1 | Balance between doing & learning
How much time on your calendar is spent doing vs. learning? Finding the right balance between current business demands and continuous learning is hard. The fast-paced environment often distracts leaders from their best, discouraging them from being curious, innovative, active, and engaged learners.
Leaders are often head down, trying to manage customer demands, fire drills, and simply keep up. Given this reality, it is easy to lose sight of the importance of learning. But if you want to be successful long-term, it is especially important to practice continuous learning. The leaders who will thrive are consistently, intentionally learning.
2 | Intention
As leaders progress and advance in their careers, they become less comfortable learning. Not knowing something, asking questions, being curious, and reaching out to experts require them to be brave.
Not knowing the answer to a question does not make a leader unintelligent. However, not asking and not learning something new because they are afraid will cause leaders to miss on many beautiful opportunities. The access to knowledge is there, but as they get further along, they have to be even more intentional about learning.
3 | Active Listening
Active listening is a key to learning. It is essential to listen to the thoughts and perspectives of people from different backgrounds to rethink our own perspectives, biases, and judgments that keep us opening up to other perspectives and from learning. By listening more deeply – and not just responding with the first thought that comes to mind – we can respond more intentionally. This kind of mindset helps encourage a culture of learning and an environment for others to learn, share thoughts, and allow their ideas to flourish.
Developing Your Team of Leaders as Learners
Are you and your employees ready to develop soft skills for the ever-changing future world? 
If you're interested in ensuring your team is growing and adapting to current and future demands, contact me to create and facilitate a custom leadership development session. 
Your team will love digging into the topic "Are you learning as fast as the world is changing?" and your entire organization will benefit from this targeted, intentional development.
Just as I challenge my clients to grow, develop, and progress as intentional leaders and toward their goals, they also challenge me. Through our discussions, I regularly learn new things that are reinforced daily, and I am challenged to continue to embody the coaching mindset (one of the ICF core competencies).
This challenge serves me well, as I ensure to "walk the talk" – both in my work and in my life.
Most recently, a client conversation inspired a discussion, and further consideration, of intention.
The Power of Intention
Intention has always been a major concept and guiding principle for me, both as a leader and as a coach of leaders.
I practiced intentional leadership, wrote about it in my book, and now I help my clients define and practice how to show up and engage with others with intention in their own leadership.
It's clear that being intentional is a big deal. Being a present, effective, heart-led leader is a defining characteristic. But it doesn't always have to be a big habit or a big practice.
Being Intentional Can Feel Monumental
In the previously mentioned discussion with my client, our conversation showed me the power of practicing, and demonstrating, micro-moments of intention.
As I've written about a number of times, and like I tell all of my clients – being an intentional leader requires thought and planning. Choosing to lead with intention can be time-consuming and detailed. You can feel like you need dedicated time to think, plan, and get ahead of your goals each day.
You spend time considering, "Who can I purposefully engage with today?" and "How can I show up in this meeting to best engage with my team and inspire them to take action to solve XYZ?"
An intentional leader champions their employees, connects with their colleagues, and acts with purpose.
Whew! I'm exhausted just reading that description. It's true – being an intentional leader does take time, energy, and focus. (And it's worth it!)
But it doesn't always have to be so arduous. In fact, there are daily opportunities to practice micro-moments of intention outside of the bigger, more recognizable areas of intention.
Intentional Leaders Embrace the Micro-moments
You're not always going to have a plan – and that's okay. The best leaders know how to embrace micro-moments of intention to stand in their power and remain in the driver's seat of a particular situation.
You can be intentional without a plan! These micro-moments are all about reinforcing your ability to lead with intention at your core, without a pre-planned effort or decision.
To put it another way, these micro-moments help you build an intrinsic, natural reflex and habit of being intentional. They are a powerful addition to your leadership toolkit! And micro-moments help you show your people who you really are.
What do these micro-moments look like in practice? Let's explore some examples.
A micro-moment of intention can be a:
A quick reflection of an outcome – What went as expected? What did not?
Specific routine for the day – How am I spending my time to create a discipline of self-care and high performance?
A decision about the one thing I want to be present for with my family today. (It's not realistic to think you can be present with everything – so choose one thing.)
Moment of giving myself permission to let something go instead of giving it the space, time, and effort it would take to address it.
Choice in a meeting to create space for a diverse voice or point of view to be heard without overthinking it, creating a specific forum to highlight the topic, or bringing the right person to the table.
Choosing Your Own Intentional Micro-moments
Take 3 minutes right now and jot down a few times today when you experienced a potential micro-moment of intention.
Did you choose to act with intention or did you let the moment pass? This isn't a practice in judgment – it's about recognizing how often these moments occur and being more aware of how we engage with them.
Invite the micro-moments in and choose to show up with intention. This is how you'll become the leader you want to be.
Need help understanding how to engage with more intention or improve your skills as an intentional leader? This is exactly what I help my clients with, and I'd love to see how I can help you step into your true leadership potential. Everyone benefits when you lead with compassion, empathy, and intention.
Let's chat and see what's possible when we work together. Click here to schedule a free consultation.
If right now you are making a big decision in your career, you aren't alone. I know so many people making some kind of change. For some, it has been forced while others are just finding it to be time to move on. Either way, it feels like a season of change…and growth!
I am working with a client right now who is in the fortunate position to decide between two new job opportunities. She describes the options as the difference between "known" and "unknown". Known because it is a company that she has admired for years and she is still in touch with former colleagues who now work there. Unknown because it is a company whose culture and leadership philosophies she only knows through interview questions and glass door reviews.
Something in her heart and her gut is drawing her toward the unknown. Her head is vying for the known. We have been working on that alignment – head, heart, gut.
What I love is that she is open to exploring what is holding her back from stepping into the unknown and giving her full attention and energy toward that more unfamiliar choice.
When we are faced with a choice - a new direction, a decision point, a crossroads - it is important to consider TWO perspectives =>
What am I fearful of leaving behind?
What am I excited & hopeful I'm moving toward?
We often get caught up in the fear of what we might lose that we actually miss seeing what we stand to gain.
She came to the conclusion...her choice of the unknown could be the risk she takes that allows her to do something greater. Wow, something greater! Isn't that what we all say we want? But do we all know what this means? When faced with a crossroad, are you clear on where you are headed?
If you don't have a vision of "greater" for yourself then you will never get your head, heart & gut to align. This limits the energy you have to fully commit to the choice you make.
What is your greater?
For most who take the time to answer this question, they learn that it isn't always more money, or a bigger title, team or office.
Re-frame what "greater" means to you.
Greater is that thing that allows you to live out your purpose. Greater is possibility. Greater is what you do effortlessly. Greater is what gives you energy. Greater is what allows you to be your best self in your career and your life 💜
What is your greater?