I recently had an opportunity to host a leadership development session with an impressive leadership team in Chicago. When they gathered together for our custom workshop, it was the first time they had all been in the same room in two years due to Covid-19 and what transpired in the time that had past gave significant importance on the development of the leader as learner.
David, the CEO, worked with me to create a customized goal and topic for this leadership development workshop. He asked me to introduce strategies and tools to help his team be more open to new ideas, to "rethink" the way things had been done before, and to be curious problem solvers, decision-makers, and leaders. Based on these goals for the team, I curated an extremely relevant topic for leaders today – "Are You Learning as Fast as the World is Changing?"
Seeing the Leader as Learner
To prepare for our session, I asked the team to read Think Again by Adam Grant. This helped them feel equipped to dig deeply into the concept of rethinking. 
The key point of our session was this: In a world that never stops changing, leaders can never stop learning. 
I helped the leadership team embrace their role as continuous, curious learners by questioning common responses to their current actions and situations. We interrogated the validity of "that's the way we've always done it" to see that just because something has been done a certain way does not mean it can't be done differently. 
Change-capable leaders must grow and evolve with the world. The leader's job is constantly learning – rethinking current policies, questioning current responses, and investigating new potential solutions.
When your talent embraces their role, leader as learner:
Your organization's growth strategy improves

You'll see increased innovation of new products and a stronger competitive advantage

Leaders can "fail and learn."

Past mistakes are not repeated
The Importance of Interpersonal Connection
David, the CEO, and I also developed another important objective for this session: allowing people time to reconnect with each other.
We spent a little less time "doing" and more time "being." This time was crucial to the team – allowing them space and energy to renew their commitment to the organization and their roles as leaders.
The face-to-face time we prioritized brought up many interesting conversations, including:
setting boundaries in a remote setting

how messages can get misinterpreted over email

how each person behind the screen has emotions and a personal life
These discussions helped the leaders better understand their peers and themselves. 
Our custom session – focused on seeing the leader as a learner – was a perfect mix of learning and applying new concepts AND time sharing about what work and life look and feel like in today's environment.
The Role of Soft Skills in Leadership
Not everyone will be able to keep pace in a constantly changing and demanding world and business environment. 
Really smart people are studying the "future of work" and reporting that 10% of jobs will be automated in the next year, and 50% of jobs will be automated in the next decade. Specific requirements must be met to survive and thrive in the present and near future.
Successful leaders of the future must be proficient in these 3 soft skills:
1 | Balance between doing & learning
How much time on your calendar is spent doing vs. learning? Finding the right balance between current business demands and continuous learning is hard. The fast-paced environment often distracts leaders from their best, discouraging them from being curious, innovative, active, and engaged learners.
Leaders are often head down, trying to manage customer demands, fire drills, and simply keep up. Given this reality, it is easy to lose sight of the importance of learning. But if you want to be successful long-term, it is especially important to practice continuous learning. The leaders who will thrive are consistently, intentionally learning.
2 | Intention
As leaders progress and advance in their careers, they become less comfortable learning. Not knowing something, asking questions, being curious, and reaching out to experts require them to be brave.
Not knowing the answer to a question does not make a leader unintelligent. However, not asking and not learning something new because they are afraid will cause leaders to miss on many beautiful opportunities. The access to knowledge is there, but as they get further along, they have to be even more intentional about learning.
3 | Active Listening
Active listening is a key to learning. It is essential to listen to the thoughts and perspectives of people from different backgrounds to rethink our own perspectives, biases, and judgments that keep us opening up to other perspectives and from learning. By listening more deeply – and not just responding with the first thought that comes to mind – we can respond more intentionally. This kind of mindset helps encourage a culture of learning and an environment for others to learn, share thoughts, and allow their ideas to flourish.
Developing Your Team of Leaders as Learners
Are you and your employees ready to develop soft skills for the ever-changing future world? 
If you're interested in ensuring your team is growing and adapting to current and future demands, contact me to create and facilitate a custom leadership development session. 
Your team will love digging into the topic "Are you learning as fast as the world is changing?" and your entire organization will benefit from this targeted, intentional development.
Leading leaders is a complicated, complex task in the best of times. And I think we can all agree that the past two years have been more challenging than easy. 
Do you have a newly formed team of leaders?
Have the changes required by the state of the workplace (and the world) over the past two years challenged your team of leaders?
Have you found yourself focusing more on the short-term, immediate survival and results instead of prioritizing nurturing and communicating with your leadership team?
These scenarios cover a wide spectrum of experiences, but all of them have a similar effect – your team has become a "working group," focused on their individual performance and only interacting on a transactional, informational basis.
This helpful graph shows how your team's performance and effectiveness affect each other.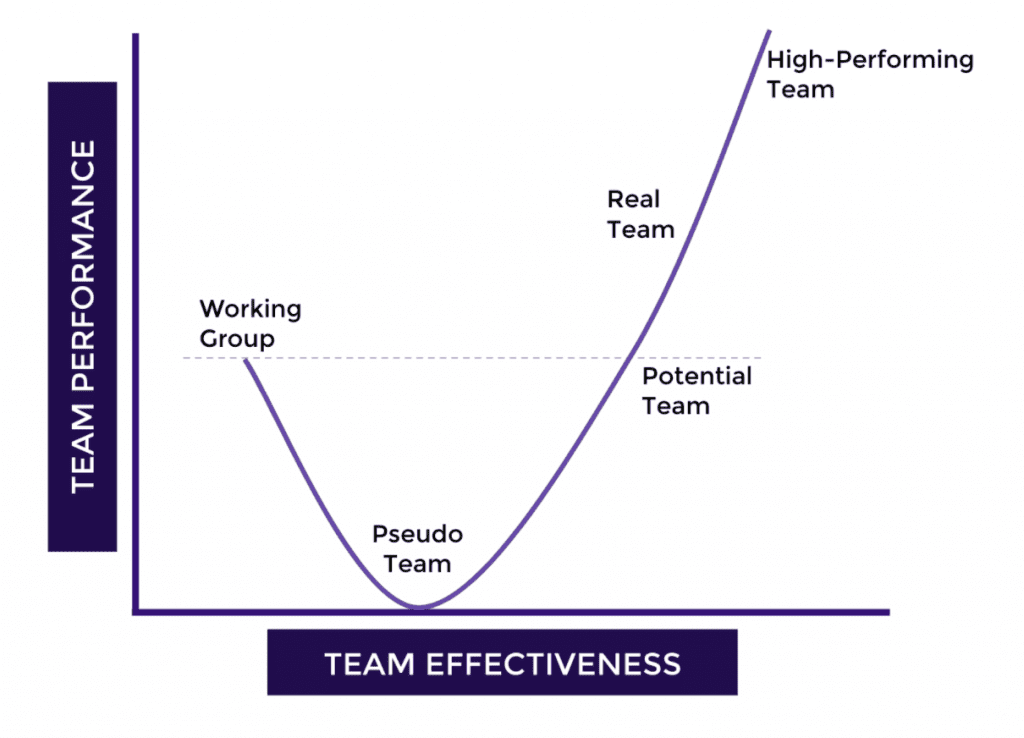 What To Do When "Working Group" Is NOT Enough
A "working group" of leaders should not be the goal. Effective leaders and CEOs want to foster a truly high-performing team.
Given the challenges and setbacks of working in and through a global pandemic, you may have had a high-performing team that has slid into "working group" mode.
You may have a new team that hasn't reached its potential yet.
Or maybe you have a team that has just never gotten past the "working group" stage.
Regardless of how you got here, you know that "working group" is not where you want your leaders to stay.
But how do you initiate change?
It all comes down to building connections and TRUST.
Trust is the foundation of a high-performing team. When trust is present, your leaders experience the psychological safety they need to make mistakes and learn from them, be vulnerable with one another, hold each team member mutually accountable, and be ready and willing to share professional wins and failures.
That is the true picture of a high-performing team.
Let's look at an example in action from one of my recent clients.
Developing Leaders with Trust: A Case Study
I was introduced to our case study team in early 2021. They were a newly-formed executive team that was brought together in a restructure post-acquisition. (Never an easy position to be in for any leader.)
The team members joined the new team from different functions in different companies with the goal to provide a new analytics function to the organization.
This group of individuals – the very definition of a "working group" – had the opportunity to move through the "Team Performance Curve" (see graph above) to establish a common purpose, performance goals, trust, and accountability.
We had 12 months together, and I needed them to make significant progress in the 5 core behaviors of a cohesive team:
Trust
Conflict
Commitment
Accountability
Results
I pulled the team together for monthly leadership development sessions where I covered these behaviors and then helped them apply what they learned in their own monthly meetings. They could practice demonstrating each behavior in real-time as they came together to address their business agenda.
This approach supported and developed an effective, cohesive team post-merger and reorganization.
Developing Leaders: The Results
In our first meeting, I had the leaders on this team score themselves in the 5 core behaviors. After 12 months of working together, I had them re-assess and we saw significant improvement across all FIVE behaviors.
Their growth in the 5 core behaviors helped this team move from a "working group" all the way through the curve to a high-performing team.
The leaders' results were also seen across the organization, and our team's mission became a new corporate pillar for the entire organization!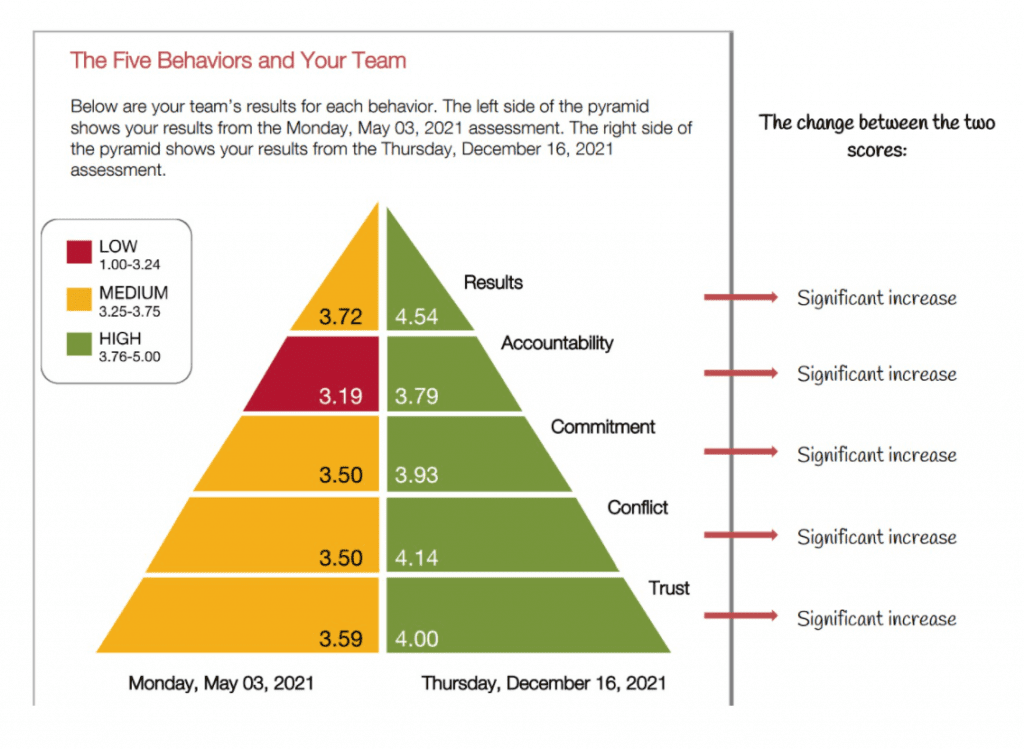 Want to Improve Your Team's Performance? Start with Trust
It can feel overwhelming and impossible to make changes with your senior team devolves or can't seem to move past the "working group" stage. But you will see results when you start with trust.
Building trust among your team is the foundational first step to moving through the performance curve and becoming the established, high-performance team you want to have. And when your team of leaders becomes high-performing, you're going to elevate the performance of your entire organization.
Ready to get started with your team? This is a simple trust-building exercise I encourage you to try in your next team meeting.
Personal Histories Exercise
Give everyone 2-3 minutes to think about their responses to these questions.

Where did you grow up?
How many siblings do you have and where do you fall in the sibling order (oldest, youngest, etc.)?
What was an important or unique challenge of your childhood - of being a kid?

Ask for a volunteer to begin. Each person as 3 minutes to share
Once everyone shares, discuss what you learned about your colleagues that you didn't know.
When you try this, you'll see the level of psychological safety increase as your team starts to actively build trust. It's simple, effective, and productive.
Ready to Increase Your Team's Trust and Performance?
Once you see the benefit of building trust – and the other 4 core behaviors – with your team, you'll wish you had started this process even sooner.
When you're ready, I provide customized team development programs based on your unique team needs, personalities, and goals.
Reach out and schedule a call to talk about how I can help your leaders become a high-performing team and elevate the results and efficacy of your entire organization.