As we step into the year 2023, corporate leaders are faced with an ongoing challenge of a rapidly changing business environment. For a few of my clients, I am seeing them face a very pressing and unfortunate issue - navigating the challenge of layoffs. This has created a sense of uncertainty and fear among employees and highlighted the importance for them to navigate - purposefully,  transparently, and with care and compassion.
The Heart of the Leader
Recently, I observed one of my executive clients communicate a very difficult message to his team that 50 jobs would be eliminated. Each one of the employees in the room was directly impacted. He delivered the news clearly yet compassionately as he explained the circumstances, acknowledged the impact of the decision, and offered space & uncomfortable silence for the individuals sitting in front of him to process the news best.
He put himself in the shoes of his employees - many tenured and committed for years to the organization - and took a heart-centered approach to share the difficult news. In navigating the challenge of layoffs, he met his employees in a place of empathy, went off script a little where necessary, and did his best to hold the space they needed to receive the news. He showed up as an intentional leader during a difficult time, and his actions served as an excellent example for other executives to follow.
In my book, Lead with Heart & Leave a Legacy, I talk about my own experience as a corporate executive faced with communicating a layoff. The lack of progress against the company strategy led to a top-down decision to execute a reduction in the workforce across the organization.  
It was a heartbreaking day, but my team needed a sincere, transparent, vulnerable leader.  The experience taught me the importance of leading with care and compassion during difficult times and proved to be the best approach in minimizing impact on the people. 
Three Ways Intentional Leaders Can Minimize the Impact of Layoffs on Employees
When navigating the challenge of layoffs, intentional leaders prioritize taking steps to minimize the impact on their employees. They do this by adopting a heart-led approach that focuses on transparency, compassion, and being connected.
Here are three things that intentional leaders do when navigating the challenge of layoffs:
Communicate with Transparency


When communicating with employees, leaders who want to navigate layoffs effectively must be transparent and honest. It is essential to clearly explain the reasons behind the layoffs and what steps the organization is taking to help affected employees. This can help alleviate some of the anxiety and uncertainty often accompanying layoffs.

Show Deep Care & Concern


It is important for leaders to show empathy and compassion towards their employees during these difficult times. This means taking the time to listen to employees, acknowledging their emotions, and showing genuine concern for their well-being. 

Leaders can demonstrate this by providing support and resources to employees during and after the layoffs.

Pay Attention to Remaining Workers' Concerns


After a layoff, the remaining employees may feel overwhelmed, anxious, and uncertain about their own future with the organization. It's important for leaders to pay attention to their concerns and make personal connections to understand how they are really doing. Leaders can organize one-on-one meetings, hold group discussions, and encourage open communication channels to create a space where employees can express their feelings, ask questions, and share their thoughts. This approach can also help identify potential issues and areas for improvement within the organization.
The Power of Intentional Leadership
For my executive client, how he chose to communicate the devastating news influenced how those individuals reacted and accelerated their ability to process through the change. While life-changing, they felt supported and mirrored their leader's calm sense of commitment.
The year 2023 will continue to present many challenges for corporate leaders, including the ongoing issue of layoffs. By communicating transparently, showing care and compassion, and being mindful of the concerns of their remaining employees, corporate leaders can navigate the challenge of layoffs while minimizing employee impact and fostering a culture that will thrive in the years to come.
If you are a corporate leader looking to develop intentional leadership skills in your organization and cultivate a culture of care and compassion even in the most challenging of times, I invite you to work with me. 
I don't know about you, but this Thanksgiving was the first time since 2019 we could have the extended family together. Our celebration included 50 family members – aunts, uncles, and cousins – together in close quarters, sharing stories, laughter, and hugs. We were all in a room together… without masks! It felt like a renewed spirit of family and connection.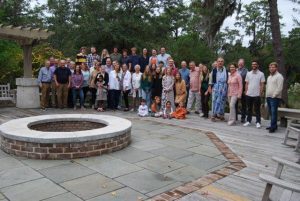 Because so much time had passed since our last gathering, it did take some time to "break the ice." We had to intentionally work to increase the comfort level and rebuild the connection with extended family we hadn't seen in a while. 
We all needed time and space to symbolically remove our (COVID) masks and create space to step into our authentic selves. Reflecting on this experience highlighted the importance of authenticity and reminded me of how often this topic has come up in my work recently, especially in my work with self-aware leaders. 
The Authenticity Paradox
I recently asked a group of leaders – "What do you believe builds trust most quickly within a team?" Their answer? Authenticity.
But when it comes to being authentic, we often get it wrong – thinking "being authentic" always equates to "feeling comfortable." 
HBR published information about the authenticity paradox – digging into how feeling like you're "faking it" can signify growth. Contrary to popular belief, genuine authenticity is about vulnerability and self-awareness, often requiring leaders to step out of their comfort zone.
What does the authenticity paradox look like in practice? Navigating the desire to be your "true self" when at the office while also recognizing that you are a work in progress that can (and should) grow and evolve to meet your organization's and team's changing needs.
As their careers advance, many leaders are challenged to elevate their leadership contributions in expanded or new roles. It's at this moment that we must fight the urge to retreat to familiar behaviors and styles that feel authentic but are actually a step back. Growth often requires leaders to live in discomfort, being willing to create a new authenticity that reflects their expanded skills and responsibilities. 
Self-aware Leaders Are Vulnerable Leaders
So many of us buy into the myth that authentic leaders have unwavering confidence in who they are. We believe it's a sign that we are not authentic if we show signs of weakness, self-doubt, or discomfort. This couldn't be further from the truth.
Authentic leaders commit to learning more about themselves. They are vulnerable in sharing their mistakes and humble in their willingness to learn as they go. 
I've noticed the importance of self-aware authenticity even more lately. These days, the new normal includes hybrid work schedules with remote teams and physically disconnected colleagues. With the leaders and teams I work with, on the rare occasion that teams come together in person, they need time to "remove the mask" and step into their authenticity. Everyone needs a little space before they are prepared to let themselves be seen and connect with one another.  
Removing the mask takes courage and intentionality. 
Leaders need the space to recognize the disconnect and the courage to stay open in the discomfort, so we can ultimately bring our best to the office and the teams we lead!
Interested in helping your leaders remove their masks and understand the crucial importance of self-aware, vulnerable authenticity?
I work directly with leadership teams to develop the soft skills required to succeed in the ever-changing landscape of today's modern workplace.