What does life after quarantine and COVID restrictions look like? It's a question a lot of us are currently dealing with – and I'm sharing some of my best advice for navigating the next "normal" with grace and ease.
After over a year of working from home, avoiding family gatherings, and checking in with friends and coworkers over Zoom, we're exhausted. We haven't hugged our loved ones or spent quality time with our friends or colleagues in person. The mental, emotional, and physical toll of our collective isolation is significant. But we have also discovered that we are more resilient than many of us even thought possible.
We have created a new integrated life, where work and home became a unique blend for many of us. We've discovered unexpected blessings, new priorities, and positive experiences amidst the chaos of pandemic life.
It is now time to decide what served us and be deliberate and intentional about what we carry forward into the next normal.
Are We Going Back To Normal?
I often hear from my clients, friends and family that they are anxious to "go back to normal." The truth is, we can't ever go back. Things have fundamentally changed: in public spaces, work environments, and social settings. There will be no "going back to normal" at any point.
But this isn't as dire as it sounds. In fact, I believe we all have a rare chance to live life with great intention, as we move into the next "normal."
We shouldn't want to go back. Remember that hamster wheel of life that was constantly spinning – late nights at the office, over-committed calendars, making time for everyone but ourselves? We have had a year (or more) to adjust and leave much of that life behind, and if we are intentional about moving forward, we can avoid ever falling back into those toxic patterns.
What Should We Bring With Us Into Life After Quarantine?
Despite the stress and disruption of a year-plus of COVID-restricted life, there are a whole host of positive things we can bring with us into our next normal. The key is in taking time to reflect on what we have learned about ourselves and truly come to appreciate since March 2020.
Living life with intention as we move forward is the only way to avoid falling back into bad habits. It took us over two months to adjust to social distancing and COVID restrictions, but we can fall back into our "old normal" way of life in as little as two weeks if we aren't diligent.
Examine your life now:
What bad habits or lack of self-care have you exchanged for positive habits and increased self-care?
Where have you found more time for the things that matter most?
How has your daily routine changed for the better?
Once you are aware of these shifts and the positive things you would like to keep, you can take steps to ensuring they remain part of your life.
Learning to Set Boundaries
You have reflected on your life since March 2020 and identified the changes, routines, and expectations you'd like to keep. Maybe this looks like closing your laptop at 4:30 and spending half-an-hour with your kids before you start dinner prep. Maybe it means keeping your morning walk. Or maybe you've fallen in love with having small blocks of unscheduled time in your week that you want to protect!
Learning to set boundaries will help you protect the things that serve you.
Boundaries are limits we set with others that establish what behaviors we will allow and what we will not. Setting healthy boundaries can feel uncomfortable if you've never really used them before, but boundaries actually help us enjoy our relationships and avoid stress, anger, and conflict.
We can't ever go back to life before COVID, but we can create boundaries to protect the things we have gained and come to appreciate since experiencing quarantine, social distancing, and COVID restrictions. You owe it to yourself to move into the next normal as strong, healthy, and balanced as possible.
I know that learning how to set boundaries can be challenging, which is why I created this helpful resource designed to help you determine your personal standards and then set healthy boundaries to protect those standards.
I invite you to download this resource and spend some time working through it. You'll be amazed at how your healthy boundaries will help you create and protect a life that serves you and your highest values.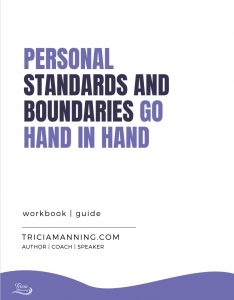 Life after quarantine doesn't have to mean falling back into your harmful or undesirable circumstances. It just takes a little intention to live the life you want.